New Orleans Pelicans vs Phoenix Suns: times, TV, how and where to watch NBA online
The New Orleans Pelicans face off against the Phoenix Suns, who seek a 2-0 lead on the Pelicans.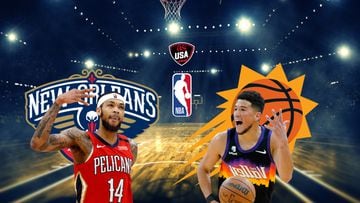 The No. 8 seed New Orleans Pelicans and No. 1 seed Phoenix Suns face off on Tuesday in Phoenix in Game 2 of their NBA Playoffs series.
The Suns have been taking full advantage of center Deandre Ayton, who scored 19 points, and seven rebounds, as well as shooting guard Devin Booker, who has 23 points and seven assists. Phoenix were 47-0 in the regular season, and they now sit 1-0 in the playoffs.
New Orleans loses 85% of the time they enter the fourth quarter, and will be looking to improve their performance ahead of Tuesday's game.
Ahead of the Tuesday night game, here is how and where to watch the Pelicans vs Suns:
New Orleans Pelicans vs Phoenix Suns
Watch Live on AS USA
You can also follow our live text coverage on AS USA as we bring you all the details from Footprint Center, starting about an hour ahead of tip-off, and all the way through the action unfolds.