Russell Westbrook believes he never received a 'fair chance' with the Lakers
The Lakers have had a rough few days and now one of their stars is making his feelings known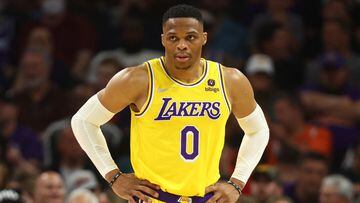 With the Lakers head coach now out the door, Rusell Westbrook let his feelings be known and it wasn't entirely comfortable.
Russell Westbrook discusses Frank Vogel disconnect
While many could see it coming, when Frank Vogel was dismissed as Los Angeles Lakers head coach, there was an immediate focus on what the players would have to say. Indeed, having seen what was largely considered to be a "super team" stumble, falter and in the end shamefully miss out on the playoffs, there were always going to be questions asked, but perhaps there was nobody more under the microscope that Lakers' point guard, Russell Westbrook. The 2017 NBA MVP was brought to the Lakers during last off-season to complete the puzzle, but somehow that never happened. To hear Westbrook tell it, faith was never granted.
"I think it's unfortunate, to be honest, because I've never had an issue with any of my coaches before," Westbrook said on Monday after his exit interview with the Lakers' front office. "I'm not sure what his issue was with me or I'm not sure why, but I can't really give you an answer to why we really never connected." While some may point to the fact that Westbrook was the highest-paid player during what was a disastrous season for the Lakers, it certainly didn't stop him from criticizing the franchise even further. "When I first got here, the ability to be able to do what I'm able to do for a team and an organization wasn't given a fair chance," he said.
Russell Westbrook thinks the media had a role
As he outlined why he thought his time with the Lakers was not successful, Westbrook also took aim at what he considered false news reports which he believed were a contributing factor to his struggles during this now past season for the Lakers. "The famous 'source' stories that came out about myself, whether it be between me and the staff, me and Frank, me and the fans, there's just so many made-up stories that are not true," Westbrook said. "It's just always having to fight against that constantly. It's just not [being] given a fair chance. It's like, 'OK, now I got to fight against this made-up story. Now I got to fight against this one. Now I go to fight against this one. Now I got to fight against this one.'"
Interestingly, when Westbrook wss asked to give an example of such a story he declined to offer one. "No," Westbrook said. "I can't. You know the examples. I don't want to get in details, what story, who wrote it, why...it's pointless. It really doesn't matter because it's not true. If it doesn't come from me [it is not true]."
The Lakers just didn't fit together
During his press conference, Westbrook also address reports that LeBron James' and Anthony Davis had repeatedly said "let Russ be Russ," in fact Westbrook insinuated that such calls were actually not sincere. "Yeah, [they said it]," Westbrook said. "But that wasn't true." Asked to explain and Westbrook would only say that the Lakers failed season was the result of pieces not being able to complement each other. "It's a combination of where we are on the floor, positioning, fit and challenge, trial and error, being able to play on the floor with each other," Westbrook said. "Finding ways to be able to utilize us to the best of our abilities. It's that simple."
Where does Russell Westbrook go from here?
As has been well documented, Westbrook has a player option for next season worth $47 million. Asked whether he would exercise it and the he was non-committal. "Umm, I'll make the decision," he said. "That's why it's called 'player option.'" Where the Lakers themselves are concerned, vice president of basketball operations and general manager Rob Pelinka was equally unclear as to exactly what the next step would be. "Like any player, we'll partner with him after that decision is made about what's best for his future," Pelinka said. "Rest assured, we're going to look under every stone for ways to be better and be open to anything that will improve our team and will put us in a position to compete at a higher level next year than we did this year."
Exactly how did Russell Westbrook perform?
In his first season, it's intersting to note that Westbrook was not terrible, but he certainly wasn't what fans would have hoped for. In total Westbrook played 78 games and averaged 18.5 points with 44.4% shooting (29.8% from 3), 7.4 rebounds and 7.1 assists per game. The point guard did admit that his numbers were not up to par. "Just my play in general, not my best season, just going off my own personal scale," he said. "Obviously I'm coming off averaging a triple-double, so anything less than that would not be a good season for me in my eyes, you know what I'm saying? So that's why the scale of where it comes from is a little bit different."
What next for the Russell Westbrook and the Lakers?
When the Lakers lost to the Phoenix Suns last week, their post season hopes officially came to an end. At that time Westbrook said that "the plan" would be to play for L.A. again in the coming season with a mind to finally getting in sync with LeBron James and Anthony Davis, something that was hardly possible across the season - the trio only play 21 games together - with the consistent injuries to varying players. Would that have changed things? Who is to say, but it would be unfair to say that the Lakers were a healthy team this season. "I just hope that we have a chance to be able to do something," he said.
Asked what it would take to get him to return to the Lakers next season and Westbrook was open to the idea, but again not clear. "I mean, obviously it's going to be a lot of different changes based on who the coach is and how our style of play and what we play like," he said. "So, that question is kind of up in the air. But once that decision is made then we'll kind of go from there."