The Miami Heat and Boston Celtics fight for control in pivotal Game 5
It's been a back and forth series with neither team doing well on the road. Can the Celtics take a lead back to Boston or will the Heat scorch them?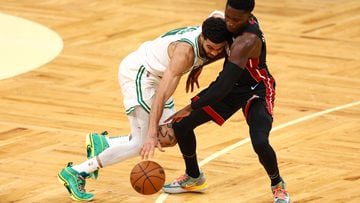 Its been a gritty, rough and most definitely physical tussle between the Heat and the Celtics, but as they head to a pivotal game the question remains 'who needs to do what to win?'
Heat look to take use home court advantage
When the Boston Celtics visit Miami on Wednesday, it's quite likely they won't receive the warm welcome typically associated with the city. Instead, they will be facing a Heat team that has been just as willing to batter and bruise as they have. With the series now tied at 2-2, Game 5 on Wednesday night is a pivotal moment to say the least. While one might think its been tight between the two teams, it should be said that three out of the four games have ended with double digit winning margins. Most recently there was the Celtics brutal 102-82 dismissal of the Heat in Game 4.
Ironically, this is the same Celtics team that capitulated in the series opener last week in Miami by a score of 118-107. That's to say that while they are clearly capable of beating the Heat and soundly at that, they have struggled when visiting the Heat at home. On the other hand, it would only be fair to say that both teams were without key players on Monday gone. The Heat for their part were minus NBA Sixth Man of the Year Tyler Herro who is struggling with a groin issue. The Celtics on the other hand had to cope without Defensive Player of the Year Marcus Smart whose ankle is apparently still a problem. Big losses for both surely, but Heat coach Erik Spoelstra sees it as even either way. "You know, sometimes when you have two really competitive teams, it doesn't necessarily mean it's going to be a one-point game," Spoelstra said. "It means that it can be flammable either way. Both teams are ignitable. Whatever they have done to us, we can do to them."
Jayson Tatum and the Celtics look to weather the Heat
Heading into Game 5 the Celtics are completely aware of the double edged nature of the scenario. Lose and it places the Heat a game away from the NBA Finals, though all would not be lost. Win and they take a lead back home, but the Heat have shown they can win in Boston, so all would not be assured. "I think obviously it's 2-2, so it's kind of like a new series, best of three," said the Celtics' Jayson Tatum, who scored a game-high 31 points in Game 4. "I think just having a conversation that I think human nature plays a part in, when you win a game you can relax a little bit. But obviously when we lose a game, we feel like the next game is do or die. ...I think we have to have that mindset going into Game 5, that it is a must-win game, because (Monday) was essentially something like that."
Tatum for his part has been on fire in the Eastern Conference finals. With an average of 24.3 points in the series to go with 6.8 rebounds and 5.0 assists he's been the Celtics go to guy. Indeed, across the 15 games that he'splayed in the post season this year, Tatum has put 27.2 points, 5.9 rebounds and 5.8 assists on the board per game.
Jimmy Butler looks to reignite the Heat
It's interesting to note the manner in which the two teams and their stars have mirrored in each other in this series. Just as Tatum for example had a bad night at the office in the Celtics' Game 3 loss with 10 points on 3-for-14 shooting, so to did the Heat's star Jimmy Butler with a six point shift in his team's Game 4 defeat. When you compare that with Butler's 41 points in Miami's series-opening victory, you start to get a picture of an up and down series in which both sides have struggled when playing on the road.
In the seven home games that he's played during this off-season, Butler has scored fewer than 21 points on just one occasion. This is all to say that come Wednesday night, the Heat will be looking to Butler to lead the way and even more so if Herro can't play. "I don't think we need to worry about individuals," Butler said after Miami's starters combined for an incredibly low 18 points in Game 4. "I think we need to figure out how to win as a team. That's the most important thing, how to get stops as a team, how to score as a team and continue to do everything as a team." Can they do that to take command of the series? With an injury list that has grown, it's going to be a tough task, but the Heat have been here before.