LALIGA SANTANDER
A new role has emerged for Ceballos at Madrid
Once invisible, Dani Ceballos is now a serious alternative thanks to a string of strong performances.
In one life, there are many lives: Ceballos will tell you that. The player is now enjoying a very different time to back in 2018, 2019 or even 2022. He has gone through have been years of being ostracised, with timid first steps, a huge swing of sensations and even a loan to London. Then, he came back - and got injured. When it rains, it pours. In his case this is especially true, as the medical report was serious: a complete rupture of his ankle ligaments.
He had hit the bottom of the well. Luck is sometimes what is needed to gain momentum and return to the surface, and poor Dani had none. In those months of recovery, Ceballos reflected, changed the chip inside his head and became a silent, hard-working player: hardly any interviews or messages on social networks were put out in this time. Little by little, he gained Ancelotti's confidence, returning to his plans, and eventually to the matches.
Dani Ceballos' numbers so far
This life Dani is now leading has more light than the previous ones. And there is a cold fact that proves it: throughout his second spell in a white shirt (last season and this one), he has only started the league six times. Last season was the most devastating (just two starts), playing match days 33 and 34, against Osasuna and Espanyol, respectively. But this season, something is changing: of the 18 league games so far, he has only been left out three times.
In fact, he played the first seven - until he got injured again. It came during training: a left hamstring tear and one month out. But from this setback he rose even stronger and now, he is the epitome of the word that the world of sports loves so much: momentum. A performance state in which, everything seems to work out. He is, well and truly, riding the crest of a white wave.
Ceballos' moment in the sun
Ceballos currently has his confidence levels through the roof and in terms of football, he is excelling. The lacklustre performance of Kroos and the fatigue of Modric opened up the audition of the midfield role. He had a great game in Villarreal (including the winning goal), a strong performance in San Mamés and sensational derby granted, he could have been expelled for a reckless tackle on Lemar).
Today, against Real Sociedad, he will start again. He has gone from being an invisible player, to the most indisputable and in the best shape of the entire midfield. And all this, with his future up in the air: his contract ends in June. "Now is the time to grit my teeth, because I have four months left on my contract", he said at San Mamés.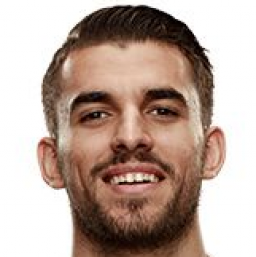 LaLiga Santander 2022/2023
*Data updated to date January 29th, 2023
More detail: