soccer
Vinícius Júnior: the man Real Madrid can always count on
Despite not having his best night against Red Bull Leipzig, the Brazilian scores a goal and is in danger over the German goal along with Rodrygo, the other Real Madrid scorer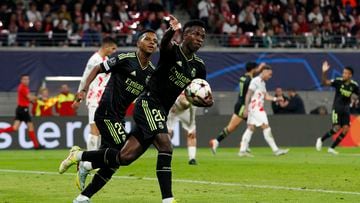 "Vinícius is going to play. He's not tired". These were Carlo Ancelotti's words when asked about the Brazilian attacker in the bowels of the RB Arena in Leipzig the day before Real Madrid faced RB Leipzig. And he was right. The 'new' Vinicius properly arrived on the scene last season and is here to stay. And the current campaign is one of consolidation. He has become a tremendously important player for Madrid, one who never lets the side down. Whenever his teammates have needed him, he's delivered.
Last season, Vinícius scored 22 goals and assisted another 20 in 52 games in all competitions. This time around, his numbers are similar: Los Blancos have played 17 games, Vini has netted eight goals, the last of which was with a header (only three of his 44 goals have come with his head), and set up six, two in the last game against Sevilla. The second one gifted Lucas Vázquez an open goal, helping secure a crucial victory for Madrid. These stats makes him the team's top scorer (across all competitions) and one of the top assisters; he has scored in all three competitions in which Los Merengues have played this season. In the European Super Cup against Eintracht Frankfurt, he set up Karim Benzema for the second and final goal of the match, while he boasts three decisive passes in the league and another two in the Champions League.
He refused to give up or get disheartened against RB Leipzig, plugging away on the left flank and ultimately scoring his team's first goal with a pinpoint header. At 2-1 down, Vini pushed Los Blancos forward in search of an equalizer in the second half and came close to finding it himself in the 70th minute after a fine move involving Marco Asensio and Eden Hazard, but shot narrowly wide of Janis Blaswich's post. In the dying moments, after Leipzig had scored once more, Rodrygo would score a penalty to narrow the German's winning margin. Vinícius linked up well with Rodrygo in attack, playing eight passes to his compatriot, while he received 12 from Toni Kroos, the most from any player in the team. He had two more chances, but it was not his night in front of goal... Even so, he has posted some tremendous numbers in his last 12 Champions League games, with five goals and four assists. And he has been involved in several key moments, such as Benzema's second goal against PSG when he outfoxed the opposition defence before passing to Modric, who in turn set up the Frenchman to score.
These statistics have, unsurprisingly, increased his transfer value. Madrid paid Flamengo €45m ($45.33m) to buy him in 2018 but transfer market specialists Transfermarkt now rates him at €120m ($120.89m).
Since June 2021, his value has tripled, increasing from €40m ($40.27m) due to his impressive displays. Now that Benzema is out due to muscle fatigue, Vinícius has stood up to be counted, leading by example and driving his teammates forward. Something that hasn't gone unnoticed by Brazilian national team manager Tite, who hopes he can form a lethal partnership with Neymar in the World Cup, which begins in just over three weeks' time. It will be Vinícius' first World Cup and back home in Brazil, they are confident their heroes can left the trophy, which they haven't done since 2002, when they won the competition for the fifth time. But until the World Cup starts, Vinicius has his mind set only on Madrid. He knows that his teammates need him, now more than ever with Benzema absent. And he will fulfil his motto: "Never let them down".