Real Madrid 5-1 Legia Warsaw: result, report, goals, highlights
Real Madrid put five past Legia Warsaw at the Bernabéu with goals from Bale, Asensio, Morata and VazquezReal Madrid-Deportivo: LaLiga matchday 20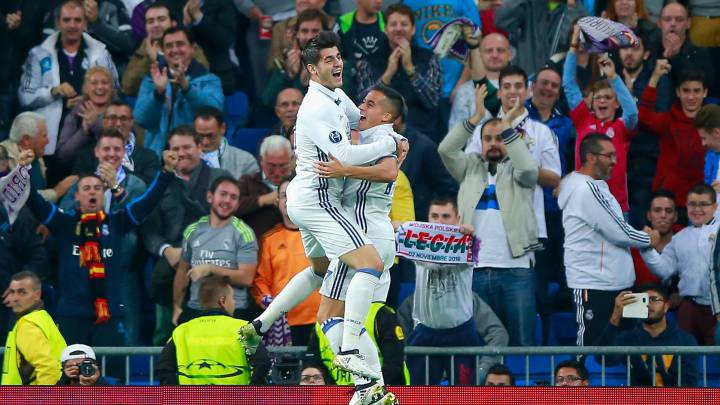 Real Madrid maintained the pressure on Champions League Group F leaders Borussia Dortmund with a 5-1 rout of Legia Warsaw at the Santiago Bernabéu on Tuesday night.
A big win was needed to in order to boost Real Madrid's goal difference after Dortmund and Sporting had already put a combined eight goals on the group whipping boys Legia, and that was exactly what the home side delivered.
However the first half was not as comfortable as expected for Madrid, despite ending the first half 3-1 in their favour.
Frantic first 45
Two goals in the space of three minutes -- a fine solo effort from Gareth Bale and a deflected Marcelo strike -- got Real up and and running but they were pegged back almost immediately when Danilo hauled down Radovic to concede a penalty. The striker got straight back up to send Keylor Navas the wrong way from 12 yards.
Legia then continued to look dangerous on the break and forged a number of chances which they couldn't convert. However, Madrid's overall dominance on the ball eventually told and Asensio slotted home from 10 yards after a neat Ronaldo lay off before the break.
The game took on a much slower pace in the second period after a breathless first 45, and with Madrid looking comfortable with half an hour left Zinedine Zidane introduced Álvaro Morata and Lucas Vazques in place of Bale and James.
Impressive Morata cameo
The two Spaniards made an almost immediate impact to architect Los Blancos' fourth and killer goal. Morata used his fresh legs to sprint clear down the left and dinked a ball to the back post for fellow replacement Vazquez to power home on the volley.
Morata then rounded off his impressive cameo to net his side's fifth and final goal after more good work from Ronaldo, tucking home at the near post.
The win leaves Real Madrid second in Group F on goal difference behind Dortmund and Legia rock bottom with 13 goals conceded in three games.
---
As it happened:
Full time: Real Madrid 5-1 Legia Warsaw
93 mins | And that's that. Full time.
90 mins | Three minutes of added time
87 mins | Ronaldoooooooo.....no! He's done everything but get a goal tonight and this one looked destined for the top corner before Malarz through himself across to tip over Ronnie's fierce shot on the turn.
84 mins | GOOOOOAL MORATA! It's the super sub! Fresh from setting up the fourth goal, he gets Madrid's fifth after again some great creative play from Ronaldo. The Portuguese times his ball perfectly to the overlapping Morata on the left side of the box and the Spanish striker gives the Legia stopper the eyes and slots it in at the near post. Worth saying too that that was Rondaldo's second assist of the night. He's been like a mix between a target man and a play maker tonight.
82 mins | Ronaldo goes close! It's created by another one of his lovely flick lay-offs to Benzema who plays it back into his path. CR7 from a tight angle can only pull it wide though.
77 mins | Final sub for Real Madrid: Kovacic replaces Asensio.
74 mins | Another sub for Legia: Radovic goes off, Nemanja Nikolics comes on.
72 mins | Now Legia make a sub of their own with Guilherme making way for Valeri Qazaishvili. Can he have a similar impact to Zidane's replacements? Maybe....but it's surely now too late for Legia to salvage anything.
71 mins | Asensio finds space and tries to bend it in from 15 yards. It's too close to the keeper though and Malarz gets his body behind it.
70 mins | That was Lucas Vazquez's first Champions League goal in nine Champions League appearances, by the way.
68 mins | GOOOOOOOOAL! VAZQUEZ! Just as I say that the match has burned out, Zidane's two substitutes combine just five minutes after coming on to create Real Madrid's fourth and bring it back to life. Morata beats his man on the left wing, dinks in a lovely left-footed ball to the back post which finds fellow replacement Vazquez. He meets it first time with a powerful volley and it goes low under the legs of Malarz. 4-1!
66 mins | The match has lost it's spark a little. Real Madrid seemingly happy with their two goal margin and taken the foot off the gas.
62 mins | DOUBLE SUB for Madrid: James and Bale go off, Vazquez and Morata come one.
61 mins | Yellow card now to Cristiano Ronaldo for a late challenge. He is not happy at all, indicating to the ref that it's the first foul he committed all game...
60 mins | Yellow card, and Legia's second of the game, goes to Radovic after he takes out Toni Kroos. The German looks initially to be in some pain but eventually gets up.
57 mins | That frantic first half obviously took its toll on both sides. A much slower pace to this second period.
55 mins | Legia keeper Malarz goes down injured under some high feet from Ronaldo. CR7 lucky to get away with a card there perhaps for dangerous play.
51 mins | Some desperate defending there from Legia as James breaks forward and Moulin cynically brings him down. The ref plays on as Ronaldo picks it up from 20 yards and rushes towards the box. He is also cynically brought down by Czerwinski and Real are awarded a freekick which Ronaldo takes and (you guessed it) slams against the wall. Moulin gets a yellow for the original foul on James.
49 mins | And Madrid almost find a fourth. A spot of pinball in the Legia area results in the ball sitting up nicely for Benzema from eight yards. His snap volley is straight at Malarz though and the Legia keeper beats it away.
48 mins | It's attack versus defence almost immediately as the second 45 gets underway. Real Madrid are camped inside the Legia half probing for a way through.
46 mins | We're back underway at the Bernabeu
---
HALF TIME: That was a very entertaining half indeed with both teams choosing to attack and not worry too much about defending (that always makes for a great show!). Despite the scoreline, Legia will be unhappy about going in two goals behind: they had more than their fair share of chances as Madrid threw men forward and left themselves frequently exposed at the back. Legia have also been their own worst enemies in defence, handing their opponents a host of opportunities all rather easily. When you let a side with Madrid's talent have that much space, they'll usually always make you pay for such slackness, and that's what they've done here. Here's hoping both sides continue to neglect their defensive duties in the second half too! If so, I'm predicting a 7-4!
**Goal update** Marcelo's deflected strike has been officially ruled as an own goal by Jodlowiec. That's harsh, you'd say, as it looked like his initial shot was on target.
---
Real Madrid 3-1 Legia Warsaw: First half
45 mins | A breathless 45 minutes draws to a close.
43 mins | Another very neat lay-off flick from Ronaldo almost finds Benzema. Although probably being disappointed not to find the net himself, Ronnie has shown his unselfish side tonight providing a number of goal scoring chances for this teammates.
40 mins | Just as we near half-time, this game has finally slowed down to a less-than frantic pace that it has been running on up until now. Despite Madrid showing both dominance with the ball and on the scoreboard, I wouldn't rule Legia out of this just yet. Real have looked fragile at the back and very exposed on the counter-attack.
36 mins | GOOOOOOOAL! ASENSIO! Danilo gets forward once again down the right and feeds it to Ronaldo. The Portuguese first miscontrols but then plays a very clever lay off to Asensio who runs onto it and tucks home into the bottom right-hand corner from 10 yards. Once again Malarz stood no chance in goal, but just as with Madrid's previous two, his defence could have done much better.
32 mins | Real Madrid are awarded a free-kick right on the edge of the box to the goalkeeper's right side. Ronaldo stand over it in his trademark stance, manages to get the ball up and over the wall (which is the difficult bit), but Malarz follows it all the way and punches clear.
28 mins | What was I saying about Legia looking dangerous? They're looking well up for this. Bereszyński whips in a dangerous right footed cross and Danilo turns it behind for a corner. It only needed a striker to gamble on that and it could have been 2-2.
24 mins | Three goals in an incredible six minutes. Carry on this way, and it looks to do just that as Benzema clips the bar with a volley, and we'll be in for a goal fest. Legia not looking like they'll lie back, they're looking very dangerous themselves!
21 mins | GOOOOAL! 2-1 PENALTY LEGIA. Danilo brings down Radovic clumsily and the striker gets straight back up to send Keylor the wrong way from 12 yards. Definite pen and expertly executed. WHAT A GAME!
19 mins | GOOOOAL! 2-0 Marcelo! Benzema cuts it back to the Brazilian and his left-footed drive deflects off Jodlowiec and leaves the Legia keeper wrong footed and helpless. A bit of luck for Real Madrid there.
18 mins | This is breathless stuff in the first quarter. Even after the goals the fast pace and end-to-end nature to this game persists...
15 mins | GOOOOOOOOAL! Bale with a golazo!!! The Welshman cuts inside from the right touchline and unleashes an unstoppable left-footed whizzer into the far corner. Malarz had no chance. What a start to this game!
11 mins | Legia hit the post!! Guilherme does his best Ronaldo impression with some silky step-overs, sells Marcelo a dummy, and plays it back to Ofoe on the edge of the box. He hits it first time and it has Navas beaten. Luckily for Madrid it hits the base of the post and bounces clear. Another let off!
9 mins | I did say warning signs for Legia, but they have just given Real some warning signs of their own. The Madrid defence get caught twice in the space of two minutes by counter attacks, the second of which results in Radovic going clean through and forcing Navas to save with his legs! Let off!
7 mins | Warning signs for Legia. First Ronaldo hits the side netting with a snap shot from the right edge of the box, then CR7 turns provider and crosses for Bale, who can only scuff wide when he could have taken a touch.
5 mins | Cristiano Ronaldo with an attacking free-kick form 25-yards out and he blasts it straight in to the wall. It balloons high up in the air giving Benzema a chance to control in the the box and force a corner.
4 mins | Danilo at right-back is already looking to get forward into advanced positions and has twice had the ball in crossing positions. He could be a good attacking outlet for Los Blancos tonight.
2 mins | Real Madrid with the early exchange of passes. Seeing the men in white with the ball could be common sight tonight....
0 mins | Peeeeeeeep! And we're off.
---
Real Madrid - Legia Warsaw: team lineups
Real Madrid XI:
Navas; Danilo, Pepe, Varane, Marcelo; Kroos, Rodriguez, Asensio; Bale, Ronaldo, Benzema
Legia XI

:
Malarz; Hlousek, Czerwiński, Rzeźniczak, Bereszyński; Jodłowiec, Vadis, Moulin; Guilherme, Kucharczyk, Radović
---
Real Madrid - Legia Warsaw: pre-match news
20:40 | As the 'Hala Madrid' anthem bellows out the two teams wait in the tunnel looking all serious and steely eyed. And now here they come into the cauldron that is the Bernabéu (god knows why they feel the need to give it a dramatic refurb...it's an ultimate stadium as it is!)
20:35 | The atmosphere is building nicely at the Bernabéu...let's hope those ugly scenes witnessed before kick-off do not spill in to the stands.
20:30 | 15 minutes to go till game time. If you haven't got your game pants on by now...then get them on! If you don't have any game pants, then its about time you got some.
20:22 | Marcelo starts his second successive game tonight after a spell out injured when Real Madrid failed to win a single game. His importance to the team is hard to overstate: and as we outlined following the game against Betis on Saturday, Marcelo's return has been integral to Zidane's side's return to form. Guillem Balague, too, has labelled the Brazilian as Real Madrid's "Swiss Army Knife".
20:18 | More on the big news (see 19:50) that both James and Asensio return to the starting line up: The Colombian returns to the team for the first time since suffering a calf muscle injury back on 2 October. Asensio's last start was in the 2-2 draw with Las Palmas on 25 September.
20:11 | After news of three arrests of Legia fans last night for antisocial behaviour and reports of rising tensions around Madrid today, things seem to have come to a head outside the Bernabéu as fans became embroiled in a brawl in the last hour causing police to intervene. Our report and video of the sorry scenes here.
20:05 | A reminder that tonight's referee will be Frenchman Ruddy Buquet (great name by the way!). It'll be his first ever time officiating a Real Madrid game.
20:00 | 45 minute warning! Just three-quarters of an hour till kick off. Get your game pants ready!
19:50 | The team lineups are out (see above) and as expected, James returns to the starting 11 with Isco dropping to the bench. Asensio also starts in a three man midfield behind the BBC. The young Spaniard will be wanting to put in a big performance tonight after Isco's return to form on Saturday. Competition for that attacking midfielder slot for Real Madrid is fierce, isn't it!?
19:26 | In case you were wondering how and where you can watch the game to compliment our (just as entertaining, promise) live text commentary, you can find out here.
19:12 | Los Blancos, Tomás Roncero reminds us, are the only Spanish team to have gone unbeaten since last April. Barring a huge upset (see our post at 18:00), that is likely to remain the case this evening...
19:05 | He's arguably shown his best form for Real Madrid this season in the Champions League in what has otherwise been a slow start to the campaign for Cristiano Ronaldo, but after his improved display on the weekend versus Betis and goal exploits for Portugal, AS editor Alfredo Relaño argues that CR7 is finally getting back to his best. We'll find out he's right soon enough. Just over an hour and a half till kick-off....
18:41 | He popped up on a couple of important Champions League nights with goals during his relatively short spell at the club.... but could Javier "Chicharito" Hernandez be set for an unlikely return to the Bernabéu? Word is that Real Madrid directors are open to the idea.
18:00 | Odds watch: Real Madrid, unsurprisingly, are overwhelming favourites with many bookies to win tonight's game. SkyBet, for instance, has them as 1/50 while placing opponents Legia at 50/1. You can get 16/1 on a draw.
17:40 | Fans starting to make their way towards the Bernabeu where three security check rings will be in operation this evening.
17:10 | Here's the full story surrounding the earlier arrests of three Legia supporters in central Madrid
16:30 | Less than 100 tickets available at the club box-office ahead of tonight's match. If you can't make it to the Bernabeu, not to worry, follow the live feed with Aled.
16:00 | A calm if tense one being reported in central Madrid with visiting fans enjoying the balmy October day in the Spanish capital. Fingers crossed things stay that way.
15:25 | Cristiano Ronaldo is just two Champions League goals away from his "ton". This and other RM stories in our daily update on the club.
14:50 | Here's what Real Madrid defender Varane had to say ahead of tonight's game
13:56 | We are hearing that three Legia Warsaw fans have been arrested following theft and aggression towards waitresses.
13:37 | Like waiting for the number 27 bus. Following Kroos, Madrid's Croatian midfielder Luka Modric has extended his contract with the club.
12:54 | Madrid manager Zidane may have posed an off the field dilemna for club president, Florentino Pérez. The Frenchman has reportedly asked for a sporting director to join him at the Bernabéu, something that Pérez has not been keen on in the past.
12:03 | The concern about potential trouble tonight has resulted in 2,000 security personnel being drafted in. This compares with around 500 for the Atlético v Bayern tie which was also considered "high risk".
11:28 | Although we've predicted a strong Madrid line-up tonight there is also the possibility that Zidane uses this game to rest some players. Chances of Cristiano getting full downtime seems rather slim, however he may be taken off if game won and he's notched a couple.
11:06 | Ex-Madrid player Xabi Alonso is also in Champions League action this week but has been criticised for Bayern Munich's recent downturn in form.
10:27 | The referee for the game tonight is Frenchman Ruddy Buquet.
09:39 | I've just popped outside for a cafe con leche and can confirm that it's a pleasant autumn/fall* morning in Madrid at 14°C (57°F*) and a very light breeze. It'll remain dry today and will be up a few degrees from now at kick-off. [*I hope you see that we cater for those across the pond too, however, don't even think about us using "soccer".]
09:11 | As stated in our preview of the match, Cristiano is targeting another pace-setting milestone and "Objective 100" was the leading headline on the front cover of AS this morning.
---
Real Madrid - Legia Warsaw: match preview
It has been an interesting time in Madrid over recent weeks with a run of draws sparking some concern amongst the Bernabéu faithful and doubts over the team's ability to find appropriate solutions to challenging situations especially with certain players missing. However, the home side come into this game with spirits high: a convincing display in the league following the international break and much of tonight's narrative centered on Cristiano Ronaldo potentially reaching a new milestone - the first player to score 100 European competition goals.
One other factor hanging over this game is the dark cloud of football violence which, with the known activities of the Polish ultras, has raised tensions in the Spanish capital.
Real Madrid
A challenge this season for Zinedine Zidane has been keeping consistency in his line-up with only two of his regulars avoiding a period unavailable. With some of these players returning, most notably Marcelo, the manager has a strong squad to choose from and after the 1-6 battering of Betis in Seville on Saturday evening the question being asked is not if they will win, but by how many goals.
James Rodriguez is back in the squad and Zidane's decision will be whether to start with him or the recently impressive Isco alongside Kroos and Kovacic in the middle of the park. With eyes on potential Uefa centurian Cristiano - and we shouldn't forget that he's only five short of a Champions League ton - it will be interesting to see who joins him and Bale. Morata is certainly pushing for a change to the BBC and may start ahead of Benzema.
Legia Warsaw
The vistors arrive in Madrid on the back of a 3-2 loss away to Pogoń in the league and lost their last Champions League group match 2-0 in Lisbon. They know that returning home with a point would be a fantastic result against the attacking threat they face and considering their leakiness at the back. Avoiding a similar result to that at home against Dortmund (0-6) may be their first objective but manager, Jacek Magiera, is talking positively and knows that football is not an exact science with Madrid's results of late proving that:
"We can win if we do it right. We want to do it right and try to prove a Polish team can play good football. Right now it's 0-0 and both sides have possibilities. Real Madrid are the favourites but it's been proven and happens that underdogs know how to play football and get a good result. We came here to play our best and whatever happens, happens."
---
Real Madrid - Legia Warsaw: live match build-up