Luis Figo: "I made the right choice moving to Real Madrid"
The former Sporting, Barça, Real Madrid and Inter midfielder gave an interview and discussed Ronaldo, Guardiola, Luis Enrique and Zidane...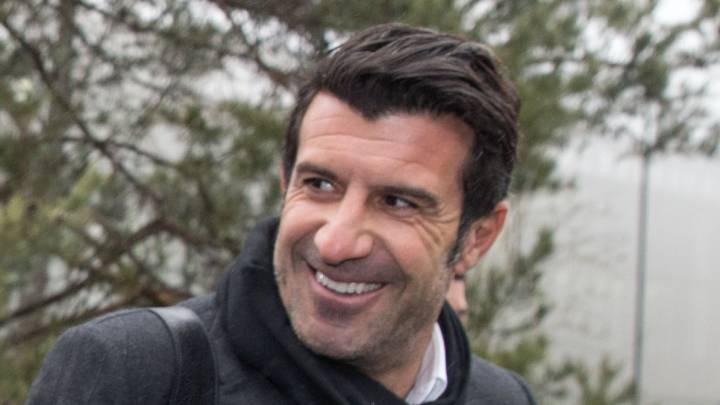 Luis Figo gave an interview on Spanish radio station Cadena Cope in which he discussed his move to Real Madrid from Barcelona, Cristiano Ronaldo, Zidane and Simeone, Mourinho and Guardiola.
Real Madrid
Signing for Real Madrid: "My transfer to Real Madrid was something historic in Spanish football. But it's in the past now and that's it. I think it was the right decision."
Barcelona return: "If I have to go to Barcelona for something I'm not going to stop doing it. In my professional life at the moment I don't have any reason to go there but I have to I will. When I've been before my family and I haven't had any problems walking around the Paseo de Gracia."
Coaching: "I've never been attracted by being a coach. I haven't even got the licence and I can't see myself getting one in the near future. I don't want to be a pundit either because I'm not the type to slate people, I always speak highly of players. I prefer playing golf, life's easier like that."
Who do your kids support? "One was born in Barcelona and the other two in Madrid. They're always switching teams. The smallest is Madrid and I think the other two are Barça. I don't know if the middle one has changed to Madrid now. It's hard to keep track of."
Madridista: "I go to the Bernabéu, discreetly, but I go."
Players, managers
Cristiano Ronaldo: "Cristiano is always good, but the problem is he can't be expected to score two or three in every game and when he doesn't it seems he's not playing well. Cristiano is possibly Portugal's greatest ever player. For his statistics, without doubt, and for what he has won. For respect, possibly Eusébio, because he was the first. But for numbers and skill, maybe Cristiano."
Mourinho: "He's a friend of mine. I already knew him at Sporting. He was my coach there, at Barcelona and Inter. I admire him a lot because I know him as a person beyond his role as a coach. At Inter I could have retired a year earlier but I didn't so I could work with him and I think it was the right decision."
Zidane or Simeone: "Simeone is doing an incredible job at Atlético. What he is achieving is being seen around the world and I can only congratulate him. Zidane only started out as a coach recently. It's always unpleasant to make comparisons. Both have their own way of doing things and both are getting results."
MSN: "I like them a lot, they are fantastic. They are amazing players, three of the best in the world. I don't compare them with the BBC, I enjoy watching good football and good players."
Neymar: "He has his way of playing and if people don't like it that's their problema."
Former colleagues
Zidane: "I don't talk to Zidane a lot but I was with him the other day at Real's training ground and he was the same as he always is, relaxed, fine. I think he's doing a good job."
Luis Enrique: "I get along very well with Luis Enrique. He was my teammate, I have a good relationship with him. Luis is a winner. He made history at Barcelona when he arrived."
Guardiola: "He is Cruyff's disciple. It's a style of play that I love. I speak to Luis from time to time but I lost touch with Pep years ago."
Ronaldo: "We had a lot of laughs. He was a very funny guy. [on Ronaldo saying if he had a wife like Figo's he's have partied a lot less]. That's old news. Ronnie knows my wife well. There's no problem there."
Raúl: "He's mad [for running the New York Marathon].
Beckham: "We made a big signing every year and in the end we fitted together well and played as a unit. David is one of those people I stay in touch with, he's a good friend."
Role at Real?
Florentino Pérez: "We have a normal relationship between a club president and a former player. We don't talk every day but when see each other we say hello and have a chat. I'm not a club ambassador, I'm happy enough being a socio. If they offer me a role as an ambassador we'll see. But I don't have to think about that at the moment."