Sevilla 1-2 Barcelona: LaLiga goals and match report
Barcelona came from an early goal down to beat Sevilla at the Ramon Sánchez Pizjuán thanks to goals from Lionel Messi and Luis Suárez.Copa del Rey live:Quarter Final Draw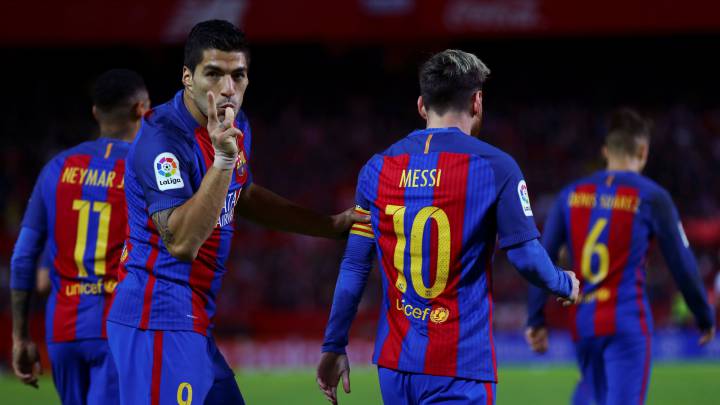 Sevilla 1-2 Barcelona: full-time summary
Despite trailing 0-1 after 15 minutes through a Vitolo goal and chasing shadows for much of those opening exchanges, Barcelona fought back with goals from Lionel Messi just before half-time and Luis Suárez after an hour to dispose of a lively and unpredictable Sevilla side at the Sánchez Pizjuán.
Jorge Sampaoli's sides are known for being hard to tame but that is precisely what Luis Enrique managed to do after the break as he neutralised their attacking threat and continuously opened them up at the back, which lead to a raft of chances for Messi and Suárez.
Never entirely out for the count, Sevilla battled back and had chances of their own but never created anything as compelling as what Barcelona did up the other end of the field. They did have a late penalty shout but it was debatable and won't concern Enrique and his players as they close the gap to just two points on Real Madrid at the top of the league table after 11 games.
Here's how it happened:
Sevilla 1-2 Barcelona: second half
Min 94 | Sevilla with a very real penalty claim as Correa's arm is pulled and he falls to the ground in Barcelona's area. Referee says no!
Min 93 | Neymar goes clean through but Rico comes out and closes down the danger.
Min 90 | We will have three minutes added on as Mascherano throws the ball away after a Barcelona foul and gets booked.
Min 88 | After Carrico gets booked for the hug on Suarez, the Uruguayan responds by pulling Rami's shorts down in an effort to gain an advantage.
Substitution for Barcelona: Denis Suarez comes off for Rafinha.
Substitution for Sevilla: Joaquin Correa takes Pablo Sarabia's place.
Min 85 | Carrico the latest name to go in the ref's notebook as he wraps Luis Suarez up in a bearhug to prevent him from making progress down the right-hand side.
Min 82 | N'Zonzi picks up a yellow for a foul on Messi that sees the diminutive super-hero lose his right football boot. Messi receives a yellow as he puts his boot back on in slow motion. Didn't seem that bad to us but the ref doesn't like his attitude and acts accordingly.
Substitution for Sevilla: Vicente Iborra replaces Samir Nasri.
Min 78 | Umtiti goes down under a heavy challenge and Suarez picks up the rebound. Suarez then goes down under a heavy challenge and Umtiti picks up the rebound before firing a shot well wide.
Min 75 | Meanwhile, up the other end, Suarez tries his luck again but Rico is equal to it and Neymar is just inches away from just tapping it in to make it three. This game is opening right up now and could go either way.
Min 75 | N'Zonzi with an excellent chance but he can't get his header on target. Close!
Min 72 | Suarez nearly makes it three as he beats Rico but finds himself at a very tight angle, with his only option to square the ball, and there are no Barcelona players waiting for the tap-in.
STAT ATTACK! Luis Suárez has now scored against 21 of the 23 different sides that he has faced in La Liga. (courtesy of OptaJose)
Sevilla could do with an injection of pace up front as Sampaoli's pressing demands so much of his players who are looking slightly exhausted. Ben Yedder, perhaps?
Min 66 | Mariano with a surging run that ends with Digne fouling him and picking up a yellow card. That looked like a dangerous counter and Barcelona's left-back might consider that a tactical foul.
Min 63 | Vitolo finds himself with space on the right but can't get the ball out from under his feet. He puts the ball on a plate for Escudero but his shot is blocked.
Min 61 | GOAL! Luis Suarez slides under Sergio Rico after another excellent run by Messi. you can't say that it wasn't coming. It has been a one-way street this half. 1-2 to Barcelona.
Min 60 | Messi with a mesmerising run through several Sevilla players but the finish does not match what came before it and he drives over the bar.
Min 59 | Escudero tries his luck and stings the palms of Ter Stegen.
Min 57 | Messi tries to find Denis Suarez with a through ball but Rico advances and collects. You can tell by Suarez' reaction just how close he was to getting something on that.
Min 56 | Busquets gives the ball away cheaply by Mascherano saves his bacon with a last gasp tackle on Vietto.
Min 54 | Luis Suarez with the kind of back-hell that Sarabia thought he was doing in the first half to find Messi but his shot is tipped over by Sergio Rico.
Min 52 | Barcelona look to have sized Seville up perfectly as Luis Suarez finds Messi and his shock is blocked and sent out for a corner. All Barca so far with just seven gone in the second half.
Min 50 | Mariano takes Neymar down and gets his name in the book too. He's less than happy and seems to be referencing a foul earlier that went unnoticed by the ref.
Min 49 |Rakitic has a shot that is repelled by Sergio Rico's palms. Really good start to the second 45 by Barcelona.
Min 48 | Denis and Luis combine to carve out a chance. The latter sends the ball across the box but there are too many Sevilla players to cause any trouble.
Min 46 | We are back underway for the second half in Seville with the scores deadlocked.
Sevilla 1-1 Barcelona: first-half summary
The home side gave their guests no time to settle as they launched into the game from the start. They came close through Vitolo early as he raced through with Mascherano and Sergi Roberto in front of him but could not convert. He made amends just minutes later when he gave Sevilla the lead. That was followed by some irresistible attacking by the home side before a man who has become a thorn in their side popped up and equalised just before half-time. Messi, who has scored more goals against Sevilla than any other team he has faced, sent a curling effort beyond Sergio Rico to level matters despite the hosts' dominance. Exciting second half almost guaranteed!
Sevilla 1-1 Barcelona: first half
HT | Put the kettle on and calm your nerves after that hectic first half. Vitolo's opener cancelled out by Messi late in the half.
Min 43 | GOAL! Just when you think they're out, he pulls them back in! Messi with a sweet left-footed, curling shot that beats Rico all ends up. Lovely strike.
Min 42 | Chance for Sevilla yet again. Do we even need to say who it was? Yes, Vitolo pulls his shot wide after a smart pass from Vietto across the penalty area.
Min 37 | Messi with a left-footed shot that he drags wide from range.
Min 36 | Messi with the ball in the danger zone but he is dispossessed, and fairly according to the referee, with a raft of Sevilla bodies in his way.
Min 35 | Vitolo gets the ball again in a dangerous position but his through ball has too much pace on it as it goes out for a goal-kick. Barcelona will be glad of the breather.
Barcelona have only had one shot on target to Sevilla's five. They are getting very close to another too.
Min 33 | Vietto slides one across the face of Ter Stegen's goal as Sampaoli turns and tells the crowd to lift the noise. They duly respond. This is a clinic in attacking football by his side.
Min 29 | Vietto with a lovely cross that beats Barcelona's offside trap but Sarabia, who is on his own, backheels it to nobody! What was he thinking? That was a gilt-edged chance for the home side.
Min 28 | Sevilla close-quarter passing in midfield is sniffed out by Barcelona and it results in a foul on Denis Suarez. Barcelona getting to grips with Sampaoli's tactics now.
Min 26 | Neymar is turned upside down by Rami, who receives a yellow card for his efforts to stop Barcelona's counter-attack.
Min 24 | Barcelona playing a dangerous game as they pass it around the back and Sevilla press up. Sarabia catches Umtiti with a high foot to end any chance of a dispossession.
Min 21 | No way through for Messi and co. as Denis Suarez has a shot that is blocked on the edge of the square. He is on the ground clenching his foot as Sevilla continue to be the most unwelcoming of hosts.
Min 20 | No backing off by Sevilla as they continue to dominate possession and look for opening whenever they get the chance.
Not the worst time for Vitolo to score his first goal of the season. It is his second goal against Barcelona in his career in 11 games.
Min 16 | GOAL! Vitolo races through again. This time he makes no mistake. First blood to Sevilla as the weighted pass catches out Sergi Roberto and makes its way to the goalscorer.
Min 14 | Vitolo races through with two Barcelona players for company and plenty of open space. He keeps possession and gets a shot away that is blocked by Sergi Roberto.
Min 12 | Barcelona look rattled. And rightly so, Sevilla have started this game at a blistering pace.
Neymar was booked for his first and early indiscretion.
Min 10 | Neymar's turn to draw the ire of the ref as he goes over the top on Vazquez. Little in it though and Sevilla settle down to take the free at midfield.
Min 8 | Mascherano tries to see the ball out over the line with Vitolo behind him but the Sevilla attacker was not willing to accept that the play was over and slides in on the Argentine. The Barcelona player is down but appears to be okay.
Min 7 | Vitolo this time, who makes some space for a cross after a run down the left but he pulls it back to nobody. Could have been trouble for Barca but danger averted.
Min 5 | Mariano swings a high cross to Sarabia and his volley looks like it could test Ter Stegen but the German doesn't have to lift his gloves as it blazes wide.
Min 2 | Barcelona do not take long to respond as Luis Suarez has a shot that Sergio Rico has to get down and push out for a corner. Slick move to get Suarez free by Barcelona.
Min 2 | Sevilla first out of the traps with an effort from Vietto that tests Ter Stegen before Vazquez has a shot that is deflected out for a corner.
Min 1 | We are underway at the Ramon Sanchez Pizjuan as Jaime Latre blows his whistle to start proceedings.
---
Sevilla - Barcelona: starting XIs
Sevilla: Sergio Rico; Mariano, Rami, Carriço, Escudero; Nzonzi; Sarabia, Vitolo, Nasri, Vázquez, Vietto.
Barcelona: Ter Stegen; Sergi Roberto, Mascherano, Umtiti, Digne; Rakitic, Sergio Busquets, Denis; Messi, Suárez, Neymar.
---
Sevilla - Barcelona: latest news
20:40 | Interesting to see how Ter Stegen responds after he was criticised for letting Kevin de Bruyne's free-kick in without even getting a hand to it in Barcelona's 3-1 loss to Manchester City in the Champions League. There was also the howler against Celta Vigo.
20:33 | Mind games or genuine? Luis Enrique thinks Sevilla are most certainly title contendors. I guess we are going to find out in about 10 minute!
20:24 | Lionel Messi has scored 26 goals against Sevilla, which is more than against any other club he has faced. That was before Jorge Sampaoli though as the Argentine says you need one plan for Barcelona and another for Lionel Messi. Has he devised one?
Here is a list of goals we have compiled to commemorate the 25,000 Premier League goal today that was scored by Zlatan Ibrahimovic.
20:21 | Barcelona, of course, counter that with 21 goals from their front three. Messi with 15, Neymar with 10 and Luis Suarez with 6 in all competitions.
20:19 | Sevilla have plenty of goals in their midfield and attack today. They have four of their top five scorers in Vietto (5), Sarabia (3), Vazquez (3) and Nasri (3). The only one missing out is Ben Yedder, who has scored five.
20:17 | Denis Suarez gets a start today at his former club where he played 46 times and scored six goals.
20:09 | To save you scrambling for remote controls and googling it just before kick-off, here is our "how and where to watch" for tonight's top of the table clash.
20:06 | Here's the full story on tonight's team news!
19:46 | The team news is in from the Ramon Sanchez Pizjuan as Nasri is included along with Sarabia and Carriço for Sevilla while Denis Suarez is chosen as Andres Iniesta's replacement. The excitements builds...
19:35 | The sides last met in the Spanish Super Cup in August, when Barcelona were 5-0 winners on aggregate.
19:26 | The AS Oracle has spoken: find out here what our resident clairvoyant says is in store in Andalusia this evening...
19:13 | In other football news, Barcelona's arch rivals Real Madrid have announced that Cristiano Ronaldo is to sign a new deal at the club on Monday. The full story is here.
17:40 | Barça were too strong when they last faced a tired Sevilla (post Europa League final win) side at the 2016 Copa del Rey final. Relive the game here.
17:15 | This will be the fifth time the teams have met in 2016, with Barça looking to make it five wins out five. In February, they came from behind to beat Sevilla 2-1 at the Camp Nou, and extra time goals from Jordi Alba and Neymar Jr secured a 2-0 win in the Copa del Rey Final at the Calderon.
16:20 | In the corresponding fixture last season Sevilla ran out 2-1 winners. Goals from Iborra and Krohn-Dehli put Sevilla ahead with a late Neymar penalty giving Barça hope.

14:55 | Luis Enrique claimed that the first 40 minutes in Manchester were the best in his time as Barça coach.
14:05 | FT at the Bernabeu as Madrid secure a 3-0 over Leganes and hold a 5 point advantage over Barça and six over Sevilla
12:55 | It's half time at the Bernabéu where Real Madrid lead Leganés 2-0 thanks to a brace from Gareth Bale. You can follow that game live with us here.
12:30 | Coach Jorge Sampaoli has won over doubting Sevilla fans with the team's excellent recent form, says AS editor Alfredo Relaño.
11:55 | Here's how and where you watch tonight's game. That's only if you wish to supplement AS English' second-to-none minute-by-minute live coverage, of course.
11:14 | Luis Enrique believes Barcelona's opponents on Sunday are "without doubt" in with a chance of challenging for the La Liga trophy "from what they have shown so far". More from his presser here.
09:43 | Stay right where you are for the breaking news and pre-match buildup before tonight's huge top-four LaLiga clash. A win for Sevilla would really sharpen their title-contender credentials while three points for Barça would get help them regain confidence after their loss to Man City last week. You suspect both would take a draw such is the magnitude...
---
Sevilla - Barcelona: Match Preview
Sevilla
Jorge Sampaoli has certainly made an early impression since his arrival in La Liga to replace Unai Emery at the Sánchez Pizjuán. The Chilean schemer has overseen a victory over Atlético and guided his side to fourth in the table, suffering just one defeat so far against Athletic at San Mamés in week six.
Going into the match against the champions, Sampaoli has overseen three wins and something of an unexpected draw away at Sporting last weekend since his only loss and while not exactly bullish about his side's chances, he did say in his pre-match press conference that part of his plan will be to deny Barcelona the ball.
"Barcelona now are a direct team who look for their forwards. It will be very important to defend with the ball, taking it off them can make them suffer. I don't think they are crisis, other than a setback or two at the start of the season they are one of the two or three best sides in the world and with the quality they have, added to Messi, they can be practically unstoppable."
A key battle will take place in midfield between Sergio Busquets and Steven N'Zonzi, who has made a mockery of claims that Sevilla would struggle this season after selling Grzegorz Krychowiak to PSG. The French midfielder has been a colossus in the middle this season and scored the winner against Atlético with a rangy run.
Samir Nasri faces a late fitness test on a hamstring problem but Sampaoli said he was quietly confident the tricky on loan Manchester City winger would be passed fit. Nasri has chipped in with two goals and an assist in the league and has struck up an effective partnership with Luciano Vietto, a player that Barcelona tried to sign during the summer. Vietto, himself on loan from Atlético, has settled quickly in Seville and found the net five times for his new club.
Nicolás Pareja has been ruled out for the home side while Gabriel Mercado is serving a one-match suspension.
Barcelona
Luis Enrique is under the spotlight a little after two Liga defeats against Alavés and Celta and a stunning Champions League reverse during midweek masterminded by one of his predecessors at Camp Nou, Pep Guardiola.
Barça thrashed Manchester City with consummate ease in the return fixture yet Guardiola got the better of a side he knows only too well at the Etihad Stadium, overseeing a 3-1 victory that sent if not shockwaves, then certainly mild ripples and a few raised eyebrows, through the football world.
Enrique will be eager to return to winning ways as quickly as possible and his side could find themselves five points adrift of Real Madrid by the time the ball rolls off the spot in the Sánchez Pizjuán.
In order to do that, Enrique will have to undo the only perfect home record in La Liga: Sevilla have won all five of their matches on their own turf, scoring 12 and conceding six, a statistic that will interest the Barça boss as he seeks to exploit any weakness in a defence that Sampaoli likes to tinker with, the maverick Chilean occasionally playing three at the back as he did against Atlético in a 3-3-3-1 that completely nullified Diego Simeone's attack.
However, Enrique will need his fearsome front line to be firing on all cylinders, which they patently were not last weekend when Rafinha was required to score the only goal of the game to break down Granada's obdurate resistance.
Gerard Piqué and Jordi Alba are significant absentees at the back for Barcelona, and they are joined in dry dock by Andrés Iniesta in dry dock, without whom Barça have struggled.
Enrique knows he faces a huge task to emerge from Andalusia with three points, saying before the game that Sevilla are genuine title contenders.
---
Sevilla - Barcelona: possible starting XIs
Sevilla: Rico; Carriço, Rami, Kolodziejczak; Mariano, Kranevitter, N'Zonzi, Vitolo; Vázquez; Ben Yedder, Vietto
Coach: Sampaoli
Barcelona: Ter Stegen; Sergi Roberto, Mascherano, Umtiti, Digne; Denis Suárez, Rakitic, Rafinha; Messi, Suárez, Neymar.
Coach: Luis Enrique
---
Sevilla - Barcelona: match buildup