Luis Figo showcases scouting app Dream Football at Web Summit
At the week-long conference in Lisbon, the former Real Madrid star presented a new mobile app that lets talented young footballers film themselves and engage with a community of club scouts worldwide.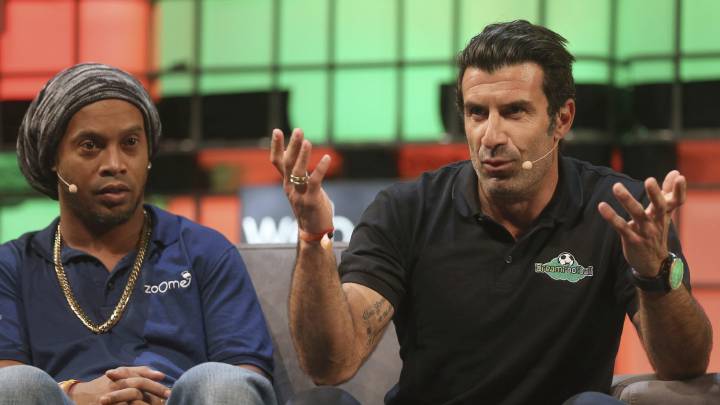 There was a time, before TV deals brought untold riches to the game, when retiring footballers had little in the bank and few options for the rest of their lives.
But as the boom of the past two decades has transformed the business fortunes of the big clubs, so has it opened up new vistas for cashed-up players when they end their on-pitch careers.
Web Summit
The boom has been accompanied by the revolution in technology and some of football's greatest names of recent years, such as Luis Figo and Ronaldinho, are busy exploiting new opportunities in the digital realm.
The former greats outlined their post-career interests at the Web Summit, an annual conclave of business leaders and technology startups known as "Davos for geeks".
At the week-long conference, Figo presented a new mobile app that lets talented young footballers film themselves and engage with a community of club scouts worldwide.
"Technology is an area were everybody wants to be. Everyone tries to find the market niche that allows you to succeed," the former Portugal captain told a panel at the summit in his hometown Lisbon.
"Our career is short and you have to start a new life at around 35 years old, but we don't all want to be football coaches," he said.
Figo's 'Dream Football'
Figo's project, called Dream Football, started five years ago as a basic website which today has about 100,000 users. He is targeting 100 million downloads for the free app and hopes to monetise it with outside investment and sponsorship.
After a glittering and lucrative career with giants including Barcelona and Real Madrid, the 44-year-old Figo could afford to put his feet up in retirement but says: "I've always loved to do business."
Former Manchester United and France striker Louis Saha has started a company called Axis Stars to give sports people a digital platform to market themselves in, or as they approach, retirement.
"Agents are around when you're making a lot of money, but when you retire you're not an asset anymore so you struggle to find sponsors, business opportunities or good advice to invest," he said in Lisbon.
"With Axis Stars you keep the contacts and opportunities can arrive from anywhere."
Saha's digital network comprises about 250 members including his former Manchester United teammate Rio Ferdinand, French tennis star Gael Monfils and rugby player Maxime Mermoz. He hopes to build it up to 1,000 participants within two years.
Ronaldinho's Zoome TV
Ronaldinho's wonderful on-field exploits for Brazil and Barcelona have not been matched by his lack of ease in front of the cameras. But he is exploiting his name recognition to promote a video-sharing platform called Zoome TV, on which he plans to feature in his own reality show.
"The world is advancing with technology. It's a new field for me to adapt to, and I'm learning something new every day," he said.
It is all a far cry from the post-game careers of bygone players who missed out on the financial boom in soccer that started in the 1990s, notably with the advent of England's Premier League.
Those English players who didn't make into coaching or punditry often used to end up taking over pubs to while away their retirements. Neil Webb, an FA Cup winner with Manchester United in 1990, ended up selling match-day programmes at Reading before becoming a postman.
American footballers, in contrast, have been richly rewarded for far longer. Terrell Owens, the NFL wide receiver who became a byword for off-field controversy, discussed in Lisbon how to build a brand in and out of sport.
Somewhat ironically given the PR firestorms that accompanied his career, Owens is promoting a virtual communications assistant to stay in better touch with his fans.
"Communication wasn't my strongest suit, and that hindered me personally and in my business," he said in Lisbon.
"The fanbase that I built while I was playing keeps me in the game."