PSG's Serge Aurier refused entry to UK due to ongoing court case
Paris Saint-Germain play Arsenal on Wednesday night in the Champions League and the Ivory Coast defender has been refused entry to England.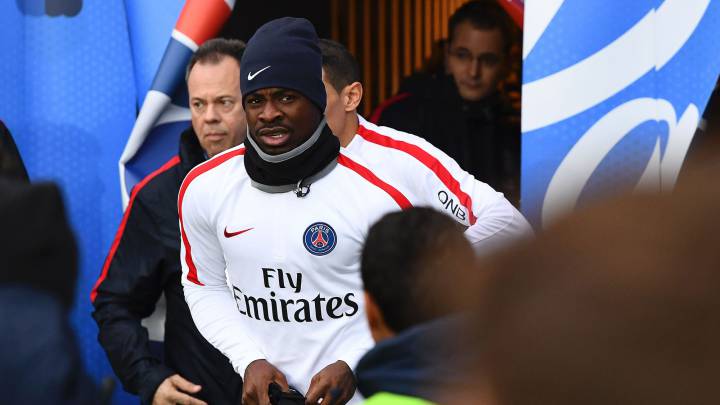 PSG left-back, Serge Aurier, has been refused entry to the UK based on a court case he is currently in the middle of. The 23-year-old was given a two month suspended sentence in September for striking a police officer with his elbow outside a nightclub in May but has since appealed that decision.
The French club are set to play Arsenal on Wednesday in a top of the table Champions League clash and will have to do without Aurier. The Ligue 1 side released a statement on their website that deems the move "incomprehensible"

"After an initial application on 18 October, complete with all the necessary documents, the British authorities had originally granted Paris Saint-Germain's Côte d'Ivoire international an entry visa to the UK on 21 October. However, on 16 November, his visa was finally revoked by the British Ministry of the Interior, who justified their about-face by citing Aurier's conviction on 30 September, 2016. Paris Saint-Germain had, in all transparency, informed the British authorities of this conviction, as well as Aurier's appeal against this decision (and the legal suspension of the ruling) from the outset."
OFFICIAL: PSG have been dealt a massive pre-Arsenal blow. Serge Aurier has not been allowed into the UK because of his ongoing court case.

— Jonathan Johnson (@Jon_LeGossip) 22 November 2016
They also said, "Paris Saint-Germain strongly regrets that the presumption of innocence has not influenced Britain's decision" in the statement.
Britain's Home Office stand firm
Britain's home office have since replied and stand behind their decision.
'Mr Aurier received a two month custodial sentence in September for assaulting a police officer,' Britain's Home Office said in a statement.
'The immigration rules clearly state that non-EU nationals who have received a custodial sentence of less than 12 months within the last five years will be refused on criminality grounds.'