COPA DEL REY
Sevilla 0-5 Barcelona: Spanish Copa del Rey final goals, result
Luis Suárez grabbed a brace as Barça thrashed Sevilla in Saturday night's Copa del Rey final at the Wanda Metropolitano.
Sevilla 0-5 Barcelona: match report
Barcelona were crowned champions of the Copa del Rey on Saturday night after blitzing Sevilla in the first half and finishing them off in the second. After reports seeped out that Ernesto Valverde's job was possibly on the line, Andres Iniesta and co. ensured that their manager would be employed for another 12 months at the least.
90' GAME OVER! Barcelona win the Copa del Rey.
87' Iniesta going off for Denis Suarez.
86'   He gets whistled by the Barca fans.
86' Vazquez replaced by Nolito.
84'   One of the more disappointing Copa finals in recent memory.
82' Dembele replaces Coutinho.
82' Layun coming on for Sevilla. Sarabia off.
79'   Suarez tries to curl one past Soria. Nope. The keeper saves it.
76' Busquets off for Paulinho.
75'   Sarabia heads the ball towards goal but Pique takes it down and clears.
72'   Really poor challenge from Busquets. 
72' Getting out of hand now. Vazquez and Busquets have a go at each other and the Sevilla player pushes Busquets on the ground. Two yellows, one for each of them. 
69' GOAL! Coutinho buries the penalty.
68'   Iniesta whips it out to Coutinho. He breaks into the box and we have a penalty. Coutinho scored but it's called back for a penalty. 
66'   Nearly turned into their own net after that as Messi got the ball in the penalty area.
66' Iniesta has a word with the referee. He got kicked off the ball and goes down. Mercado kicked him and that's quite clear. 
63'   Sandro Ramirez breaks free and has a man to his right but he shoots. Cillessen saves. Poor decision. Barca keep their sheet clean.
62'   Busquets shoots. Wide!
60'   Barcelona have been excellent, truly excellent, but Sevilla have also been really bad. Cross comes in and Coutinho heads up into the air.
58'   Sevilla win the ball back and Sandro with a dreadful touch. Barca break again.
57'   Sevilla playing for pride at this stage. They can't get anything going.
55'   This game is over, it looks like. And they have another chance. Headed at Soria by Suarez from a free and it's saved. Then Umtiti follows up but Soria saves again and Umtiti puts the rebound wide.
52'   GOLAZO! Iniesta runs behind the defence and Messi finds him. He sells the keeper a dummy and slots home.
50'   Sevilla attack breaks down and Alba moves forward. Barcelona see no way through and have no problem recycling the ball. They're in no hurry now.
50'   Alba down injured but he's back up now. Play restarts.
50'   Nice move with Sandro Ramirez and Muriel as it's fed to Vazquez. He strikes and Alba blocks. It flies up into the air and comes down to a waiting Cillessen.
49'   Navas cross fired into Sarabia but he sends it back away from goal. 
48'   Ball sent into the box and it ends up out the other side of the penalty area. Crossed back in by Vazquez and that's a goal kick as it goes behind the goal.
46'   We are back underway.
Just one change as Correa is replaced by Correa.
  Sevilla sure to makea couple of changes at the break. Barcelona likely content though.
45' That's it for the first half. Barca very comfortable!
45'   Sergi Roberto fouled by Escudero. Another man on yellow and thin ice.
44'   Mercado with another foul on Suarez and he'll be lucky to stay on the field if he keeps fouling like that.
44'   Barcelona have absolutely blitzed their opponents here. 
42'   The Wanda very loud now with Barca fans. Sevilla shell-shocked. Really poor from them though and this game is over before it ever really began.
40'   GOAL! Suarez with his second and Barcelona's third. Messi plays it through to him and he pokes it home.
38' Escudero pulls Messi down. He was streaking clear and that is as cynical as you like. Yellow card.
36'   Correa plays it through to Sarabia but Cillessen is off his line like a light. Cleared.
35'   Suarez does really, really well down the sideline from the free and he drives a shot towards Soria. Save but it's a corner.
35'   Sandro Ramirez is warming up.
35'   Free clipped towards Messi and Sarabia barges into his back. Free on the left hand side.
33'   Deserved, it must be said, as Suarez slips by him and the defender launches himself into the tackle.
33' Mercado booked now for a foul on Suárez.
32' 2-0! Iniesta to Jordi Alba and he backheels to Messi. Buries it to the back of the net.
31'   Lenglet draped all over Messi and he gives away the free.
29'   Lovely cross from Navas and Vazquez meets it with a powerful header at the back post. Cillessen gets his body behind it and saves.
28'   Banega picked off by Busquets and he plays it to Messi. Played back to Iniesta and that shot takes a deflection off Messi and onto the crossbar. Sevilla survive a shock!
27'   Messi lofts a lovely pass towards Suarez. He plays it back to the Argentinian and his shot is half-blocked into Soria's hands.
26'   Ball out to the left now and that's over Correa's head.
25'   Ball in around the back and Muriel in a race with Pique, which the defender wins. 
23'   Much better from Sevilla. They are in Barca's penalty area but Coutinho wins it back. They press again and win it back before it comes across the penalty area from the right and Sarabia nearly gets something on it. Close as they've come so far!
22'   Long ball by Soria comes straight back down the field and Soria picks it back up again.
22'   Sevilla more comfortable now but that goal is so hard to come back from against Barcelona. 
20' Luis Suarez kicks Mercado off the field and is lucky not to be booked.
20'   Cross comes in and it's headed into the air. Cillessen gathers that with ease.
19'   Sevilla have improved but Umtiti's pass is almost intercepted by Banega. He loses to Iniesta and Barca attack. They lose it now as Sevill continue their decent spell.
18'   Ball falls to Correa and he drives it wide at the back post after it was chipped his way. Decent chance but it would have been hard to cause a problem for Cillessen on the volley.
17'   Messi cleaned out of it with a challenge as he races towards goal. It was a poor touch by him that caused it. Sevilla counter and cross comes in. Headed out for a corner to Sevilla.
15'   Suarez through again. Messi plays it to him this time but he's offside again.
14' Cillessen with a clearance that Coutinho runs onto. He chips it to Suarez and that's a goal!
13'   Almost a mistake by Barcelona as Sevilla press them into trouble.
12'   Vazquez gives the ball away again and Barca mount an attack. Soria punches away.
11'   Jordi Alba wins a throw for Barcelona deep in Sevilla's half. They continue to pile on the pressure. Sevilla will be exhausted.
11'   Barca laying on the pressure now! Another clearance by Sevilla.
10'   Umtiti and a few other Barcelona players look for a penalty for handball from the corner. Not given. 
9'   What a shot! Lovely save. That was going into the very top corner.
9'   It's quite far out for a shot but Messi standing over it and anything's possible. 
8'   Mudeo Vazquez gives the ball to Suarez and he gets pushed in the back. Free. He's down holding his knee but he'll be fine. Easy giveaway by Vazquez.
7'   Free to Sevilla.
7'   Umtiti heads into the air and Escudero thrown to the ground by Suarez. Quite aggressive, really.
6'   Banega wins it back off Busquets and sends it out to the left but Coutinho intercepts and looks for a ball to Suarez. Corner.
5'   Barca strangling the life out of Sevilla's plans to play out from the back.
4'   Iniesta with a really nice run and Sarabia behind him nibbling at his ankles. He plays it to Messi but Sevilla win it back. Suarez put through but he's offside. The replay shows it was actually onside. Sevilla get lucky. 
3'   Escudero down to fix his boots as we have a bried delay but we're back in action. Barcelona back on the ball.
2'   It comes to nothing though as it's sent long and out for a goal kick.
1'   Ball back to cillessen as he assesses his options and plays it to Umtiti. He plays it long to Suarez, who lays it off to Iniesta. Barcelona throwing the ball around confidently to start this one.
1'    We are ready for action at the Wanda. Gil Manzano gets us underway! Vamos.
There's certainly a lot of noise.
Let's see if they do in fact whistle the national anthem.
Hugs, smiles, handshakes in the tunnel as the two teams get ready to emerge onto the field. 
A look at some off the bonuses that Barcelona players set to get if they win this game.
Leo Messi has the chance today to equal the legendary Telmo Zarra's record, set 68 years ago. If the Barcelona striker scores in the Copa del Rey final against Sevilla this evening he'll become only the second striker to score in five finals. Telmos Zarra scored in the finals in 1942, 1943, 1944, 1945 and 1950. Messi is currently tied with Samitier and Lazcano who both scored in four finals (full article here).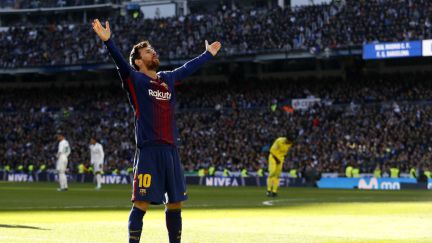 Should be a heated atmosphere at the Wanda. Kick-off in 10 minutes! 
The police are taking yellow shirts off Barca fans that are in support of independence.
The reports surrounding Valverde's future could not have come at a worse time for Barcelona. It reportedly caused bewilderment in the Barca dressing room and that could possibly add an extra smidgeon of tension to the game. All was fine at Barcelona until that one Roma game but since then, there has been an air of almost sadness at Camp Nou, which hasn't been helped by the fact that Real Madrid are in the semi-final of the competition they keep getting knocked out of in the quarter-final.
Regarding minutes played this season, Barcelona have Messi and Suarez at the top of the list. They both have in excess of 4,400 minutes - Messi with 4,715. Lenglet the player with most this season for Sevilla with 4,153 followed by Banega with 3,952.
Soria remains in goal with Sergio Rico, who remains out in the cold. Muriel gets the nod over Ben Yedder up front too as Montella looks to inspire his side. They haven't won a game in LaLiga in six with three losses and three draws. They last win came against Bilbao at the start of March.
Sevilla XI: Soria, Navas, Mercado, Lenglet, Escudero, Nzonzi, Banega, Sarabia, Vazquez, Correa, Muriel.
    No surprises by Valverde, who starts Cillessen in goals instead of Ter Stegen as he is the Copa del Rey keeper. Coutinho gets the nod over Paulinho, who says this is the reason he joined Barcelona in order to play these games. Rakitic and Busquets play in midfield along with Iniesta and the back four is as expected too.
  Barcelona XI: Cillessen, Sergi Roberto, Piqué, Umtiti, Alba; Busquets, Rakitic, Iniesta, Coutinho, Messi, Suárez.
There has been plenty made of Barcelona fans and the possibility that they will whistle the national anthem. Javier Tebas has had his say and says he would "change the law" to stop the game if that happened. Rory Smith from the New York Times wrote an interesting article about it here, which you definitely should read ahead of the game.
Hello and welcome to our live coverage of the Copa del Rey from the Wanda Metropolitano. Kick-off is at 21:30 CEST. 
In what was the manchego's last final with the club, he lifted his 31st trophy, and scored a wonderful goal to boot. There are doubts as to whether the 33-year-old is leaving the club of his life too hastily and if his performance in the Wanda on Saturday night is anything to go by, there is merit to those doubts.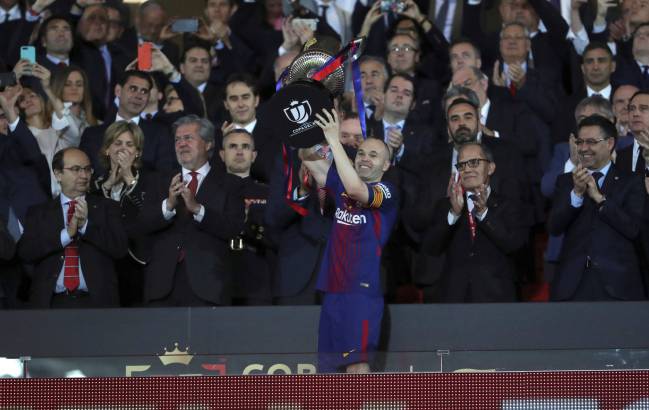 It was Luis Suarez who opened the scoring, however, after 14 minutes when Jasper Cillessen found Philippe Coutinho with a laser of a pass to set him free to tee up his teammate. Barcelona had no need for the rear-view mirror after that goal as they never looked back.
Messi slotted home after a neat Jordi Alba backheel to make it two after 31 minutes and Suarez poked the ball to the back of David Soria's net before the break to leave Vincenzo Montella's side with a mountain to climb in the second half.
Iniesta made it four after he exchanged a one-two with Messi inside the box, dropped his hips to sell Soria a dummy before slicing home from a tight angle. Coutinho got the fifth after Clement Lenglet handled the ball in the penalty area as the winter arrival won his first trophy in the azulgrana.
It was a fitting farewell for Iniesta, who was the man of the match, and was applauded off the field by both sets of fans as he was replaced late on. Valverde's future is safe at the Camp Nou, it seems, but a future without Andres Iniesta hardly seems like a future at all. But that's all ahead of this Barcelona side as their star said goodbye with yet another trophy to add to his incredible tally.
Sevilla vs Barcelona live: build-up
Sevilla vs Barcelona live: preview
There is a lot more at stake than just a trophy on Saturday night at the Wanda Metropolitano. The trophy that is the Copa del Rey is one thing but Barcelona are looking to win their first title under Ernesto Valverde, and he could be managing this game for his job too if reports before the game are to be believed. Sevilla are trying to ease their troubles after a topsy-turvy season that saw them sack Eduardo Berizzo, beat Manchester United in the last 16 of the Champions League, and look set to miss out on European football via the league.
For Barcelona, it will be Andres Iniesta's last cup final, as he looks to lift his 31st trophy with the club he joined as a boy; he will leave for China at the end of the season. Ernesto Valverde has his full squad to call upon as Sergio Busquets returns to full fitness and Sergi Roberto is allowed to play despite some confusion over a red card in LaLiga recently. Messi is out to break another record as he looks to score in five Copa del Rey finals, which would beat Telmo Zarra's 68-year accomplishment.
Sevilla can count on everyone bar two of their defenders. Right-back Sébastien Corchia is out along with central defender Simon Kjaer. The former is a longer term injury and has been out since January with a groin injust while Kjaer is out with a knee injury.