Japan see off Saudi to reach quarters
A first half header from a corner by Takehiro Tomiyasu was enough to see Japan over Saudi Arabia to make it into the Asian Cup quarter-finals.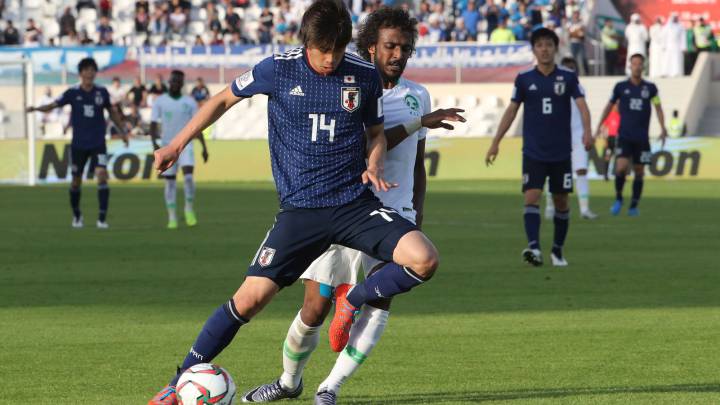 Japan 1-0 Saudi Arabia: match report
A first-half goal from Takehiro Tomiyasu was enough to send Japan into the Asian Cup quarter-finals for the eighth consecutive tournament after a 1-0 win over Saudi Arabia at Sharjah Stadium on Monday.
The Saudis, looking to end a 23-year drought since their third continental title, paid the price for failing to convert their chances and so the four-times champion Samurai Blue progress to face Vietnam on Thursday.
Japan went in front in the 20th minute when defender Tomiyasu rose above a Saudi defender in the centre of the box to head a corner into the bottom left-hand corner of the net.
Saudi Arabia dictated play in both halves but were simply unable to finish in front of goal as the Samurai Blue defenders put in a solid shift.
Midfielder Salem Aldawsari had a golden opportunity to put the Green Falcons level in the 62nd minute but sprayed the ball over the bar with a right footed shot from the centre of the box.
Moments later defender Ali Hadi Albulayhi guided the ball well over the bar with a free header after an inviting Aldawsari cross into the penalty area.
Japan, who claimed their last title in 2011, had won all three of its previous tournament matches to finish top of their group, while Saudi Arabia finished second in theirs with wins over North Korea and Lebanon.
Japan vs Saudi Arabia live online: match updates
90'+4' GAME OVER! Japan into the quarter-final.
90'+4'   One last chance. Nice cross and the keeper commits. He saves it and that's a really good catch. He was brave and very secure there. 
90'+2' Muto is swapped out by Kitagawa.
90'+1'   Saudi with a free. It's whipped in and the ball bounces dangerously in the box. Japan get it away. There was talk of a Japanese hand ball but it looked clean. 
90'   Four minutes of added time in this one.
90'   Japan clear and almost counter. Muto is exhausted now and looks like he is finished for the day.
90'   Saudi send it in and the ball lands to a white jersey but his control is poor. 
89' Shiotani replaces Doan.
89'   Japan foul as Haraguchi trips up the Saudi midfielder. Chance for them to whip it in for the Saudis.
88'   Launched forward and it's straight into the gloves of Gonda.
87'   Corner sent in and it's headed away by Japan.
87'   And it's out for a corner.
87'   They counter and have two chances. Blocked. And blocked again. 
86'   Saudi Arabia under pressure now as it's crossed in and beats two Japanese players. Saudi Arabia get it away.
85'   Ito gets the ball out on the right and he plays it back to Endo. Free for Japan now and they'll take their time over this one. 
84'   Clash now as Doan is whistled for the free. 
83'   Can Saudi Arabia keep up the pressure?
82' Yasser takes Ito down and gets booked. He stopped the counter but the Japanese player rolled his ankle. Nasty one.
81'   Defensive mistake by Japan and Saudi pounce. Sakai heads down to the attacker. Crossed in and it's headed away.
80'   Japan with a rare attack but Muto was offside. 
79'   That change means Saudi Arabia going for it. Midfielder off for an attacker. The kitchen sink option.
77' Otayf comes off now for Saiari.
77'   He lets the referee know too.
77'   There's a foul on Al Burayk again. He has been fouled approximately 300 times today. That's an estimate but a conservative one. 
76' Minamino is coming off now for Ito. 
76'   Saudi Arabia continue to push for this leveller. Japan's attacking intent all but gone.
72'   A lot more urgency to Saudi Arabia now. They have had the better of it in the last 10 or 15. Japan look to be getting tired.
70'   Comes back in though and Albulayhi heads wide. He has to at the very least get that on target.
70'   Foul by Muto on Al Burayk down the right-hand side. Free for Saudi Arabia and chance to whip it in. It is and then headed away.
65'   What a chance. Babhir with the strike. Keeper went on his knees and didn't dive but that was just inches wide! 
64'   Saudi improving, which only means one thing. They'll be weaker at the back.
63'   Al Dasawri whips one in and Japan looked uncharacteristically weak on the way back that time. 
62'   Al Daswari with an effort and that's really poor. Good chance as it's cut back to him in a nice position.
62'   Corner sent in and there's a foul on a Saudi defender as plenty of bodies in the six.yard box. 
61'   Muto through on goal. He should have scored as he was played through, come in on his right, back on his left and then back out again before shooting. Two Saudi players got back and he sees his shot blocked. Corner. 
60'   Corner for Saudi Arabia as Sakai believes he was fouled. He has a word with his keeper too as he should have come to collect that.
59'   Attempt now for Al Dawsari. Nowhere even near. 
56' Al Bishi is replaced by Al Shehri. 
54' Foul on Sakai. Al Muwallad booked for the effort.
50'   Here's a break now as the ball arrives in to Minamino. He takes control of it with his arm and the ref whistles for a free. Good chance goes to waste.
50'   Saudi very good still on the ball and keeping it but Japan are so well organised. They are also very good on the break, which Saudi are still wary of.
48'   Free is sent in and and it's headed into the keeper's chest. 
47'   Keeper turned a save into an attack in a second. 
47'   Nice effort by Al Dawsari. Saved by Gonda. He tried to curl it but easy for the keeper and he launches a perfect pass forward. Japan win a free. 
46'   We are back underway! Saudi need a goal. Japan could do with a clean sheet.
Teams emerge back onto the field and it looks like there will be no changes for either side.
45'+1'   And the referee has seen enough! Half-time.
45'+1'   Maybe just one minute of added time.
45'   Nasty clash there as Haraguchi is clattered in the air. Not sure that it's a free and the referee agrees. He gives the ball back to Japan and they kick it back to Saudi. 
45'   Ball back to Al Owais and it's very, very close to being nicked by the Japanese attacker. They work it out and counter. 
44'   Saudi trying to force the equaliser here before the break. Can they manage it? That diagonal ball isn't going to cut it though.
43'   Al Burayk with a first-time cross. Blocked by Japan. That is much better from Saudi Arabia.
41'   Sakai is bundled over and he wins a free.
40'   Free launch towards Muto and it's too long. He manages to put it out for a throw instead of a goalkick.
40'   Free for haraguchi after some lovely skill by Endo. 
39' Muto follows through on Albulayhi as the defender clears and he gets himself booked. He will miss the next game.
37'   Saudi Arabia growing increasingly frustrated here. They've run out of ideas against a really well-drilled Japan side and it's only the first half. They'll have to start trying something different here soon and that's when it gets dangerous for them.
34'   Foul by Albulayhi as Minamino backs into him and the defender wraps his arms around him. 
33'   Curler now from Babhir. Balls bobbles around just outside the box and it falls to the winger. He strikes and it flashes by Gonda's post. He had the keeper worried too. 
30'   Corner for Japan but it's out and Saudi win a goal kick. Saudi play it out from the back and Minamino is whistled for a hand ball.
28'   Japan with another nice cross. This time it's from the left and headed away. But Japan win it back and cross from the left. Muto jumps with the goalkeeper and it's a free. 
27'   After some excellent possession, Japan win it back and it's flicked forward to Minamino. Way too far over everyone. 
25'   Al Burayk fouled again. He was fouled earlier and was calm as he told the referee he wanted a card. But now, he is very upset and waving an imaginary card to the referee. All that little bit more tense when you concede a goal.
23'   Saudi Arabia are back on the ball now but, again, in docile positions. The problem now for Saudi Arabia is they are under pressure to score. Japan delighted if it continues like this. And they'll score again too on the break.
22'   What a good start by Saudi Arabia only to be undone by a brilliant set-piece by Japan.
19' GOAL! Tomiyasu with the header from the corner. Now Saudi Arabia are in trouble. Fairly easy header in the end. Perfect set-piece too.
17'   Cross by Haraguchi but it's deflected out for a corner.
17'   Error for Gonda now as the keeper tries to kick the ball out and slices it out for a throw. 
14'   Japan fighting back here but they've still not been able to get settled. Juan Antonio Pizzi pacing in his technical box. 
12'   Shot comes in and it's a ball to the head for Yoshida. He took that one straight on the nose! But he's okay. 
11'   Minamino with another foul. This has been scrappy so far but it's still all Saudi Arabia.
11'   Haraguchi is lucky not to be booked now for another foul on Al Burayk. That was three in a row and the Saudi Arabia captain made sure to let the referee know how many it was.
10'   Another free as Al Burayk is fouled. 
9'   Muto whistled for a foul. He was ruled to have pulled back Al Burayk but not sure he did.
7'   Japan's first attack and they have a great chance. Ball falls perfectly to Doan as Minamino flicks it onto him. He mishits it as he screws the shot into the ground! That was a great chance.
6'   Long ball in behind. Al Burayk ruled offside but he actually wasn't, I don't think. The right back racing forward wouldn't have reached it anyway.
6'   Japan not with any of the ball but they are happy enough given where Saudi have it.
5'   Long ball from an free for Japan but Al Burayk wins it. Saudi continue to win this battle thus far.
4'   Japan, of course, with 10 changes! So they are a little slow to start while Saudi Arabia have made just three changes. Japan will grow into it surely.
4'   Saudi Arabia really good so far but no chance yet. Japan barely gotten a touch. Otayf tries to bring it in from the left and loses it but wins a throw.
3'   Japan yet to settle here and Saudi launch it forward. They have a chance now to build but they lose it again in the middle.
2'   Free for Saudi Arabia. Whipped in and it's headed out before being sent back in. Al Fatil gets a free header and that's wide but he had loads of room. Had too much work to do with the header. 
1'   Japan wearing their blue strip, the Samurai Blue, I believe the colour is. Saudi in their white jersey with the green trim.
1'   3...2...1! Kick-off in the last 16 game between Japan and Saudi Arabia.
    We await the countdown! And there it is....
    Teams on the field and ready for action! 
    Teams out to warm up on a fairly perfect day in Sharjah. It's 23 degrees and ideal for football!
    Japan are certainly favourites for this game but Saudi Arabia have never NOT made it to the final of the Asian Cup once they make it out of the group stages. 
  Saudi Arabia XI: Alowais, Alburayk, Al Fatil, Albulayhi, Alshahrani, Otayf, Almoqahwi, Albishi, Aldawsari, Bahbri, Fahad.
    The striker, Muto, the only one to survive for their 2-1 win over Uzbekistan. He scored in that game too!
    Just the 10 changes for Moriyasu: Gonda, Yuto, Tomiyasu, Sakai, Yoshida, Endo, Shibasaki, Genki, Minamino, Ritsu, Muto.
    The odds might be stacked against Pizzi and Saudi Arabia but he thinks they can beat Japan.
    Saudi XI: 

    Japan's starting XI: 

    Hello and welcome to our live online coverage of the Asian Cup last 16 tie between Japan and Saudi Arabia and what is the best game of the tournament so far! We could well be looking at the winner of the tournament in this game. Kick-off at 12:00 CET.
Japan vs Saudi Arabia live online: preview
Japan and Saudi Arabia play in the last 16 tie in the Asian Cup having breezed through their groups. The only loss for either side came when Saudi Arabia lost to Qatar in their third match having won their opening two with a 6-0 scoring difference. Both sides made it to the World Cup in 2018 and the Japanese stole many hearts with their cleaning up efforts in the stadiums after the games, but they had their hearts broken by Belgium with a last minute goal that knocked them out. They were excellent that day and while Saudi Arabia could not make it out of the group, they made it very tough for Uruguay and beat Egypt after getting off to a dreadful start against Russia in the first game. They will likely play a reactionary style on Monday in what is one of the best ties in the tournament to date.
Japan are perfect in the Asian Cup so far with wins over Turkmenistan, Oman and Uzbekistan. They are into the last 16 and their manager, Hajime Moriyasu, says they are eyeing a quarter-final spot after a successful group stage: "We have used 22 players during the group stage and this has brought us to the knockout round. And we're looking at the quarter-finals now." The Japanese are unbeaten since 2011 in the Asian Cup and have won it on four occasions. They didn't win it in 2015 and were beaten on penalties after winning three and drawing one on their way to the quarter-finals. Only once since they fist qualified, in 1988, have the failed to make it out of the group stage and that was back in their first Asian Cup. Along with their four wins, they have a fourth place finish along with being knocked out in the quarter-finals in 1996 and the most recent heartbreak in 2015.
Saudi Arabia have made it to the final on every occasion they have made it out of the group. That is six finals in total: 1984, 1988, 1992, 1996, 2000 and 2007. They have won it three times too. the only problem is that they haven't gotten out of the group since 2007 and they haven't won it since 1996 as their manager Juan Antonio Pizzi faces one of the best teams in the tournament. He knows exactly how tough the Samurai Blue are too: "They are considered Asia's best. But we are high on confidence, that's why we are here. It will not be an easy game for us but we will try to win."