Man arrested in UAE for wearing Qatar shirt to Asian Cup match
Briton Ali Issa Ahmad was detained in the United Arab Emirates after wearing a Qatar shirt to the eventual winners' last-16 tie against Iraq.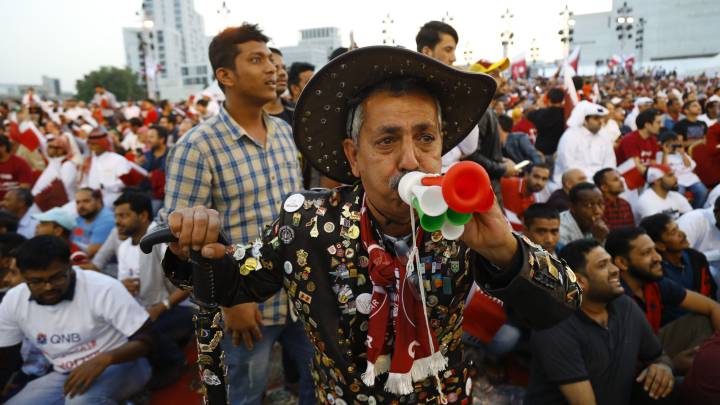 A British man has been detained in the United Arab Emirates for wearing the shirt of the Qatari national football team during a 2019 Asian Cup match.
Attended last-16 tie against Iraq in Qatar shirt
26-year-old Ali Issa Ahmad, who is from Wolverhampton, was on holiday in Abu Dhabi when he obtained a ticket for the last-16 tie between Qatar and Iraq on 22 January. Unaware that he was committing an offence, he decided to wear the Qataris' shirt to the game at the Al Nahyan Stadium.
After his arrest, Ahmad was then initially released, before being detained for a second time over "claims that he had made false allegations about security officials", the Guardian has reported. The UAE embassy says it is investigating the circumstances of the arrest, while the United Kingdom's Foreign and Commonwealth Office (FCO) has confirmed it is "providing assistance to a British man arrested in the UAE" and is "in touch with the local authorities".
"Showing sympathy for Qatar" illegal in UAE
According to information offered to British travellers by the FCO, "The UAE authorities announced on 7 June 2017 that showing sympathy for Qatar on social media or by any other means of communication is an offence. Offenders could be imprisoned and subject to a substantial fine."
Such sanctions stem from the UAE's decision in May 2017 to join Saudi Arabia, Bahrain and Egypt in breaking off diplomatic relations with Qatar, with the quartet accusing the state of destabilising the Gulf Arab region by supporting terrorism. The Qataris vehemently deny these claims, and have branded the blockade their neighbours have imposed on them as "unlawful".
Held between 5 January and 1 February, the Asian Cup saw World Cup 2022 hosts Qatar beat Japan in the final to lift the trophy for the first time in their history.