Barcelona: "Dembélé's a good lad but he lacks self-discipline"
Mickael Naya, Dembélé's former personal chef, told 'Le Parisien' that the Barcelona player abuses his free time and has friends who are a negative influence on him.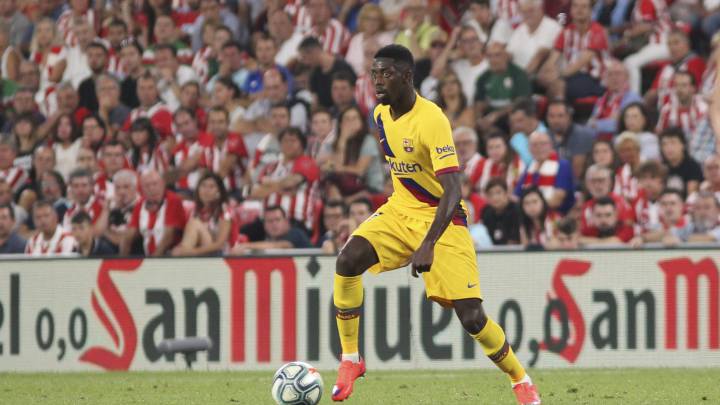 Ousmane Dembélé, who is facing five weeks on the sidelines while he recovers from a hamstring, is surrounded by friends who have a negative influence on his lifestyle, according to Mickael Naya, his former personal chef, who was fired by the player - as were his three predecessors.
Bad company
"Ousmane's a good lad but he doesn't control his life. He lives with his uncle and his best friend, and neither of them dare tell him anything", Naya explained in an interview with Le Parisien. He goes on add that the 22-year-old, who Barça paid 105 million euros for, does little more than slouch around the house all day although he admits that he has never seen him drinking alcohol, "he doesn't respect the time when he should be resting at all, there is no structure in place within his close circle".

Naya, who Dembéle hired last year, would organize the player's meals based around Barcelona's matches and the post-match recovery periods and initially, things went well but it would be undermined by bad company: "When he's not around his friends, Ousmane is completely different. He's inquisitive, open and well mannered," the player's ex-chef added.
Late for work
Le Parisien note that since Dembélé's injury was confirmed, the Spanish press have not ceased in their attacks on the player, describing him as immature or oblivious to his situation. His team mates Gerard Piqué and Luis Suárez were both openly critical about his unprofessional attitude his poor time-keeping and turning up late for training. "Ousmane and his close circle say that criticism is unavoidable and that they'll be challenged for whatever reason, but they're rich, they could care less," Naya explained.

Dembélé's latest injury highlighted the lack of discipline other have accused him of. After feeling pain to his hamstring during the league opener against Athletic Club in Bilbao, Barça medical staff requested him to show up the following day to undergo an ultrasound scan. The player refused because he had planned to travel to Rennes "to see his mother", according to his agent. When he returned to training on Monday, it was discovered he had a Grade II injury to his left hamstring which will keep him out of action for the next five weeks.