Cerezo: "I paid the 300 euro fine for Griezmann..."
Atlético's president feels that the transfer of the French forward to Barcelona "was closed by the RFEF with that ridiculous fine".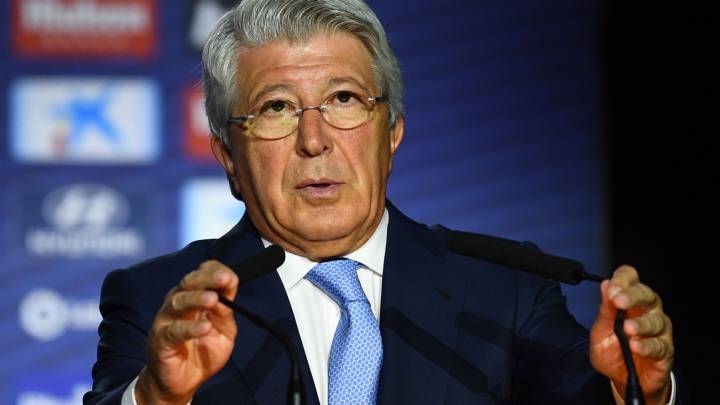 Atlético Madrid president Enrique Cerezo has stated that the first-refusal agreement that the club had with FC Barcelona several Atleti players was in no way related to the Antoine Griezmann issue which, he added, "is now completely closed and forgotten about".
"Absolutely nothing to do with it", Cerezo told reporters before the directors' lunch with Bayer Leverkusen officials ahead of tonight's Champions League matchday 3 clash at the Wanda Metropolitano. "The whole Griezmann carry on was closed by the Spanish Football Federation with that ridiculous fine. It's history and water under the bridge", Cerezo said.
Barcelona with first refusal on five Atlético players
An article in today's edition of El Mundo claimed that FC Barcelona had paid Atlético 15 million euros as a peace offering for the 'Griezmann Case' but also to acquire first refusal on five Atleti players including Saúl Ñíguez and José María Giménez.
However Cerezo wouldn't confirm the figure cited in El Mundo or divulge the identities of the players mentioned in the report. "I don't usually talk about money-related issues and on this occasion, I'm not going to say anything. These are issues between clubs which need to stay between the two clubs", he said. "If tomorrow, Barcelona decide they want one of our players, first they have to call to let us know - as they always have done and will continue to do".
The Atlético president also spoke to Movistar Liga de Campeones and let slip an interesting remark which may or may not have been serious: "The Federation imposed a fine of 300 euros I actually paid it. I paid it to Barcelona".