Real Madrid: Jovic set to get his chance in Champions League
Madrid's matchday-six group clash with Club Brugge looks like being a prime opportunity for 60m-euro striker Luka Jovic to start making an impact.
In Real Madrid's Champions League clash with Club Brugge on Wednesday, Luka Jovic can expect the chance to start shaking off his status as collateral damage from Karim Benzema's splendid form this year.
As a result of the Frenchman's performances, the club's second-most expensive signing of the summer has been feeding on scraps since joining from Eintracht Frankfurt for 60m euros, playing a total of just 319 minutes so far in 2019/20. That makes him the 21st-most used player in Zinedine Zidane's squad this term...
Jovic has played less than a half since Mallorca loss
Jovic is proving to be the last of the casualties of October's defeat at Real Mallorca to be forgiven by the Madrid head coach. Since starting in that night's 1-0 reverse at Son Moix, the Serb has got eight minutes in Istanbul, 20 minutes against Leganés - scoring his only goal so far for the club - and seven minutes against Real Betis. In Madrid's last six games, against Galatasaray, Eibar, Real Sociedad, Paris Saint-Germain, Alavés and Espanyol, he hasn't featured at all.
After warming up for 20 minutes in the 2-0 win over Espanyol this Saturday, however, Jovic was next in line to be brought on by Zidane in the second half - but left-back Ferland Mendy's sending-off for a second bookable offence forced Madrid into a change of plans, with Éder Militão brought on instead as Los Blancos' boss sought to reconstruct his backline.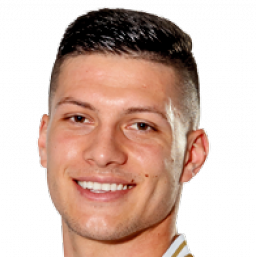 Veteran Luka Modric is proving a key pillar of support for Jovic. "I've spoken to him about my situation and he tells me to be patient," the striker revealed in the Serbian press last week, in an interview in which he also insisted he feels fully backed by Zidane. "He has faith in me and has told me that he's pleased to have me," he said, adding that the coach was a key influence in his move to the Bernabéu. "The negotiations between the two clubs became difficult," Jovic explained, "and he did a lot to make sure the transfer happened."
Jovic has certainly been feeling the pressure, though. He has had two goals ruled out by VAR and, albeit he didn't burst into tears like Vinicius, his first strike for Real Madrid was a release. "It was a huge relief to score that goal [...], the fans were very hard on me," he admitted.
Added to Jovic's introverted character are his struggles with Spanish (although the Portuguese he picked up at Benfica is helping). In Turkey, television cameras captured Zidane's difficulties in getting his message across as he issued tactical instructions to the 21-year-old. "Are you understanding me?" Zidane could be seen saying to Jovic, before adding in English, "You OK?" He was finally reduced to telling the player: "You attack, you attack!" It's not an isolated episode.
Jovic may have found it difficult to make an impact at Madrid thus far, but there is little doubt about his goalscoring ability. Last season, he plundered 27 at Eintracht and became the youngest player ever to net five in a single game in German football, in a 7-1 thrashing of Fortuna Düsseldorf. This century, Bayern Munich goal machine Robert Lewandowski is the only other player to have managed that feat.
Spat with Serbia coach adds to Jovic problems
Another reason why it's not proving an easy season for Jovic is that he is being deprived of the chance to get back on track in the international breaks, as he has been frozen out by Serbia after a disagreement with national coach Lubisa Tumbakovic in September...
Nevertheless, the memory of his recent struggles will quickly begin to fade if, at the Jan Breydel Stadium on Wednesday, he lines up for the Champions League anthem and takes advantage of his chance. Brugge is shaping up as kilometre zero for Jovic.