João Félix returns looking for a niche in Simeone's Atlético
The Portuguese player returned to full training and has made a full recovery. Now he must find a way of dislodging Correa, Morata or Diego Costa.
João Félix returned to full training with Atlético yesterday and appears to be over the muscular injury to his right leg which he suffered in the league game against Leganés on 26 January. On top of his physical problems, he also had a throat infection which kept him in bed for a couple of days and delayed his return.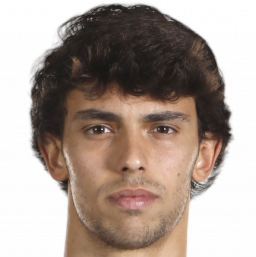 The forward could be handed a run-out towards the end of tomorrow night's home game against Villarreal. After that, he will have to earn a place in Simeone's attack. During the four games he missed through injury, (1-0 defeat to Real Madrid, 1-0 win over Granada,the 2-2 draw at Valencia and 1-0 win against Liverpool), El Cholo has used Ángel Correa to partner Álvaro Morata upfront. Correa is the team's second top goal scorer on six goals - four less than Morata; he has also provided six assists - more than anyone else in the squad.
With João Félix available again, Correa could move back over to the right wing. The Argentinean was close to leaving Atleti over the summer but now he is a first choice for Simeone, having started the team's last 10 games and completed seven of them. Diego Costa came on for the final 15 minutes against Liverpool - his first competitive minutes since November and also had Morata back, the striker had been out for a fortnight with a calf muscle injury.
Villarreal, Espanyol, Sevilla.. then Anfield
Thomas Lemar picked up a muscular injury affecting his right leg in the Liverpool match and missed Friday's session. It is not yet known how long he will be out for.
As for João Félix, he now needs to find his place in the Atlético attack - again. The most expensive signing in club history hasn't had an easy start to life at Atleti. He started out playing on the right wing, but was sidelined for a month with an ankle injury only to appear in the Week 16 game against Villarreal, playing as a supporting striker. Diego Costa's discal hernia problems prompted him to form a partnership with Morata, the Portuguese player in a free-roaming role just behind Morata, drifting across to either wing a bit like Griezmann did during his time at the club. But the team continued having problems scoring and that proved frustrating for João who, as it stands, has scored just four goals and given two assists in 1,864 minutes of playing time.