Real Madrid: Crespo recalls three occasions he almost joined
Former striker Hernán Crespo has told 'The Tactical Room' that moves to Real Madrid almost came about on three separate occasions.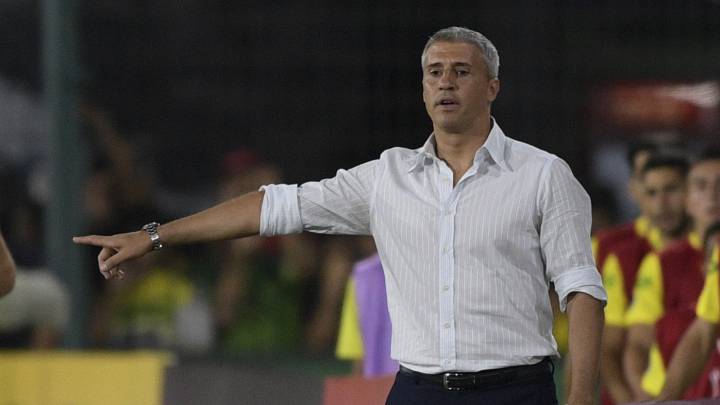 Former Argentina striker Hernán Crespo says he has come close to joining Real Madrid on three occasions - twice as a player, once as a coach.
"If Ronaldo had stayed at Inter, I would have signed for Real Madrid"
"In 2002, I was at Lazio and it was either me or Ronaldo who would go to Real Madrid," Crespo told an interview with the Spanish football magazine 'The Tactical Room'. "They bought Ronaldo, and I went to Inter as his replacement. If Ronaldo had stayed at Inter, I would have signed for Madrid.
"The second [chance to go to Real Madrid] was in January 2009, in José Mourinho's first season at Inter. Madrid came in for me, but they were only offering a six-month contract, because they had [presidential] elections coming up. I didn't accept it."
1.- La revista nº 62 de The Tactical Room llega en marzo con los siguientes contenidos: Entrevista a Hernán Crespo: "El manual del entrenador que gana siempre no lo venden en ningún lado", por @diegoborinsky / Correspondencia del náufrago @IgnacioABP: El adiós. pic.twitter.com/TZF6QuF1nN

— TheTacticalRoom (@TheTacticalRoom) March 4, 2020
"Florentino Pérez wanted to appoint Zidane"
After retiring from playing in 2012, the 44-year-old went into coaching, working in Parma's youth system before spells as boss at Modena and Banfield were followed by his appointment by current club Defensa y Justicia in January.
However, when Carlo Ancelotti left Paris Saint-Germain to take over at Madrid in 2013, Crespo could have taken his first steps as a coach as number two to the Italian.
"I watched games [for Ancelotti when he was at PSG]," he said. "I compiled reports and gave him my vision of teams. I did it a number of times, watching the games on TV at home.
"The plan was that I'd be his assistant at Real Madrid, we'd talked about it. But [Madrid president] Florentino Pérez wanted to appoint [Zinedine] Zidane in the role, and let's just say that was a good decision."