REAL MADRID
Redondo interview with AS: "My links to Real Madrid are eternal"
On the 20th anniversary of Redondo's devastating backheel, AS caught up with the Argentine and spoke coronavirus, Real Madrid and that historic backheel.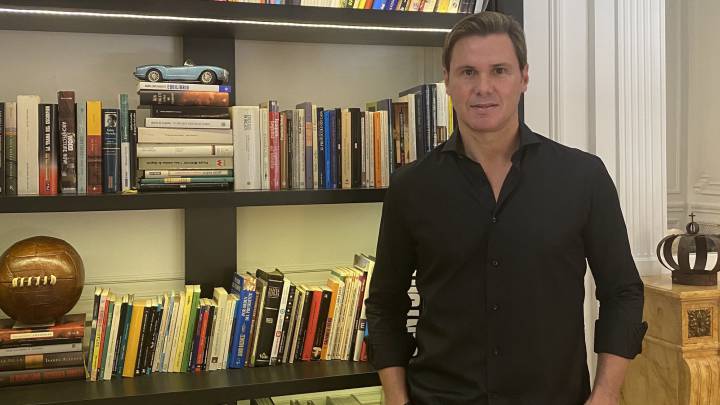 It has been 20 years since Fernando Redondo destroyed Henning Berg with a masterful backheel at Old Trafford. Real Madrid would go on to win that Champions League and one of the artchitects of that success recounts his version of the story to AS.
How are you getting by during the coronavirus pandemic?
- It's painful and complicated. I'm getting by with some uncertainty and by being responsible and with hope that together we can overcome it.
How does Argentina see the situation in Spain, Italy and the rest of the world?
The reality is that it's similar all over the world, beyond statistics, we are living through it in similar ways.
The virus has taken many lives including Lorenzo Sanz. What memories do you have of the president of the seventh and eighth Champions Leagues for Real Madrid?
I felt it very much. I have great memories of him, of his qualities as a human, his closeness, the special moments we shared. Like, for example, the two Champions League that you referred to. Especially the seventh, that was very special for us. Madrid had gone 32 years without winning it and what it means before and after. I know, for my father, who was there during negotiations, the interest he put into me being a Madrid player. I'll always be grateful to him. I feel a lot for his family and for Fernando, his son who I have a good friendship with. I hope the moment comes when we can get together and pay homage to him.
In your time, Madrid won two Champions Leagues in three years and they have now won four in five years. Is it genetic?
Without doubt. The Madrid DNA that you are talking about can be seen in the club's history. It is one of the characteristics that differentiate this team and club from the rest.
"It feels like a lie that it was 20 years ago..."
This Sunday, 19 April, will be 20 years since the mythical backheel at Old Trafford. What memories do you have of it?
It feels like a lie that it was 20 years ago. It is one of the memories I have closest. Maybe because we did win the Champions League that season. I remember the play well and it started in our half. We were being pressured by United players, I recieved it from Roberto Carlos, played it to Savio and he played it back to me over Gary Neville's head and I went forward down the left. It was a moment of inspiration and in the one-one-one, it was a technical move. I had never done it before professionally but had done it frequently in lower leagues with Argentinos Juniors. For me, it was important to lift my head and pause to see Raúl at the back post to finish. It was a great game of football, the home and away. They had a really good team, they were the champions and hadn't lost at home in the Champions League that year. Old Trafford is a fantastic place. I remember perfectly when the game finished when we left the stadium and we were going to the dressing room, all of the fans applauded us even though their side had been eliminated. I enjoyed this spirit of understanding the game.
After the backheel, Ferguson said: 'what does this boy have in his boots? Magnets?' and Collina said 'I will never forget the backheel from Redondo, it was one of the most beautiful plays I have seen on a football pitch.' The rival manager and the referee....
Two massive details that also form part of such a lovely memory.
What is your relationship like with the club now?
My relationship with Real Madrid is eternal. I haven't played for the veterans because of my knee injury but we keep in contact. The times I have gone to the Bernabéu or Valdebebas, I have always felt at home.
"The day of the backheel, the Old Trafford crowd applauded us off the field."
Before the break, there was talk that Zidane might leave if he didn't win any titles, what do you think of this criticism?
Anyone who was at Madrid, who wore the jersey, we know about the criticism and the demands that you are subjected to. It's notable how Zidane has returned and shown his growth as a manager.
Casemiro is very important in the middle. Do you think it's necessary to find a replacement for him so as not to overload him with too many games?
In my case, the more I played, the better I felt. He is young and he is physically powerful. It's something for the manager to consider and evaluate with the calendar and the scheduling of the competitions along with how the player is feeling.
How do you see Fede Valverde's arrival on the scene?
Really important for the team. He's really young, he is really dynamic and in this short time, he has show his personality.
Do you think Sergio Ramos will retire at Real Madrid?
Sergio has a lot of football ahead of him. He is physically gifted and his professionalism too. He'll be the one who decides when to end his career. Logically, he has to be at Madrid and he has to remain linked to the club for everything he represents.
Vinicius, Rodrygo, Odegaard, Valverde, Jovic, Kubo… What do you think of Madrid's policy of buying younger talent for the future?
Correct. Madrid always developed and supported the academy. Not just with signings. In fact, there are countless cases of players rising to top level at different teams from there with the chance of returning, knowing it takes time to develop young talent.

Do you have any desire to start coaching?
I had some concrete offers last year but it wasn't the right moment. We did an interview when we were finishing the UEFA Pro in the Spanish federation where we speak about the decision and the importance of working your way up. I had it lined up to travel to Spain, Italy and England to compare methodologies. Logically, I will have to wait out this situation but the idea to train is very clear in my head.