Elections 2020: today is the election, when is the deadline to register to vote?
Tuesday is the final day to cast a ballot. If you aren't registered but live in a state with same day registration you can still do your civic duty.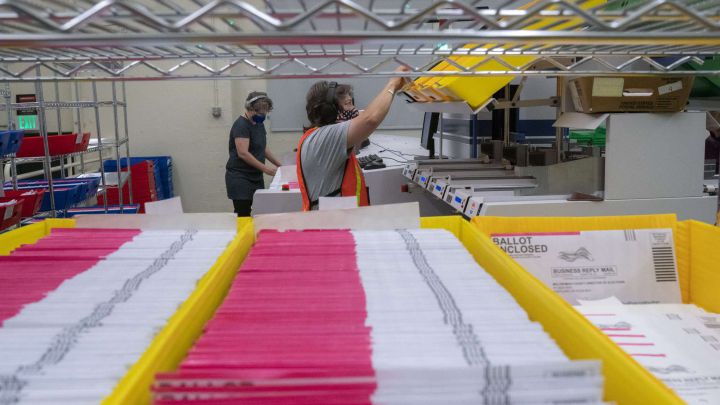 Election day is upon us with just hours to go until the polls open for the final opportunity to turn in your ballot. If you are a procrastinator and haven't gotten around to registering to vote there may still be an opportunity to vote. In 19 states and the District of Columbia you can do same day registration but you'll have to do it in-person. For locations and verification necessary in your state click here.
If you don't know if you are registered you can go to Vote.gov to check or click on the Tweet further down.
States where you can use same day registration
California
Colorado
Connecticut
Hawaii
Idaho
Illinois
Iowa
Maine
Maryland
Michigan
Minnesota
Montana
Nevada
New Hampshire
Utah
Vermont
Washington
Wisconsin
Wyoming
If you unfortunately don't live in a state where you can still register to vote you can get a leg-up on the next election and not have to worry the next time. Further down the article are more ways to register to vote.
What should I do about my mail-in ballot
If you haven't mailed your ballot yet, it would be best to drop it off at your local election site or your county clerk. There won't be enough time for the US Postal Service to get your ballot to the county clerk and ballots that will be received after election day have been part of several legal battles in recent days.
In some states you can spoil your mail-in ballot and then cast an in-person ballot. Before you do anything check with your election official on how to proceed to make sure that your vote counts.
Voting for the first time?
Here's a handy guide from the US government on what you should do.
Still confused?
Talk to someone at the US government for help, either by telephone or via an online chat service.
If you haven't registered to vote yet, it's quick and simple.
Each state makes its own voting and election rules, including when and how to register. Vote.gov gives full detailed information state by state, explaining exactly what steps you need to follow.
Fastest way to register to vote:
The quickest and easiest way to register is online. This service is available in 40 states and you can find direct links to the registration site for all 40 states in this table.
What if I can't register online?
Then you need to download the National Voter Registration Form. It's available here in 15 languages with an easy to follow guide about how to fill it out.
You can fill it out on screen and print the completed form, or print the blank form and fill it out by hand. Remember to sign the form before mailing it to the location listed for your state.
You'll also find the address to send the completed form for each state clearly marked.
Voting in person:
You can also register in person with your state or local election office.
You may also be able to register at one of these nearby public facilities. Check with the actual location first: the department of motor vehicles, armed forces recruitment centers, and state and county public assistance offices such as SNAP/food stamps and WIC.
If registering in person, take precautions to protect yourself and others from spreading Covid-19.
What if I'm a US citizen but don't live in the US?
Unfortunately, time has run out but that doesn't mean you should just sit on your hands on the sideline.
You can find all the necessary information on absentee voting here.
Again, it depends which state you are voting in, but here you can find a comprehensive list of deadlines by state for the next election.
Get registered now: the first deadlines are 30 days before election day.