Real Madrid player ratings as Getafe easily beaten in LaLiga
Marcelo excelled for Real Madrid as Zinedine Zidane's men comfortably beat Getafe courtesy of goals by Karim Benzema and Ferland Mendy.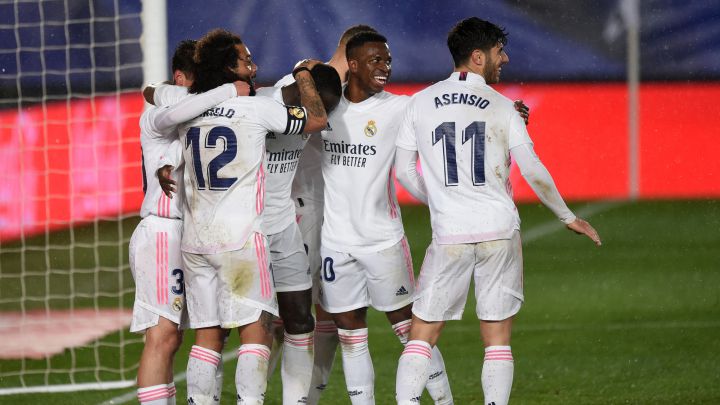 Thibaut Courtois:
One of the quieter nights the Belgian has had since he arrived at Real Madrid. Having three at the back had a role in that.
Marvin Park:
A winger playing out of position at wing-back, he did what he could. He looked a little timid, but there can be few complaints about his performance.
Nacho Fernández:
It's so important for a club to have a homegrown lad like him who always rises to the challenge when he has to take on responsibility.
Raphael Varane:
Very few moments of concern in Madrid's well-populated defence for Varane, albeit he had to use his pace on the odd occasion.
Ferland Mendy:
Mendy has faded this season and appears to get himself into problems through over-confidence. That said, he offered up a demonstration of his physical prowess in the process of scoring Madrid's second.
Marcelo:
The perfect game for him. He moved freely around much of the pitch, safe in the knowledge that he had his back covered - and shone. Set up Mendy for the second goal.
Luka Modric:
Madrid's three-man defence made it more difficult for Modric to take centre stage, because one of its effects is that it allows Los Blancos less possession.
Casemiro:
A hugely necessary figure in a system in which, with the wing-backs pushing forward, the defence is more likely to be outnumbered when the opposition launches quick breaks.
Vinicius Júnior:
Very little on the left. When he moved to right wing-back after Marvin was taken off, his failure to track back could have given away a goal, but Marc Cucurella wasted Getafe's chance. The Brazilian then delivered a fine cross for Karim Benzema to open the scoring.
Marco Asensio:
Struggled to get into the game in the first half, but was much better in the second, when he understood that he needed to take up positions between the lines to have more of an attacking impact. One fine pass to Benzema, from which the Frenchman almost scored, was the perfect demonstration of this.
Karim Benzema:
Missed a couple of chances - particularly the opening created by Asensio's wonderful ball - but broke the deadlock with a terrific header.
Substitutes:
Sergio Arribas:
Brought on ahead of Isco once again, but had little influence on the game.
Isco:
Given 15 minutes by Zidane. Difficult times for the Spaniard.
Víctor Chust:
Introduced when Marcelo picked up an injury. Not enough time to make much of an impact, but comes away from the game with his LaLiga debut.