Real Madrid - Chelsea: how was Hazard's time with The Blues?
Given his performances over the past two seasons at Real Madrid, it's now almost impossible to contemplate that Eden Hazard was once a Premier League superstar.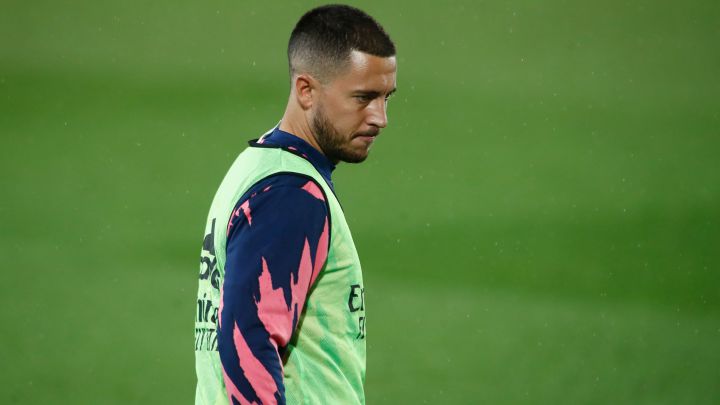 Considering Eden Hazard has spent more time on the sidelines than on the pitch for Real Madrid this season, it is a somewhat miraculous case of apt timing that the injury-plagued Belgian winger will be available to face his old club Chelsea in the first leg of the Champions League semi-final on Tuesday.
Eden Hazard: a Champions League reunion
Having played 13 minutes of the 0-0 draw against Real Betis last Saturday, the 30-year-old is in line to start, or at least play some meaningful part this Tuesday night following his return from his fifth injury layoff of the season.
Hazard will no doubt relish the chance to play against his old club -- and more importantly the chance to put in a match-winning performance that will remind Madrid fans why Florentino Pérez paid €100 million (or €160 million according to some reports) for him in the summer of 2019.
Not many Madridistas will be holding their breath. The former Chelsea man has yet to put in a match-winning performance in the white of Madrid since he arrived in the Spanish capital almost two years ago. Those that will argue in his defence will say that the reason he has spectacularly failed to live up to his Galáctico price tag is due to the seeming endless bout of injuries he has experienced since landing in Spain (defenders of Gareth Bale would have argued the same, but we all know that the patience of the Bernabéu fateful is notoriously thin).
Hazard's time at Chelsea
Considering Hazard has missed a staggering 45 games for Madrid in less than two years, it's almost impossible to fathom that he sat out a total of just 18 games through injury during his seven seasons at Chelsea. And given his performances over the past two seasons in Spain, it is almost equally impossible to contemplate that this was one of the Premier League's greatest players of the 2010s -- a bonafide superstar that dribbled his way to two league titles with Chelsea, as well as two FA Cups and two Europa League titles. In fact his last match-winning performance came in that 2019 Europa League Final, his last game for The Blues, in which he was named man of the match after scoring two goals in the 4-1 win over London rivals Arsenal.
During his time at Chelsea Hazard netted 110 goals and gave 92 assists in 352 games, translating to a goal participation rate of 0.57 per game. His goal tally at the end of each of his seven seasons at Stamford Bridge was 13, 17, 19, 6, 17, 17 and 21. In comparison, he has netted just four goals in almost two seasons at Real Madrid, the last of which came against Alavés on 23 January. Add to that his seven assists and his goal participation rate from 37 appearances with Madrid is just under 0.3 per game -- almost half of that of his Chelsea days. Of course, that harrowing stat won't come as a surprise to anyone who hasn't been living under a rock since that 2019 Europa League Final.
While Hazard has barely put his hand up for a man of the match award since joining Real Madrid, during his time at Chelsea he was named the Premier League Player of the Season and PFA Players' Player of the Year in 2014–15; the PFA Fans' Player of the Year in 2018–19; Chelsea Player of the Year in 2013–14, 2014–15, 2016–17 and 2018–19; UEFA Europa League Player of the Season in 2018–19; and Best Belgian Footballer abroad in 2017, 2018 and 2019.
Zidane still holds faith in Hazard
Long before he signed for Real Madrid, coach Zinedine Zidane said he "would take Eden with my eyes closed." Eleven years on from those comments, and Zidane's now-blind faith in Hazard holds strong -- or at least it would seem that way from his constant defense of the Belgian winger in public.
🔸 Eden Hazard fitted with big metal plate in ankle to guard against basketball-style injuries
🔸 Fitness problems related to tackle in 2019
🔸 Hazard deal made #CFC £20m in bonuses last season
🔸 Still owns house near #CFC training ground

📝 @SJohnsonSport & @dermotmcorrigan

— The Athletic UK (@TheAthleticUK) April 27, 2021
"Hazard will come good, we have to be patient," the French coach continues to maintain in press conferences. Patience is not a virtue often associated with Madrid fans. A Champions League semi-final against his old club after returning from his tenth injury layoff would certainly be a fateful night for him to come good and, in turn, restore some of their confidence. But few in Madrid are holding their breath.