Lambda covid variant: confirmed cases, symptoms and how contagious is it
Scientists are split on the potential threat of the Lambda variant but studies show it is highly infectious and could be resistant to vaccine antibodies.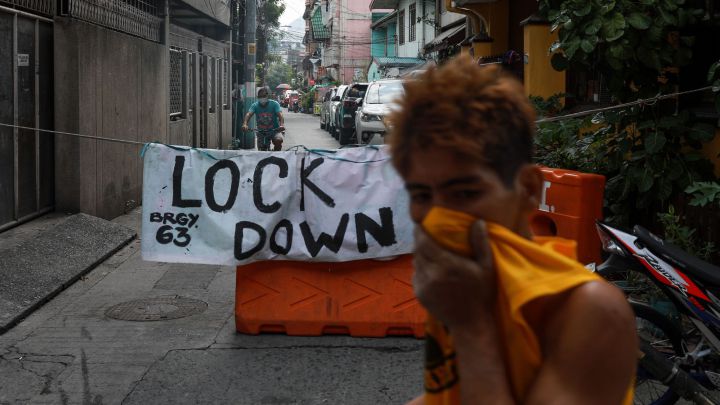 The Philippines on Sunday recorded its first case of a new coronavirus variant in the country, adding to concerns over the spread of the mutation after it first emerged in Peru in December 2020. By April 2021, 80 percent of new cases in the Latin American nation were attributed to the new variant, known as Lambda.
As the battle against the Delta variant rages globally, scientists are increasingly concerned by the potential for Lambda to create another front. As of 16 August, there have been fewer than 5,000 cases of Lambda recorded worldwide - by contrast the UK alone has reported almost 250,000 Delta cases - but the variant has now been recorded in 41 countries and is believed to be more infectious and vaccine-resistant than other mutations. The World Health Organization has designated Lambda a "variant of interest," a scale down from Delta, Gamma, Alpha and Beta, which are listed as "variants of concern."
A variant of interest is broadly categorized by the WHO as carrying mutations suspected of causing a change in transmissibility or causing more severe disease, but one that it is still under investigation.
Is the Lambda variant vaccine-resistant?
BREAKING: The Department of Health confirms the detection of 330 new cases of COVID-19 variants. Included in the count are 182 new Delta variant infections and the first case of the Lambda variant in the country.

Follow our live blog for more updates: https://t.co/df5XAqvyED pic.twitter.com/zORxTWDwFx

— CNN Philippines (@cnnphilippines) August 15, 2021
A study carried out in Chile supports the theory that Lambda may be resistant to vaccine antibodies, in addition to being highly infectious. "Mutations present in the the spike protein of the Lambda variant of interest confer increased infectivity and immune escape from neutralizing antibodies," the researchers concluded.
A research team in Japan reached similar conclusions about Lambda's potential ability to evade vaccine antibodies and noted the presence of two mutations, T761 and L542Q, which make the variant extremely infectious, leading senior researcher Kei Sato of the University of Tokyo to suggest: "Lambda can be a potential threat to the human society."
Lambda variant may already be receding
There is encouraging news, though, with several infectious diseases experts telling Reuters that Lamba may already be receding.
Dr. Eric Topol, a professor of molecular medicine and director of the Scripps Research Translational Institute in La Jolla, California, said the percentage of new Lambda cases reported to GISAID, a database that tracks SARS-CoV-2 variants, has been dropping, a sign that the variant is waning.
In a recent call with the CDC, disease experts said Lambda did not appear to be causing increased transmissibility, and vaccines appear to be holding up well against it, said Dr. William Schaffner, an infectious diseases expert at Vanderbilt University Medical Center who attended the discussion.
Lambda variant: what are the symptoms?
Symptoms of infection with the Lambda variant are the same as with any other variant of covid-19 and are listed by the UK NHS as being:
a high temperature – this means you feel hot to touch on your chest or back (you do not need to measure your temperature)
a new, continuous cough – this means coughing a lot for more than an hour, or three or more coughing episodes in 24 hours (if you usually have a cough, it may be worse than usual)
a loss or change to your sense of smell or taste – this means you've noticed you cannot smell or taste anything, or things smell or taste different to normal