TRANSFERS
Real Madrid put limits on Jude Bellingham move as Liverpool and Man City remain keen
Los Blancos are not interested in getting into a bidding war with the Premier League heavyweights, while Borussia Dortmund aim to keep their player for another year.
'Operation Bellingham', as it's now being referred to, concerning the 19-year-old English player, Jude Bellingham, has reached a crucial point two and a half months before the season's end. All parties involved have positioned themselves around the player. Liverpool, who had long-standing contacts with the midfielder's father, was the first, and fastest, to express interest. Real Madrid, after closely monitoring the situation, met with the footballer a few weeks ago. And most recently, Pep Guardiola's Manchester City has emerged as a strong contender due to their superior financial capacity.
The decision is now in the hands of the player, with Madrid making it clear that the club is unwilling to pay over the odds for this transfer and believes that its illustrious history will persuade the player to choose them.
How much will Bellingham cost?
Although Real Madrid considers Bellingham to be a top priority, they would rather let him go elsewhere if the operation exceeds 120 million euros (c.$130m). This price tag is reserved for a prolific goal scorer, and the club is unwilling to engage in a bidding war with Liverpool and City over the player's salary and transfer fee. Consequently, Madrid has informed Bellingham that he must make a decision before discussing specific figures with them.
The midfielder is currently under contract with Borussia until the summer of 2026. According to reports from sources within the German club, they will make one final attempt to persuade him to stay for at least one more season. They plan to offer him a renewed contract with a significant salary increase. If he signs, a predetermined amount of money will be set aside for his departure in 2024. Dortmund admits, however, that the likelihood of this plan succeeding is low.
Check out his stats this season courtesy of our friends at SofaScore.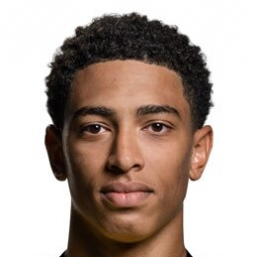 The resolution of the Bellingham saga is taking longer than Borussia CEO Hans-Jochim Watzke had hoped. A meeting was scheduled with the midfielder after the World Cup in Qatar, but Bellingham has not yet agreed to sit down with the club. In the meeting, the player will need to inform his current employer of his decision, whether to leave this summer (which is the most likely scenario) or stay for another year. Dortmund would be content with any option, as long as they receive an offer close to that 120 million figure for Bellingham's sale.
Madrid consider new striker plus Haaland, Mbappé
For the Spanish and European champions, a new factor has emerged that could influence Operation Bellingham. They are currently in need of signing a center forward to complement Karim Benzema, regardless of what happens with Haaland and Mbappé after 2024. This signing would require a significant investment, which strengthens the club's stance of not wanting to overpay for Bellingham.
If Bellingham agrees to join Madrid, reaching a deal with Borussia should not be an issue. The relationship between the two clubs is excellent, and Florentino Pérez and Hans-Joachim Watzke are good friends. In recent years, Real Madrid has loaned young players like Achraf and Reinier to Borussia for two seasons. However, Borussia has not yet received any formal offer for Jude Bellingham. Therefore, the player must make a decision before any further progress can be made.