Monaco 0-2 Juventus Champions League 2017: Alves, Higuain, match report, goals, action
Gonzalo Higuain scored in either half to give Juventus a 2-0 lead to bring back to Juventus in a week's time as Monaco drew a blank in the semi-final first legBarcelona-Sporting CP live online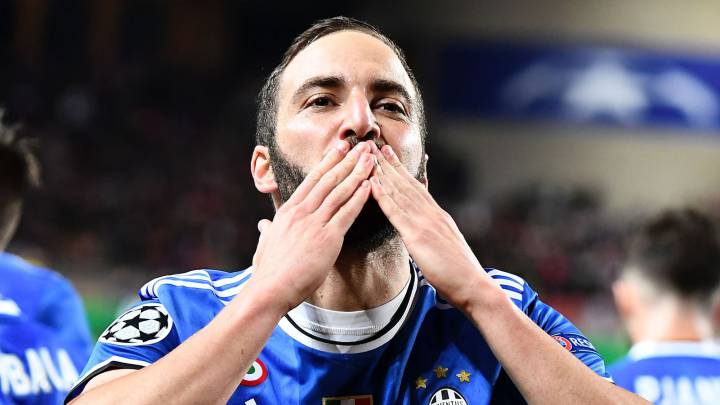 Monaco 0-2 Juventus: match report
Gonzalo Higuain was the hero, and Dani Alves a close second in the contest as Juventus took care of business in Monaco to ensure they go back to Turin with a two goal advantage for the second leg in six days time.
Juventus started far better than their hosts and had chances with Higuain looking off the pace and like it wasn't going to be his night. We might not be used to seeing Juventus dominating possession but they looked comfortable until Monaco worked their way into the game.
Kylian Mbappe, the teenage sensation, looked dangerous and was causing problems for Barzagli in particular, without every creating any clear-cut chances. He had one at the end of the first half that he turned towards goal but that was based on his own creation as opposed to it being a proper chance.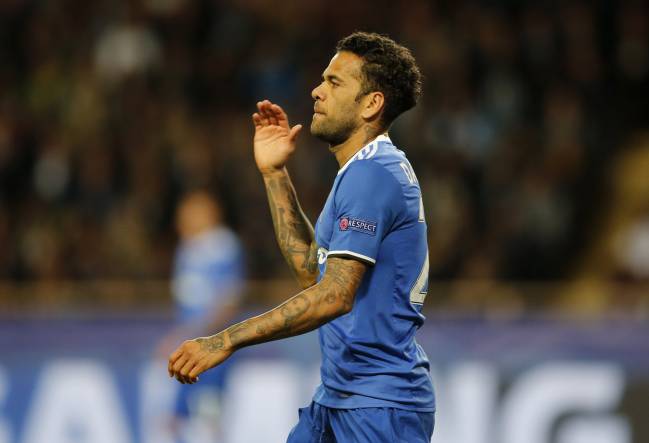 Juventus take the lead
After a couple of close calls for Juventus, Gonzalo Higuain eventually took advantage when he linked with Dani Alves after a lovely flick on by Dybala to open up the field to him. After Alves backheeled it to the Argentine, he made no mistake before running off the field and up to Juventus fans in sheer delight. There was more to come though.
Monaco started the second half at a blistering pace and had a number of more close calls. Juventus were operating with their bend-but-don't-break philosophy at the back and were looking more comfortable the more Monaco attacked them, if that is possible.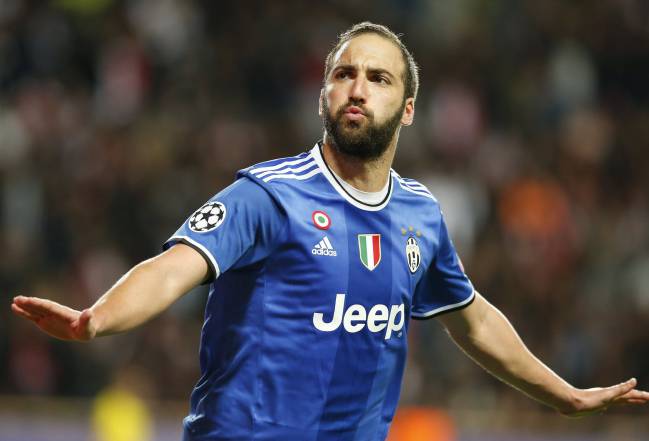 Higuain at the double
Bakayoko coughed up possession under pressure from Dybala and Alves and Dybala passed it to Alves only for the Brazilian to place it on a six-pence for Juventus' striker. He slid in and slotted home. Juventus were on cloud nine and knew they just had to close it out. It just so happens that this is where their expertise lays.
Monaco tried everything but were ground down by Juventus as they failed to let them in for that elusive goal. They had two chances at the end from frees. One that whizzed straight across the goal and another that Germain saw saved by Buffon.
Monaco still have a chance but going to Turin in search of two goals is a dangerous territory for even the most potent attacks in Europe.
---
Monaco 0-2 Juventus live online: second half
FT: Game over as Higuain gives Juventus a really positive lead to bring back to Italy.
Min 89 | Chiellini fouls Germain. ANother free from a dangerous position. Juventus will need to defned this one better than the one before it. They don't! And Germain gets a head on it but Buffon touches it over the crossbar. What a chance at the death.
Juventus substitution: Pjanic is replaced by Mario Lemina.
Min 88 | Rincon fouls Mourinho and the attacking midfielder puts the free into the penalty area. It whizzes across the box but there are no Monaco players there to get a touch onto it. Juventus playing with fire there. Monaco continue to try everything.
Min 87 | Mbappe has gone very quiet in the last 20 as Juventus drop deeper and deeper.
Min 84 | Ball over the top that Buffon gathers with ease. Monaco seem exhausted now but Juventus could keep defending like this for the rest of the night.
Min 82 | Falcao breaks free of his marker. he takes it on his chest but he can't get turned, and doesn't even try. Instead he tries a backheel but it doesn't work. Monaco win a corner but it comes to nothing.
Monaco substitution: Toure replaces Silva.
Juventus substitution: Rincon replaces Marchisio.
Min 80 | Juventus' concentration is second to none. Never trying to play a pass that isn't on, never lacking patience and always tuned in to Monaco's defense. Just as I type that, Mbappe lets a cross in that nearly sneaks to a Monaco player but Alves clears.
Min 78 | Dybala penalised for hand ball as Juventus look to score a third.
Juventus substitution: Higuain goes off and is replaced by Juan Cuadrado. Juve ready to work that counter-attack like a charm.
Min 75 | Silva gets the ball with a lovely dink from Moutinho but another block. he wants a corner but it hit him last. It's not happening for Silva tonight. Although that is by design from Juventus. They are the masters of the bend-but-don't-break defense.
Min 73 | Germain breaks and tries to create something. Blocked again.
Min 72 | Lucky from Mandzukic. He tries a backheel in his own backline and it hits off Silva and goes out for a goalkick. When the luck is in, there is little you can't try that won't work out.
Min 70 | Jemerson has a crack as a Dirar crosses is headed down to him. Well wide. There is just no breaking down this Juventus defense.
Min 69 | Chiellini booked now for catching Falcao with a forearm or maybe an elbow to the butt of the jaw. He is down and Monaco have a free but he slowly makes his way back up as Monaco look to get one back.
Min 68 | Another excellent ball over the top by Alves but Bonucci doesn't even try and control it. Probably beyond him as it was coming in over his head.
Monaco substitution: Bakayoko and Lemar replaced by Moutinho and Germain.
Min 64 | Chiellini penalised for a foul on Falcao from behind. A few Monaco players lining up for this one. Four of them in total standing over it before two walk away. Too far out to shoot. Lemar is the one who will take it. Nope. It's Fabinho, blocked and cleared.
Min 61 | Monaco looking for a way back into this? Dirar down after colliding in the air with Pjanic. He is getting his head seen to. Monaco with plenty of time to think about the situation they are in.
Min 59 | GOAL! GOAL! GOAL! Juventus score again. Bakayoko is dispossessed with a combo of Dybala and Alves. The Brazilian, Alves, swings it into the box and Higuain makes no mistake. Two away goals now for Juventus.
Min 58 | Marchisio takes Fabinho down with a late challenge as he skips by him in the middle. Yellow card for his effort. Third yellow of the game.
Min 56 | Dirar throws a lovely ball across the box. Mbappe just has to hit it with any part of his body but he can't and it just flashes across the goals.
Min 55 | Game has reached fifth gear just like that! Marchisio has a crack after winning it high up the field. It's blocked and then Monaco are in with Mbappe. He cuts inside and shoots but his shot is blocked. 90 miles an hour stuff.
Min 53 | Corner for Monaco. Dani Alves and Mbappe going to toe-to-toe with Mbappe in possession. After he passes the ball off, Alves has a nibble but the ref played advantage.
Min 52 | Time for Dani Alves to have a crack. He fires one goalward, but it turns out to be a mile off target. Back to the drawing board.
Min 51 | Another shout for handball. Alex Sandro this time. Mateu plays advantage, it looks like, and Bernardo Silva fires one at Buffon, who saves again. Monaco looking far livelier to start this half.
Min 50 | Mbappe through, just almost. Lemar let it through to him but Buffon comes out and saves it. So close yet again. The danger remains.
Min 48 | Falcao and Chiellini collide with the latter flying into the hoarding at the side of the pitch. He picks himself up, gives a little smile and shakes hands with Falcao. All's fair...
Min 47 | Lightening start by Monaco. Bernardo Silva takes it down, plays it to Falcao and he strikes low but Buffon gets down well to save.
Min 46 | Mbappe wasts no time as he runs straight at Juventus. Getting a low cross in that Chiellini clears.
Min 46 | And away we go!
---
Monaco 0-1 Juventus: first half talking points
Juventus owned the ball for the opening exchanges but the home side really grew into the game. They have a really good talnt in Thomas Lemar, who Atletico Madrid have reportedly been tracking, and he is providing some really dangerous balls into the box.
Higuain was having a bit of a stinker but that one shot has changed everything. Dani Alves still operating at a seriously high level for Juventus and providing a threat down that right hand side.
Kylian Mbappe has looked so dangerous when he gets the ball. He went one-on-one with Barzagli and the likes during that half and his speed is frightening. Juventus veteran defenders but Mbappe might have what it takes to force them into a lunge for a penalty. He is the real deal.
---
Monaco 0-1 Juventus live stream: first half
HT: Higuain with the opener. Juventus not entirely comfortable here with Mbappe making a huge impact but they have an away goal and have only conceded two goals in the Champions League this season.
Min 45 | Marchisio seems to handle the ball at the edge of the square. Mateu puts his finger in the air and says NO! just as the half-time whistle is blowing.
Min 44 | Bakayoko cuts inside and has a crack from downtown. It is defelcted up into the air and Buffon gathers. Higuain penalised for another foul.
Min 41 | Higuain penalised for a foul on Fabinho. He isnt't happy and it did look like he just used his body to shield the ball. Monaco pressing now in the last five. Keen to get a leveller. Juventus not overly taxed at the back but do look more open than they did against Barcelona.
Min 40 | Cross field ball is cut out by Lemar. He plays it out to Mbappe, who causes havoc in the Juventus penalty area. He goes down and Monaco want a penalty but Mateu will not bend. There were a few defenders around him. Difficult to tell who it was that caught him.
Min 38 | It's Dybala. He gets the shot on target but Subasic gets his body behind it and saves.
Min 36 | Dybala with a lovely move to break free from Bakayoko's attention. He plays it inside to Higuain but his shot is blocked. Fabinho fouls Dybala now and gets a booking for himself. Dangerous position for a free with Pjanic and Dybala lurking.
Min 34 | Alex Sandro catches Fabinho and is lucky not to be booked. More clumsy than anything else.
Min 33 | Free comes swinging in from Lemar. Bakayoko reahes but his leg isn't long enough. Very close. Any touch and Buffon would have been doing well to save that.
Min 31 | Dybala penalised for pushing off Fabinho to buy a yard and win possession. Free to Monaco that Thoma sLemar is standing over. Good ball bu Juventus reject it. As a result, alves reaches for a ball coming over his head and catches Sibide instead. The French defender hits the goruns but Mateu decides not to give a card. Looked an honest effort for the ball by Alves.
Min 29 | GOAL! GOAL! GOAL! Higuain makes it 1-0 just like that. Dybala's flick to Alves before he plays it to Higuain. Then Higuain gets it back after a lovely backheel from Alves before he finishes beyond Subasic. Lovely goal. Lovely move.
Min 27 | Mandzukic now with a chance. He winds one up and lets fly biut it's blocked. Glik hits the ground like a sack of potatoes. Replays show nothing, absolutely nothing happened to him. Was he trying to get Mandzukic booked? I'm not sure but that was pitiful.
Min 26 | Dybala is fouled and Pjanic stands over the free. Looked a sore one for the Argentine. Pjanic can't make the free pay though as he kicks it almost straight to Subsasic.
Min 25 | Corner for Juventus. Pjanic swings it in and it falls to Higuain. He somehow manages to kick it backwards! How did he manage that?
Min 23 | Dybala fouled now and that gives Juventus a good chance to gather themselves.
Min 22 | Mbappe with some quick feet that sees Barzagli struggling to keep up with him. He gets a cross in but Chiellini clears.
Min 21 | Bonucci booked for a late tackle on Falcao. Didn't make contact but silly to dive in late like that.
Min 20 | Glik now with a chance but it goes well wide.
Min 19 | Falcao with a header over Barzagli. Buffon saves and a corner. All Monaco now.
Min 18 | Dybala does not look comfortable. Game stalls for just a second but he plays on. We will see how he is fixed. Unclear as to what happened to him.
Min 16 | Best chance of the game! And it falls to Mbappe. He nearly turns it in at the near post but Buffon is equal to it. That one might bring Monaco to life. Dirar was the one who launched it into him and the youngster did so well to open out his foot and get that on target.
Min 16 | Higuain with a run into Monaco territory but is picked off quite easily. he had little support and might have turned around to wait for his teammates.
Min 14 | Mandzukic with a header that lands to Subasic again. Barely troubles him.
Min 13 | Alex Sandro causing problems down the left. He can't get a cross in though. Another attempt half-blocked. It falls to Marchisio and he slices it badly.
Min 13 | Mbappe with a header and Monaco's first chance. Buffon comfortable.
Min 12 | Dani Alves with the first touch from a long ball and he plays it to Higuain. he could have headerd it but failed to get off the ground. Really good chance.
Min 10 | Worringly for Monaco, Dybala growing into the game now. He links with Alves and the former Barça right-back has a shot that is half-blocked and rolls into Subasic.
Min 9 | Dybala with a nifty run and pull back to Higuian but he falls over himself as he approaches the ball. Literally just fell on the ground.
Min 7 | Juventus won't give Monaco a kick of it. Pjanic in the middle but his pass to Higuian is off target and the home side get a chance to attack. Bernardo Silva cuts inside and Monaco end up winning a corner.
Min 6 | Bonucci with a ball to Mandzukic and he headers down to Higuian. Sandro gets it again. Another block and another corner.
Min 4 | Ball in from the left again by Sandro. Mandzukic gets a head to it and down but Monaco pounce as Dybala was waiting to swing a left foot at it.
Min 2 | Juventus with all the ball early on. Alex Sandro tries a cross that Dirar gets in front of. throw to Juve as they try to build. Ball across the box lands to Alves and he tries to cross it but it hits a Monaco defender and lands safely in Subasic's gloves.
Min 1 | Antonio Mateu gets us underway in Monaco!
---
Monaco vs Juventus live stream online: latest news
20:41 | Plenty of people expecting a goalfest tonight but Juventus have only conceded two goals in their 10 games in the Champions League this season. Can Monaco unlock them?
20:31 | Predictions: Cal 2-1, Robbie 1-1, Mayca 2-2, Davie 0-0. Favourites Juve not getting too much love here although they'd probably take a draw. But what do we know?
20:27 | Just over 15 minutes to go. What will Leonardo Jardim be saying to his troops? Will their young stars be able to cope with the occasion. AS English predictions to follow...
20:16 | ...and that defensive experience may be in for a ride. The English Premier League's best defence, Tottenham Hotspur, had it tough when they played the French side earlier in the competition.
20:08 | In what is being described as the attacking vs defensive style-contrast the home team willl be disappointed that Mendy has not made their starting line-up although usual right-back Sidibe will switch across.
20:00 | 45 minutes until KO and excitement is really building in Monaco with the big-name players getting their final thoughts in order.
19:52 | Teams are out...
---
Monaco vs Juventus: confirmed starting line-ups
Monaco XI: Subasic; Dirar, Jemerson, Glik, Sidibe; Silva, Fabinho, Bakayoko, Lemar; Falcao, Mbappé
Juventus XI: Buffon, Barzagli, Bonucci, Chiellini, Sandro, Pjanic, Marchisio, Alves, Dybala, Mandzukic, Higuain
---
19:40 | Transfer talk, you say? "Mbappe can go wherever he wants... next year" - that's the view of former Monaco and Barcelona star Ludovic Giuly.
19:36 | Wow! We're hoping not to see this sort of brawling in tonight's cup game. Ahhh Russia.
19:31 | The referee for tonight's game at the Stade Louis II Spaniard Antonio Mateu Lahoz. He tends to let the game flow which can be great for the football but occasionally can lead to people getting upset...like Man City's Sergio Aguero when his claims for a penalty against Monaco were waved away by Lahoz.
19:25 | Virtually no wind on a pleasant evening in Monaco should mean no excuses from either side. Of course, the home side's attack may use experienced defenders like Giorgio Chiellini and Leonardo Bonucci as an excuse for why they struggle to score.
19:21 | A reminder that the first semi-final of the Europa League is the unusual appetiser to tonight's Champions League showdown. Jump in and join us for live coverage of Ajax vs Lyon and it's been an impressive start from the young home side, already 2-0 up.
19:05 | Big stars on show tonight - including the aforementioned Mbappé and Dybala - and no matter how this game goes we expect to be reading more about them over the transfer silly-season.
18:45 | Monaco's Ligue 1 chances were given a boost at the weekend with Nice's victory over challengers PSG. They're now three points ahead of the capital giants with a game in hand.
18:24 | Both of these sides will qualify for next year's Champions League competition through their respective leagues (meaning no extra-place complications) and both are on course to add the Ligue 1 and Serie A titles to their European exploits this year.
17:55 | It is written in the stars? Juventus last played Monaco in a semi-final back in 1997-98. They won 6-4 on aggregate and were then beaten by Real Madrid in the final. Not a great omen for Monaco or Juventus with Real Madrid putting one foot in the final last night.
17:50 | Here's an interesting article by Nick Ames on Monaco's journey over the last five years or so. From big spenders, to big sellers.
17:30 | While we're on the subject of Italian greats, Monchi today announced that Francesco Totti will retire from football at the end of this season, after 25 seasons at AS Roma. 6/10 for longevity...
16:55 | Speaking of that man Buffon, here's what he had to say about playing against young Kylian Mbappé: "In 1998 I went to the World Cup in France and he was born... it's beautiful and motivational to play against a future Messi, Ronaldo, Neymar". How lovely.
16:30 | Gianluigi Buffon is in search of his first Champions League trophy, which seems strange to write given how closely associated he is with a period when Italian sides dominated Europe the the early 2000s. This year, he thinks reaching the final is a 'logical conclusion'.
15:50 | Monaco have shown a remarkable ability to identify talented players and sell them on for a vast profit. Here's a selection of their most profitable player sales.
14:50 | Apparently some lad called Kylian Mbappé has been pretty good too...
14:05 | After disappointing loan spells at Chelsea and Manchester United, Monaco striker Radamel Falcao has been revitalised this term.
13:05 | Meanwhile, Juventus did what Paris Saint-Germain couldn't, defending a handsome first-leg lead against Barcelona to oust the LaLiga side.
12:30 | Hosts Monaco booked their place in the Champions League semi-finals at the expense of Borussia Dortmund, in a last-eight tie overshadowed by the bomb attack on the Germans' team bus before the first leg.
11:20 | As ever, we've prepared a jolly useful little guide on how and where to watch Monaco vs Juventus.
10:50 | Good morning! Join us for all the latest ahead of this evening's second Champions League semi-final first leg!
---
Monaco vs Juventus live stream online: match preview
Monaco, Europe's entertainers, face a stern test in the Champions League semi-final against a Juventus side that looked ominous as they flicked Barcelona aside in the last round.
An intriguing tie at the Stade Louis II awaits; the home side have scored a staggering 146 goals in all competitions this season, while the visitors have conceded just twice in the Champions League. Only Sevilla and Lyon have breached their stoic defence.
Monaco: team news
Leonardo Jardim has a few selection issued to contend with. Destructive midfielder Tiemoué Bakayoko is doubtful with a broken nose, yet, given his importance to the team, it is possible that he will play with a protective mask.
Right-back Djibril Sidibe is out, which will result in Nabir Dirar continuing on that side of the defence. In the other full-back position, Benjamin Mendy returned from injury in the 3-1 victory over Toulouse at the weekend, and will be in line to start.
Monaco currently sit three points clear of high-spending PSG at the top of Ligue 1, although PSG did sent them crashing out of the Coupe de France last week, with the match finishing 5-0.
Jardim's chaps are comfortable at home, to say the least. They have won their last 13 matches at the Stade Louis II. Kylian Mbappé has been key to that success, with the young striker catching the eyes of Europe's elite clubs. The player's uncle revealed that Juventus are one of the teams his nephew takes an interest in.
Juventus: team news
Sami Khedira is suspended, with Claudio Marchisio the natural replacement for the German international in the middle of the park. Daniele Rugani is out with a knee injury. Apart from that, Max Allegri has a clean bill of health.
"They do not have the same history as Juventus but that does not mean it will be easy for us to make it to the final," the Juve boss said before the match.
His side suffered an uncharacteristic blip in their last Serie A match, a 2-2 draw at Atalanta despite a full-strength line up. Juventus conceded as many goals in that match as they have done in this entire Champions League campaign.
Despite that, 'The Old Lady' are nine points clear of Roma at the top of Serie A and look well-set for a sixth consecutive league title.
---
Monaco vs Juventus live stream online: match facts
Juventus have never lost a two-legged tie against Ligue 1 opposition. They have played 11.
Monaco have scored at least three goals in their last four Champions League matches, which makes them the first team to do some in four consecutive knock-out matches.
---
Monaco vs Juventus live stream online: possible line-ups
Monaco XI: Subasic; Dirar, Jemerson, Glik, Mendy; Silva, Moutinho, Bakayoko, Lemar; Falcao, Mbappé.
Juventus XI: Buffon; Alves, Bonucci, Chiellini, Aleix Sandro; Pjanic, Marchisio; Cuadrado, Dybala, Mandzukic, Higuaín.
---
Monaco vs Juventus live stream online: match betting
Mbappé and Cristiano Ronaldo had both scored five goals in four knock-out games. Ronaldo emphatically pulled ahead with a hat-trick against Atlético... Mbappé couldn't draw level with him, could he? He's at 66/1 to find the net three times.
---
Monaco vs Juventus: live stream build-up