France 3 - 2 England: as it happened, goals, match report
Ten-man France swept England aside at the Stade de France, with goals from Umtiti, Sidibé, and Dembélé as Varane saw red. Captain Harry Kane scored twice for England.
France 3 - 2 England: match report
Dembélé and Mbappé dazzled as Didier Deschamps' Les Bleus surged past England in an entertaining friendly match at the Stade de France. The Three Lions roared in to an early lead through Harry Kane, before France regained control through Umtiti and Sidibé. The game looked to have swung back in England's favour after the break, when Raphael Varane conceded a penalty and received a red card, allowing Kane to score his second of the night from the spot. Yet France grew in to the second half, and Dortmund's Dembélé sealed the win in the 78th minute.
The two teams emerged to an emotional, yet defiant atmosphere in Paris. As Oasis' 'Don't Look Back in Anger' played out, two traditional foes came together to pay tribute to the victims of the recent terror attacks in Manchester and London.
England, lining up with a three-man defence, rushed in to an early lead. It was a finely-crafted goal. Alli sprayed the ball to Sterling, who held it up, before prodding a back-heel to an overlapping Ryan Bertrand. The Southampton man crossed for Kane, who tapped the ball in from close range.
With Theresa May watching on from the stands, England's lead proved to be as precarious as her premiership. After 22 minutes, Tom Heaton, making his first start in goal for England, could only parry Olivier Giroud's powerful header in to the path of Samuel Umtiti. The Barcelona defender shot from close range to score his first international goal.
England slipped out of the game. Pogba, Kanté, and Dembélé were emphatically winning the midfield battle. In attack, Mbappé showed why he will provoke eye-wateringly expensive bids from the top clubs of Europe. Playing in tandem with Giroud, he stretched England with his searing pace and deft trickery.
Two minutes before half time, right-back Djibril Sidibé fired France in to the lead. Mbappé was the architect. The Monaco striker shot low, and hard. Once again, Heaton could only parry the ball, and Sidibé charged in to find the bottom corner.
A beautiful, pastel sunset provided a backdrop to the Stade de France at half time. As the game got back underway, it was 'red sky at night, Southgate's delight'. With less than a minute gone from the restart, Dele Alli stole in behind the French defence, and fell under the challenge of Varane. After a moment of deliberation, the referee pointed to the spot and, after confirmation from the video referee, Varane was shown a red card. Kane, up against his Tottenham team-mate Lloris, shot down the middle to level the score.
England pressed and prodded at France, who took time to adapt to the one-man disadvantage. When Les Bleus did adapt, they did so in style. The trio of Pogba, Dembélé, and Mbappé tormented England. They were effervescent, full of flair, always one yard ahead.
It was the Borussia Dortmund man who scored the winning goal. Alex Oxlade-Chamberlain gifted the ball to France. Mbappé cushioned it to Dembélé, who arrowed the ball in to the bottom corner.
France continued to threaten, with half-time substitute Jack Butland preventing further damage. Their performance was all-the-more impressive given the wealth of talent, headed up by Antoine Griezmann, who watched on from the bench. For Gareth Southgate, the gaping hole in the centre of the English midfield will need addressing. But this Tuesday night in Saint-Denis was all about the youthful brilliance of the French attack.
France 3 - 2 England: as it happened
FT.
90'+4' England manage to provoke a goalmouth scramble from a corner in the last ebbings of the math. Alli nods it to Lallana, who lays it off to Dier... blocked.
90'+3'  Fine stop by Butland to deny Mbappé with his foot. Dembélé and Mbappé are running riot for France.
90' Four minutes of added time are indicated, and France look far more likely to score the next goal. Dembélé and Pogba both dance around the England box, searching for an opening that doesn't emerge.
90' Sidibé replaced by Jallet.
88' Sterling lashes a shot towards goal from the left channel, as the French fans hold flags and scarves aloft. The fans are the only ones at risk, as Sterling's effort flies well wide.
86' Butland rushes out to thwart Mbappé on the edge of the box. The Stoke stopper did well to get out to it.
83' Cresswell on, Jones off. Walker will switch to right back, with Cresswell slotting in on the left.
83' England haven't responded to that third goal well. They appear a little lost, and the French pressure continues.
78' GOOAALL, Dembélé! England gift France a third goal, giving the ball away on the cheap. Mbappé holds it up well, lays it off to Dembélé, and he lashes it in to the bottom corner.
76' Lallana replaces Trippier, prompting England to shift to a 4-2-3-1.
75' Sterling shows a strong core to shrug off the attention of Digne and charge in to the box. He neglects Kane on the cut-back, and tries to play the ball across the face of goal to an arriving Alli. Sidibé, who has dusted himself of from his latest clash, is alert to clear.
74' Alli arrives a tad late on Sidibé, as the former-MK Dons man tried to burst in to the box. He receives a yellow card for that.
71' Oxlade-Chamberlain loses the ball in a dangerous area, allowing Mbappé to wrong-foot Cahill and take a shot from seven yards out... off the bar! What a chance. Mbappé went for power with the goal gaping, and overcooked it. Butland does well to smother the follow up.
69' Phil Jones mops up as Dembélé looks to play in Mbappé. He then wins an 'agricultural' challenge with Sidibé, who receives abuse from Stones, and a couple of minutes of treatment.
65' Big save from Butland, who dives at the feet of Mbappé as the striker attempted to dance around him. England scramble the ball away, before Pogba absolutely bamboozles Cahill with some dazzling footwork. The United man crosses low, but Ing-er-land clear properly this time and gallop forward to win a corner of their own.
62' Stones booked for pulling back Mbappé. The City man protests, and points a big Barnsley finger at the Frenchman. A few choice words accompanied that gesture, I would imagine. Koscielny tries to get a head on the free-kick, but its harmless.
61' 'Just keep the ball' shouts a voice from the England bench, after Cahill sprays a long ball towards Trippier.
60' Walker loses the ball, but slots back in to the defensive line to intercept a through-ball intended for Sidibé.
58' Mbappé, who has been starved of service in the second half, is caught offside. He's leading the line on his own now.
55' England are making the extra man count. It was the Three Lions that were outnumbered in midfield in the first half. But now, it's knife-through-butter stuff every time England build from the back. Sterling lays the ball to Walker, who cuts in and wins a corner, which France clear.
54' Alli shimmies, before knocking the ball through Koscielny's legs. Alas, he can't quite collect the ball on the other side to complete a cheeky 'meg.
52' Deschamps responds to that red card with an all-Arsenal sub: Koscielny for Giroud.
51' Sterling almost bundles his way through a crowd of players in to the box, but Umtiti falls over and wins a foul.
50' Smashing work from 'The Ox' to win a corner on the right. Dele Alli meets the delivery, but leaning back, he can't generate the power to get it beyond Lloris.
47'    GOOALLLLL! Kane scores against his Spurs team-mate from the spot.
46' RED CARD for Varane!
46' PENALTY! Alli cuts in and is clipped by Varane. After some deliberation, the referee points to the spot. He has now gone to the VAR...
46' France get things underway!
HT subs for England. Butland replaces Heaton in goal, Walker replaces Bertrand at left wing-back.
There's a lovely, pastel sunset over the Stade de France. Red sky at night, Southgate's delight?
A move to a 4-2-3-1 may allow England to gain more a foothold on this game in the midfield. Looking at the bench though, Jake Livermore is not an inspiring option. It's clear that the centre of midfield is where England's weakness lies. Oh for the days of the 'can Gerrard and Lampard play together' conundrum...!
England have been outnumbered in midfield, causing the three-man defence to come under the cosh. England need a little more discipline from Eric Dier in that defensive midfield role.
Half time.
44' A decent penalty shout for England, as Sterling tumbles under Umtiti's challenge. It was clumsy, and there was contact. But the referee is unmoved.
43' Heaton, once again, could only parry a shot in to the path of a blue shirt. Mbappé with the initial effort after fine work from Dembélé, and Sidibé was steaming in from right-back to finish.
43' GOALLLLL! France are in to the lead through Djibril Sidibé!
41' Sterling breaks through the middle and lays the ball off to Alli. There's a smidgeon too much weight on the pass, which means Alli can't shoot first time with his left foot, and the ball runs away from him.
39' Kieran Tripper, perhaps having recovered from some nerves in the early stages, has grown as an attacking outlet for England. His delivery is sumptuous, but Varane and Umtiti have defended well so far.
38' Kanté is better at preventing shots than taking them... He lets fly from 25 yards, but is leaning back. His effort goes high, wide, and far from handsome.
36' Superb hold-up play from Kane allows Alli to spray the ball to Trippier on the right flank. His first-time ball to Sterling is perfectly-weighted, but a scurrying Sterling tries to square the ball rather than putting his foot through it.
32' Ryan Bertrand rasps a daisy-cutter towards the far post. Lloris tips it around the post. After much pushing and shoving, Bertrand delivers to Cahill at the far post. He knocks it down for Dier, who hits the ball wide on the bounce. Not the Spurs player England wanted the ball to fall to in the six-yard box.
31' Good play from Mbappé, he looks set to shoot on his right foot, ducks on to his left, and forces Heaton in to a reflex-save at the near post. The Monaco man is drifting out wide to pick up the ball, allowing him to gain momentum as he approaches the box.
30' Dele Alli looks to cut in from the left-flank. He skips beyond Varane, but naturally, Kanté is covering.
29' Digne looking a tad sloppy. His loose touch allows Trippier to get a touch, but the Barça man battles to get the ball back.
25' France appear energised by the equaliser. Lemar charges down the left, and Stones slashes his cross clear for a throw-in. Trippier, on his international debut, is allowing France to mount their attacks down his side of the pitch.
22' Giroud leapt high to meet a free-kick, and Heaton could only parry his towering header in to the path of Umtiti, who slotted hom through a couple of flying bodies.
22' GOALLLL! Umtiti equalises with his first international goal!
21' Alli curls a through ball to Sterling, who takes advantage of Digne's rustiness to get goal-side of the defender. Digne appeared to have a tug at Sterling's shirt, but nothing given.
21' France are forced in to a change. Barcelona's Lucas Digne trots on to replace Mendy, who is unable to continue.
19' Mendy now down on the turf, with what appears to be a knee injury.
17'  Mendy is marauding down the left. He flashes a ball across goal. It's in the right sort of area, but a little too pacy, and no blue shirts are able to meet it.
15' Big chance for France. Kylian Mbappé gallops down the left-flank, in to space that Phil Jones should really have covered, and squares the ball to Dembélé. He shoots first time on his right foot, and skews it wide.
14' Giroud has the ball in the net, but it's offside. The VAR officials remain unused...
13' The game has become a touch stale since the opener, with the vast majority of the play in the central third of the pitch. Paul Pogba watches a ball fall high from the sky, and takes it down like a bag of sugar. Superb.
12' The England supporters are buoyed by that early strike. 'Don't take me home', they plead with gusto to nobody in particular.
9'  Alli played the ball out to Sterling, who took the ball down neatly before back-heeling it through to Bertrand on the overlap. He flashes it across goal, and Kane showed his intelligent movement to plonk himself in the perfect position for a tap-in.
9' GOALLLLL! Harry Kane makes it 10 in his last 5 for club and country!
Correction on the formation front, England have indeed adopted a back-three, made up of Jones, Cahill, and Stones.
5' England have struggled to get their foot on the ball in the opening five minutes. Dele Alli receives the ball and, on the half-turn, looks to slide the ball through to Sterling. Under pressure from Kanté, the Spurs man overhits his pass.
4' Pogba chips a neat ball to Mbappé in the box, but the young striker had strayed offside.
4' Two young teams playing tonight: the average age of the France team is 23, one year younger than the average age of the England side.
3' England appear to be shaping up in a 4-2-3-1 formation with John Stones stepping in to the midfield.
2' A rather shaky start for England. The Three Lions give possession away cheaply, allowed Mendy to send a dipping shot towards the near post. Heaton pats the ball down and scrambles to gather it.
Harry Kane gets us underway! We're off!
Harry Kane will wear the captain's armband for the Three Lions, as he did in Scotland.
Now for the anthems. Topless England fans belt out something or other, while the French team link arms for their rousing anthem.
The entire stadium now singing 'Don't Look Back in Anger' by Oasis, as the giant flags come out. A real heart-warming show of unity.
The French supporters have whipped out an 'Icelandic clap' pre-match. A fine atmopshere in the Stade de France.
England will be looking to Harry Kane to provide the incisiveness in front of goal. He has scored nine goals in his last four game's, for Tottenham and England. His link-up with Dele Alli will be key to England's attacking threat.
Video Assisted Refereeing (VAR) will be used in Paris tonight. 
Warm-ups are well underway... Lloris will be hoping for a better personal showing than against Sweden last week. The Spurs 'keeper was guilty of a clanger to allow Ola Toivonen to score for the Scandinavians.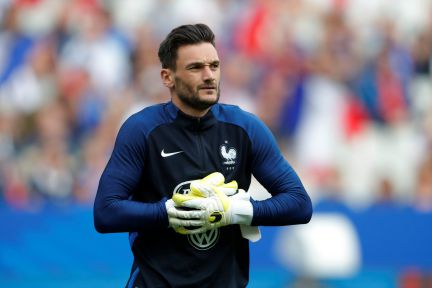 There are four Monaco players in that France team, fresh from pipping PSG to the Ligue 1 title: Djibril Sidibé, Benjamin Mendy, Thomas Lemar, and the man of the moment, Kylian Mbappé. 
It appears that Deschamps has opted for a fairly rigid 4-4-2, with ample pace on the flanks and, in the form of Pogba and Kanté, energy aplenty in the centre of the park. 
France XI: Lloris; Sidibé, Varane, Umtiti, Mendy; Dembélé, Kanté, Pogba, Lemar; Giroud, Mbappé.
So, that looks like a debut for Kieran Trippier, a first start for Heaton, and Stones shifting up in to defensive midfield alongside Eric Dier. 
TEAM NEWS! England XI: Heaton; Trippier, Jones, Cahill, Bertrand; Stones, Dier; Sterling, Dele, Oxlade-Chamberlain; Kane.  
One Frenchman worth keeping an eye on is Alexandre Lacazette, Lyon's prolific striker. He has been perpetually linked with a move to one of Europe's elite, and Sachin Nakrani goes a little deeper for The Guardian. 
France v England is not the only friendly match to take place today. Brazil saw off Australia 0-4 in Melbourne, while Jorge Sampaoli had some fun with a two-man defence in Argentina's  0-6 thrashing of Singapore. 
The United Kingdom's Prime Minister, Theresa May, is expected to be at the Stade de France along with Emmanuel Macron, the football-playing French President. There's a witty 'strong and stable' remark in there somewhere...
The Stade de France ahead of kick-off this evening. It just gets you itching for a game of headers and volleys, does it not?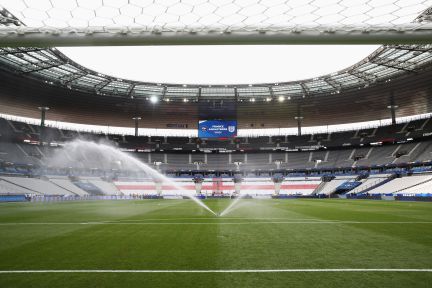 While we're on the topic of Milton Keynes' finest footballing export, here's a good piece by Nick Miller on Dele Alli's remarkable rise to the top. 
The 31 year old made 141 saves in the 2016/17 Premier League, keeping ten clean sheets for Sean Dyche's men in the process. 
Tom Heaton is in line to make his first start for the Three Lions. The Burnley 'keeper enjoyed a fine season at Turf Moor, and appears to have become Gareth Southgate's back-up up choice, ahead of Fraser Forster and Jack Butland.
England tasted success at the weekend, as Bournemouth's Lewis Cook became the first man since Bobby Moore to lift the World Cup trophy. Granted, it was the U20 World Cup, but it still represents a fine achievement and is indicative of the talented crop of English youngsters emerging through the system. Whether they will be given the opportunity to develop in the Premier League is another matter. 
Monaco's teenage sensation Kylian Mbappé is in line to start tonight - and former England captain Gary Lineker reckons he knows where the forward will be playing his football next season.
England's draw in Glasgow on Saturday evening makes Group F a little more interesting at the top. The Three Lions are now just two points above Slovakia and three above Slovenia. They all still have to play each other in the final four games of qualification...and the Scots will hold slim hopes that they can sneak back into second place contention.
Our preview below will give you some background to tonight's game including details of the tributes that the French will pay following the horrific terrorist attacks of recent weeks.
In France and in England this game will kick-off when the clock strikes 21:00. Around the world it may vary...so here's a little guide to make sure you don't miss a thing.
Last time out, the English lads scraped a last gasp equaliser away to another old foe, Scotland. While the French lost 2-1 away in Sweden, meaning they drop into second place in the group on goal difference to the Swedes.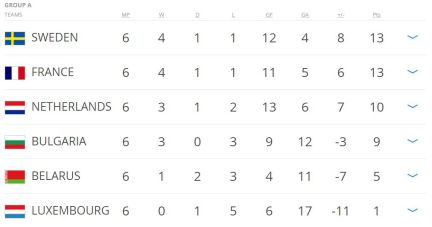 Hello and welcome to our build up to the normally competitive friendly that is France vs England.