Valencia 2-1 Celta Vigo 2017/18 LaLiga Santander: match report
Valencia returned to winning ways for the first time in four games as they beat Celta Vigo at Mestalla on Saturday night with goals from Zaza and ParejoRussia vs Egypt live: World Cup 2018 Group A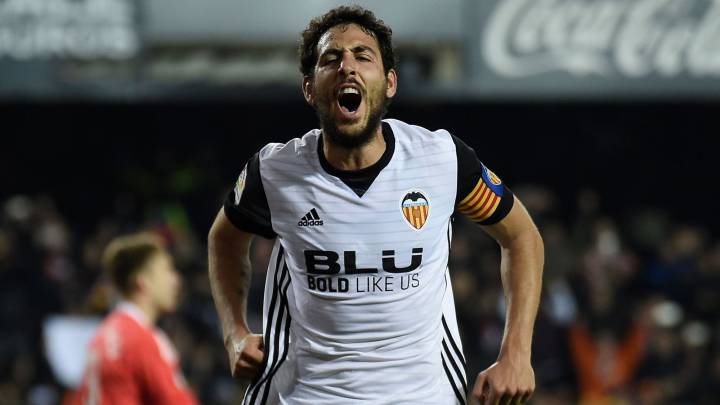 Valencia 2-1 Celta Vigo: report
Valencia relied on the finest of margins at the Mestalla to edge out Celta Vigo and remain Barca's closest challengers in LaLiga.
Simone Zaza ended a six-week goal drought as he flicked home Parejo's corner at the near post to hand Valencia a half-time lead.
Celta, who became the first visiting side this year to take points from Barca's Camp Nou last weekend, were on course for another excellent point when Iago Aspas stabbed home from close range early in the second half.
However, the visitors were furious when Pablo Hernandez was adjudged to have tripped Nacho Gil inside the area and Parejo was given the chance to drive the resultant penalty past Sergio Alvarez despite the Celta 'keeper's best efforts.
Valencia vs Celta Vigo live stream online: as it happened
90'+3' GAME OVER!
90'+3'   Valencia win it back. 
90'+3'   Zaza tries to waste time and ends up backheeling it over the line. One last hurrah for Celta.
90'+3'   Into the last minute.
90'+2'   It looked like Aspas was sent off for a second as he made his way to the line. Just frustrated as Kondogbia got treatment on the ground. 
90'+2'   Kondogbia down with a cramp. He has run himself into the ground. 
90'+1'   No winner.
90'+1'   Aspas wants a penalty but referee says no. Corner instead and the ref has to step in to calm everyone down. It was Paulista versus Aspas. 
89'   Corner is cleared up into the air and Celta break with Wass.
88'   Corner Valencia.
88'   Valencia in the ascendency now. Looking for a goal to kill the game and Celta Vigo struggling to figure out a way through them. 
86'   Valencia trying to break and they suffer with that hand ball.
86' Hugo Mallo handles the ball as it goes by him.
85' Aspas booked now for having a chat to the referee.
84'   Guidetti on to save the day. He is replaced by Cabral. Emre Mor also replaces Pione Sisto.
83'   THIS is when Valencia are most lethal. Celta really need a response. Valencia looking to pounce on any mistakes.
82'   Parejo's third goal and that could be a vital one for his side.
81'   A little closer than Valencia would have liked that one. Can they hang on?!
81' GOAL! Sneaks under Ruben's arms.
80'   Silly, silly, silly tackle! Nacho Gil is fouled by Tucu Hernandez as he comes in from behind him and clips his shin.
79'   Cross cleared by Wass with Parejo waitingf. Valencia way better now.
79'   Much better from Valencia. Montoya drives a shot at Ruben but he saves. 
78'   Corner for Valencia. Pereira with a nice cross but it's headed out. 
76'   Valencia pressing higher and higher up the field now. They need a win!
75'   Kondogbia holding everything together for Valencia now in the middle.
75'   Zaza can't get a head to a cross than Pereira sends one across goal but nobody to meet it.
73'   What just happened! Ball in over the top, Zaza takes it down on his chest, then he looks to have handled it and hits the deck as he collides with Tucu Hernandez. Free to Celta Vigo. Looked like a strange free to give away but the right decision.
72'   They get a chance to break and Pereira loses it. Nacho Gil then chases down a ball in behind but it's a goal kick.
71'   Pereira wins a free now. Valencia need a few attacks of their own as Celta, while they haven't been amazing, are on top here.
70' Free for Valencia and a yellow for Maxi Gomez as he throws himself into Valencia defender in the air.
69'   All Celta Vigo now as Valencia look exhausted and out of options. They need Santi Mina involved as much as they can.
68'   Wass and Kondogbia fall over each other. Free to Valencia in the penalty area. Valencia look exhausted.
66' Santi Mina on for rodriga.
65'   Wass strikes! WIDE!
64'   Nacho Gil fouls Wass. kondogbia worked hard to win it back, played to Rodrigo and he wasn't alert to the pass. Valencia finding it hard at the moment and Marcelino was probably right to tell them to keep their heads.
63'   Just not happening for Valencia at the moment. Rodrigo tries to spead it wide and it's a couple of yards ahead of Gaya. Another attack breaks down.
62'   Marcelino with a very clear message to his players as he points to his noggin and says 'Keep your head'
60' Marcelino makes a change. Carlos Soler is replaced by Nacho Gil.
That's five for Zaza now and will miss the next game.
59' And a yellow for Zaza to boot? Rough break for the Italian.
58'   Penalty shout? Zaza goes down with a push in the back from Jonny. Very, very luck is the left-back.
58'   Now Zaza wins it and drives forward. Ends up at Soler's feet and he drives a shot at Ruben Blanco. Save.
57'   Mallo nearly gives it away but Daniel Wass recovers.
56'   Good game but neither team really gotten into it just yet and haven't found their groove. They've both been good in spells but neither team dominating.
56'   Nope, that won't work for Valencia. Long ball to Ruben. 
55'   Arrives at the front post and Fontas clears with his noggin. 
54'   It's Valencia who need to force the issue a little bit now. And they are. They win a corner.
52'   Lobotka with a one-two with Maxi Gomez. The former goes down and has a case for a penalty but referee says no. It would have been harsh as Kondogbia was all about the ball and did very well on second look.
51'   Valencia, as they have been, looking slightly tired now. all Celta to start the second half.
49'   Hugo Mallo with a cross that Aspas helps on. Valencia nearly clear it but Maxi Gomez picks it back up again. Valencia let off the hook there. 
47'   Aspas on fire in recent weeks with nine goals in eight games.
46' Not even a minute played and Aspas has Celta Vigo level. 1-1 as he finishes beyond Neto from a half-blocked Maxi Gomez shot.
45'   Back underway! 
No changes for either half, it looks like.
Most goals in LaLiga this seasons with the head are Valencia, Celta and Real Betis with eight each.
As it stands, Valencia remains three ahead of Real Madrid in the league. They sit just two behind Barcelona, who play Villarreal in Valencia tomorrow night. 
Celta Vigo enjoying 60% of possession so far. Valencia with the important goal though!
45'   Not a whole lot of added time at the end of the half. 1-0 to Valencia thanks to Zaza. His first in four games.
44'   A tame end to an entertaining half. Not over yet though as Zaza looks to buy himself a yard to shoot. He can't and Celta break. Aspas way out to the right and they build up slowly.
42'   Good pressure from Valencia and Gaya forces a turnover but his touch lets him down. That's before Valencia win it back and start another attack. 
41'   Valencia trying to take the sting out of Celta's fightback here. They are trying to clam things down but Celta win it back. 
39'   Montoya with a cross that goes into the back post. Pereira with a cross from that side that is rejected by Celta. Five minutes left to play in the half.
37'   There's that counter but vigo survive with just a corner conceded. Rodrigo with a lovely move to break free. 
36'   Valencia under some pressure now since the goal. Celta trying their best to find an answer before half-time. Having some success too.
34'   WHAT A SAVE! Iago Aspas with a diving header and Neto gets across to save. 
32'   Hugo Mallo drives a shot at Neto now. Still routine for the keeper but slightly more difficult. Wass found him in loads of space in the centre. That goal should open this goal up for better or worse for Celta.
30'   The worst thing you can do is go behind to Valencia. They work so well on the counter. 
28' GOAL! Zaza with an almost impossible header at the front post. Valencia take the lead.
27'   That would have been team goal of the season. Gaya to Zaza, who takes it down and flicks it towards Gaya! He drives a shot that is saved. Corner.
26'   Increasing pressure on Celta Vigo. Kondogbia to Zaza. He strikes and sees his shot half-blocked again and Celta clear again...
25'   Another lovely, floated cross towards Zaza. Celta just about manage to head it out of his path. He was lining up a volley there that could have gone either way! Corner.
24'   Wass finds Aspas this time but his control lets him down. Valencia give it to Lobotka though and he shoots. Straight down Neto's throat and he saves with ease.
22'   Wass looks for Aspas but he loses out. Valencia break. Soler with a chance. He cuts inside and strikes but it hits the side netting. Lovely break by the home side.
20'   A lovely, floated cross from Gaya and it's headed out. All Valencia now. They're dominating via the wings. 
19'   It comes flying in and Hugo Mallo stands over Rodrigo, who hit the ground. He wants a penalty and 95% of the Mestalla do too but the referee is unmoved by their protests.
19'   Zaza goes toe-to-toe with Cabral and cuts inside him, strikes and wins a corner.
18'   Really smart move from Valencia sets them up on the left. Low corner is cleared and Aspas breaks. Half-blocked up into Neto's gloves. Back and forth so far and both sides look quite lively in final third.
17'   Kondogbia up front now looking to get on the end of a long ball. Throw for the home side. 
16'   Soler fouled by Jonny after Aspas loses out up front for Vigo.
15'   Zaza in behind and a late whistle for offside. Right decision. Valencia forcing themselves on this one in the last five. 
14'   Valencia with a chance to break now. They get turned back though. Still in possession and attack down the right with Montoya.
13'   He took the most recent one short and Zaza drives it across goal but no teammate there to turn it home. Plenty of chances early on in this one. Neither team on top.
12'   Couple of corners in a row now for Parejo. Nothing doing so far for Marcelino's side.
12'   Montoya to the back post for Pereira and he chests it down, drives a shot towards goal and it's put out for a corner.
11'   Aspas troubling Valencia on the counter again. He was a nuisance for Barcelona last week and the same again here as he breaks.
10'   Sisto! How did he miss. Aspas breaks and finds Sisto before he cits inside, leaving Valencia defender on the ground. He strikes but Valencia recover.
9'   Sisto to Lobotka, Lobotka back to Sisto and the Danish winger nearly curls it into the top corner!!!! So close. 
8'   It's not bad and Montoya forced to head out for a corner. Sisto to take.
8'   Jonny fouled by Montoya now as Celta Vigo line up a set-piece. Wass' delivery here could be dangerous.
8'   Aspas breaks, cuts inside and shoots but sees his shot blocked. He goes down and has a look at the ref but the ref looks back with little pity.
7'   Pereira strikes. It takes a nick of a defender and Celta clear. 
6'   Maxi Gomez with a very ambitious strike from way out. He hits the side netting but that was never troubling Neto. Just a little reminer for the keeper maybe!?
4'   Unzué's side probably more comfortable playing with the ball. 
4'   Lobotka with plenty of touches early on as Celta Vigo start to edge the midfield battle just slightly.
3'   Zaza the man who hit the post, I am led to believe. He arrived out of nowhere and drove the ball against the upright! Ruben left rooted to his spot.
2'   Valencia nearly take the lead! They hit the post from the corner.
1'   Some lovely one touch passing in the middle and that sets Valencia free down the left. Cross and Soler forces Jonny to put it out fo a corner.
We are underway at Mestalla! The big one in LaLiga this weekend.
This could very well be a goalfest!
Reports from some Valencia-based publications that Marcelino has already spoken to Sandro to make sure he will come to the Mestalla in January. He can't play tonight though so that one is on the backburner.
Muted celebrations from the pair if they manage to score tonight? Santi Mina has five goals in LaLiga this season with three coming off the bench and Rodrigo is having a career year also. he has scored eight in 14 so far.
Rodrigo was a Celta youth and Santi Mina too, moving to Real Madrid and Valencia respectively when their stars started to rise! They could be on a LaLiga winnng side if their form continues and they can manage to pip Barcelona in the race.
It's 12 degrees on the ground at Mestalla. Chillier temperatures than Valencia are used to. Vigo, on the other hand, might even be hoping for some rain to feel more at home!
Iago Aspas started the season very slowly. He didn't score in his first seven but a ha-trick against Las Palmas in the eight game of the season ignited a little flame. Since then he has scored five goals in six including the opener at the Camp Nou last week.
Zaza is goalless in his last three games - a win, a draw and a loss for Valencia. He went six on the trot with a goal, and a hat-trick in one of them against Malaga, but since then the goals have dried up. 
It might sound like hyperbold but given how well Real Madrid played today, Valencia really must treat their next few games as finals. Los Blancos and Los Che are level on points with 31 apiece and a slip-up by Marcelino's side could see them wobble and fall before the winter break. He is intending on bringing in reinforcements in January with the likes of Sandro linked and  winning tonight is vital for their title chances.
Valencia are third in the league table at home with 17 points from a possible 21. Celta Vigo sit in midtable away from home with seven from 21.
Unzué makes some changes, mostly forced, with Jozaed suspended and Sergi Gomez out injured. Meanwhile, that attacking line up is excellent with Jonny returning to free Wass up a little bit more on the right. Aspas, Sisto, Gomez and Wass as the attacking four should make this a really exciting game.
Celta Vigo team news: Ruben, Mallo, Cabral, Fontas, Jonny, Lobotka, Tucu Hernandez, Wass, Aspas, Sisto, Maxi Gomez.
Awaiting team news now. Celta manager Carlos Unzué forced, yet again, to find a replacement for Sergi Gomez. He returned from a soleus injury only to injury his shoulder just minutes into the Barcelona game. 
Valencia are missing Goncalo Guedes but Ferran Torres is in the matchday squad. He made his debut in the Copa del Rey recently and he is being chased by the biggest European clubs as hopes are high for his development. Here is an interview with him at the under-17 World Cup before the final against England.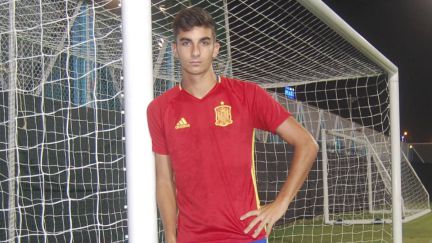 Simeone Zaza has a knee issue that he will wait until the end of the season to fix. He has been one of Valencia's standout players with nine goals, second only to Lionel Messi. He has slowed down somewhat and there are suggestions the knee could be troubling more than he is suggesting. A good chance for him to prove that he is still on it tonight in what might be an open game with plenty of chances.
Valencia vs Celta Vigo live online: LaLiga match preview
Valencia look to get their LaLiga title challenge back on track against Celta Vigo at the weekend as they welcome the galicians to the Mestalla on Saturday night.
Just a week ago, Celta Vigo were dirupting Barcelona's title march and now the look to throw spanner in the spokes of Valencia's fine start to the season.
Valencia
Getafe served a very harsh lesson to Valencia as they kicked and spocked their way to victory last Sunday night. It was Valencia's first loss of the year as they look to rebound against Celta Vigo.
They will be missing their crown jewel in Gonzalo Guedes, the man who causes so many problems for opposing teams with his speed and precision on the counter. He is out
Meanwhile, Ezequiel Garay remains out for the encounter while Carlos Soler suffered a slight injury during the Getafe game but trained well all week and should be good to go on Saturday night.
Celta Vigo
Under Carlos Unzué, Celta Vigo have blown hot and cold this season. Last weekend, however, they brought their A game back to Unzué's former workplace as they dismantled Barcelona on the counter.
They may not have had as many chances as the home side on that occasion but they scored as many goals and they will need to be as clinical against Valencia on the counter in this one.
Valencia pride themselves on how organised their defense is and with Marcelino in charge, they like to work on the counter once they take the lead meaning Celta will want to keep it at 0-0, or better, for as long as they can.
Sergi Gomez, who just returned from a calf injury, is out after suffering a collarbone injury against Barcelona while Jozabed is out due to suspension.
Valencia vs Celta Vigo live stream online: betting odds
Valencia are 3/4 to beat Celta Vigo at Mestalla, with the visitors priced back at 7/2 to return to Galicia with all three points.
Place your bet on Valencia vs Celta Vigo.