Belgium 3-2 Japan: World Cup 2018, last 16 result, goals
Nacer Chadli's 94th-minute goal booked Belgium's place in the quarter-finals as the Red Devils came back from 2-0 down to beat Japan. USA vs Curaçao: Gold Cup live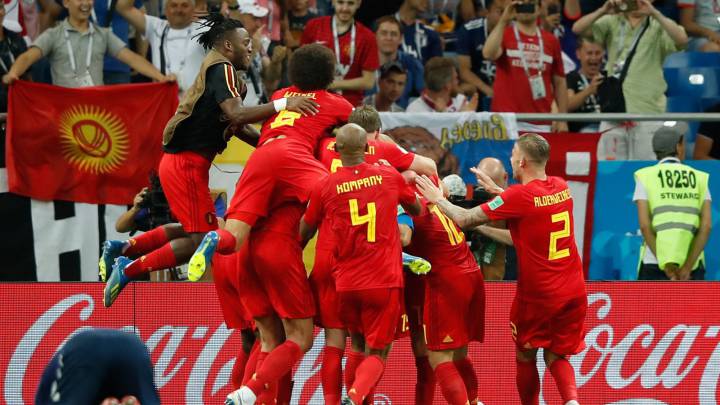 Belgium 3-2 Japan: match report
Belgium booked their place for the Friday night showdown against Brazil with a last gasp effort from Nacer Chadli against Japan on Monday night. Having looked lost at sea midway through the second half, Belgium fought back and won the game in the dying seconds thanks to a razor sharp counter-attack.
It was Japan who took the lead despite look out on their feet for large spells of the first half. The were creating chances but Belgium were laying the pressure on thick up the other end and could have had a handful of goals before the half-time whistle.
On 48 minutes, however, Genki Haraguchi took the ball into the penalty are from a counter and sent a rocket past Thibaut Courtois into a the only space he could from a tight angle. Japan were 1-0 up and were still looking dangerous in attack. They doubled their lead four minutes later whe Takashi Inui sent another laser beam past Courtois, this time to the other side of the Belgian keeper.
Belgium had to act. But it seemed like they were out of luck when Hazard struck the post from a volley inside the penalty area. Were we about to have another scalp at the World Cup. The steep slope Belgium were looking up at became easier when Jan Vertonghen sent a header looping over Eiji Kawashima. That was followed up by a header from substitue Marouane Fellaini.
The game cooled at that point but both sides were still dreaming of a winner. Japan were awarded a corner with what we thought would be the last kick of the game but Courtois grabbed it and sprung Kevin de Bruyne free. He played it to Thomas Meunier and after a stepover from Lukaku, Chadli slid home the winner with no time for Japan to even think about a reply.
It was close, it was not always a certainty and it was, at times, lucky but Belgium march on to meet Brazil in a heavyweight showdown in the quarter-final. Meanwhile, Japan, who sacked their manager just weeked before the tournament will go home wondering what might have been.
Belgium vs Japan live online: World Cup 2018, as it happened
90'+4' GAME OVER! There's no more time for anything.
90'+4' GOAL! Belgium break up the field. The corner. Japan get caught from the corner. Chadli slots it home. Incredible. Heartbreaking for Japan. What a counter though. De Bruyne breaks, he plays it to Meunier, Lukaku steps over it and Chadli slides it home.
90'+4'   Corner. Last chance here, it seems like.
90'+4'   It's taking them forever. And the referee finally blows the whistle. Shot from Honda. Saved by Courtois. 
90'+3'   Japan taking their time over this one. 
90'+2'   Ball back to Kawashima and he kicks it up the field. Foul on Osako by De Bruyne.
90'+2'   Headed out at the front post by De Bruyne. 
90'+1'   We have four minutes of added time...
90'+1'   Save from Courtois. Inui in around the house and it gets sent towards goal by Witsel. It's a corner.
90'   Chadli looking for a way through but he can't. Put out for a throw to Belgium. Vertonghen takes and aims it towards Fellaini.
90'   Looks like we are set for extra-time here. But I have been wrong in these situations before. Can Belgium find a goal? 
89'   Ball into the box and Lukaku takes Yoshida down with him and it's a free to Japan.
88'   Belgium in the ascendency here. Hazard whips it across to Meunier. Offside from Fellaini as Kawashima makes a save from a Vertonghen shot. 
88'   Shot from Meunier and that dribbles wide.
86'   Cross comes in Chadli heads it with a save from Kawashima. Chadli is back to his feet and he crosses. Header from Lukaku and that's tipped over the bar by Kawashima. 
85'   Belgium on the ball but no way through Japan's defence. Two tired teams.
84'   Japan looking tired but are getting shots off and into nice positions.
83'   Wonderful through ball to Honda but his shot is blocked for a corner.
81' Shibasaki comes off and Yamaguchi comes on. So does Honda and he replaces Haraguchi.
80'   Ball all the way to the back post and Kompany heads back into the danger zone. Headed out by Japan. They work the latest corner short and it gets put out for a goal-kick.
79'   De Bruyne wins the corner. This is where Belgium look dangerous from.
79'   Another dangerous cross and it's Lukaku heading it just wide. He couldn't shake off the Japanese defender.
77'   Sakai down the right. It's headed out to Kagawa and he does a pops it inside but Osako is going the other direction and it's out for a goal kick.
75'   Belgium with another mix-up and Inui is in. He turns and shoots but it's blocked and falls to Nagatomo. He shoots but that's out for a throw.
75'   Belgium with the momentum.
74' Hazard with the ball in and Witsel plays it out to Hazard. He crosses to Fellaini and he heads home. 
73'   Break for Belgium. Japan scrambling back. De Bruyne has a shot and it's blocked up and out for a corner. Very close there as Belgium attacking with more clarity now, it seems. Kompany up for the corner.
72'   Nagatomo with a nice cross from the left and Alderweireld puts it out for a corner.
71'   Osako not happy as he wins the ball off Kompany and whistled for it.
70' VERTONGHEN! He loops it over Kawashima. 2-1 and Belgium have 20 minutes to get another one. He heads it in from an impossible angle. Really poor defending and that might just break Japan.
69'   Corner as Fellaini makes a nuisance of himself.
69'   Yoshida with a slide to reject Lukaku again and it's out for a throw. Fellaini in throwing himself around. 
67'   Japan sent it across goal. It goes wide. Belgium still looking for that goal.
65' Changes for Belgium. Two of them. Fellaini and Chadli on. Carrasco and Mertens off.
64'   Another dangerous Japanese attack. Ball into Sakai and he crosses. Courtois with a save with his foot. It comes back in and out for a goal-kick.
63'   Belgium have a half an hour to solve this. No changes for Martinez yet.
62'   Lukaku has the goal at his mercy. Perfect cross from Meunier and Lukaku heads it wide.
60'   Corner in and Belgium counter. Ball out and Kawashima chases it down. 
59'   Japan comfortable on the ball now. Ball sent in from Haraguchi and it's headed out by Witsel. Corner for Japan.
57'   Hazard inside to Carrasco. He drives a shot towards goal. Well, it was meant to be on goal but it's a mile over.
54'   Ball clipped inside to Lukaku but that's too far for the striker.
54'   When do Belgium start to panic?
52' Inui with a cross and it's headed out by Kompany. Kagawa takes it down and the shot comes in from Inui. WHAT A FINISH! Absolutely beauty. 
51'   Meunier with a lovely pass and Kawashima gathers.
49'   Belgium straight up the other end and Hazard hit the post with a shot from just inside the box. It nearly comes back out to him too but he can't turn his body to meet it. 
47' Haraguchi with the finish! Perfect pass into his path and Vertonghen couldn't reach it. He thought about cutting back but shot in the end. Lovely finish too.
47'   Nagatomo clatters into the back of Mertens and he wins the free. Mertens slow to get up but he's fine.
46' We are back underway and Japan are on the ball and on the move. That's a poor pass forward and Belgium recover that easily. Communication breakdwown.
No changes for either side, it looks like.
Teams back on the field. 
45'+1'   That'll do it for the first half! 
45'+1'   Belgium looking for one last chance. They get it as Lukaku lays it off to Mertens and he shoots. Saved by Kawashima and Lukaku looked offside anyway. 
45'+1'   One minute of added time and we are deep into it.
45'+1'   Ball into Lukaku. He can't find a teammate with a pass but Belgium recover.
45'   Inui with a cross but not before the ball foes out for a goal kick. 
44'   Courtois let the ball slip through his hands after a really, really tame effort. He gathers before it goes over the line but that was close! 
43'   Nagatomo puts it out for a throw. Kawashima was thinking about coming out but decided against it. Nagatomo not taking any chances. Japan on the break now.
43'   Japan survive again. Ball into the box and there are several blue jerseys there to win it back. 
41'   Vertonghen heads it into the danger zone and Japan recover. Belgium win it back. Hazard has it out on the right. 
41'   Free for Belgium now. Lets see what they can muster up. Hazard and Kompany having a chat as to what they might do here. De Bruyne is going to take. 
40' Hazard hauled down and we have the first yellow card of the game. Hazard picking up plenty of speed there and Shibasaki brought an abrupt halt to his run illegally.
39'   Carrasco with a dangerous ball across the box and Meunier is in around the house. Too far for him and it goes wide.
36'   Hazard inside now and his shot it blocked. It falls to Witsel and that's over the bar off his right foot.
35'   Japan counter and ball is played to Osako. He tries to turn De Bruyne but loses the ball. He had a think about going to ground but doesn't and Belgium win it back. They launch forward and Japan have it. Japan have weathered that storm and are doing really well now. Great game so far. Tactical battle with chances for both sides in almost equal measure. Belgium just edging it so far though.
34'   Belgium back on the ball and back on the attack. Carrasco inside and fakes a shot, then plays it to Mertens, who can't make it! 
32'   Ball down the right-hand side and Courtois rushes off his line and gathers just inside his box. A step or two to his left and that was handball. 
29'   Really dangerous from Japan as they fashion a chance. Kagawa in the box and he runs out of road and backheels it to an overlapping Nagatomo. He cross inside and the header comes in but Courtois saves easily. 
28'   How long more can Japan hang on for. Another cross comes in and Kawashima punches clear with Lukaku just lurking near enough to make him think twice. 
28'   Corner comes in and Kompany at the back post. Kawashima dived for it and Kompany sends it back across goal.
27'   Hazard on the left. It makes its way across to Mertens and he chips one into the box. Sliced wide by Yoshida as Lukaku waits for it. Oh, that was close.
27'   Shot comes in and Kawashima punches it clear but Belgium keep it. 
27'   Well worked by Belgium. Hazard sends the ball across to Mertens, who tees up De Bruyne and he slices it. Danger from every angle from Belgium now.
25'   So, so close. Cross from Mertens and it falls to Lukaku almost. Yoshida does enough to make a mess of it for Lukaku and Kawashima gathers it. Belgium knocking on the door. Japan hanging on.
24'   Really strong by Osako. But Belgium win it back. Carrasco down the left-hand side and he sends it into the penalty area. Nobody waiting and Japan win it back. Carrasco gets it though and he plays it to Hazard. He's asking too much of the Chelsea man now.
23'   Hazard inside and that goes all the way back to Alderweireld and then to Kompany. Belgium playing slightly more patient. Meunier gets it and tries to poke it forward to Lukaku. Japan recover.
23'   Sakai with a header out for a throw. 
22'   Corner again and Kompany gets it, almost. He swings a foot at it and missed it. Belgium keep on attacking though. They're back on the ball.
20'   Lukaku recieves it with his back to goal. He turns and strikes on his right. Over the bar, again helped with a deflection.
20'   Japan's manager, Akira Nishino, looking slightly concerned on the sideline.
20'   Japan with a pass again down that left hand side but that's too far and out for another goal-kick.
19'   Japan suffering just a little bit. They have the ball now and Inui is pushed in the back by Meunier.
18'   Kompany gets the cross after kind of headering it down to himself. He shoots and it's wide. 
17'   Really dangerous. Carrasco with a cross and Meunier sends it in to Lukaku. He chests it down and shoots. But it's deflected and out for a corner. If Lukaku has even a half a yard more there to turn, that might have been the opener.
17'   Worked short to De Bruyne, and he sends it in. Kompany heads down towards goal and it's cleared.
16'   Lovely ball over the top by Meunier and Hazard takes it down expertly. He recycles it and plays it to Witsel. His left-footed effort is well over with the help of a deflection. Not a bad effort though. Corner.
15'   Carrasco with the ball just inside the penalty area and there's a sliding tackle and he wants something - maybe a penalty. Haraguchi got the ball the referee says. Eventually Kompany with a foul. 
14'   De Bruyne moves forward and Shibasaki wins it back. Japan on the ball now trying to make something happen. Belgium counter.
14'   Ball over the top looking for Inui. Out for a goal-kick. Cagey start to this one. It's all happening in the trenches at the moment. 
13'   Japan play it out from the back. Or at least try to. No way out for them and it goes back to Kawashima. He launches clear.
12'   Long ball to Lukaku and he heads on to Mertens, who can't make it in time. Throw for Japan.
11'   But Belgium are improving. Lukaku with the pass across. De Bruyne looks for Mertens in behind but there's too much pace on it. Out for a goal-kick.
10'   Kagawa to Inui and he crosses. Headed clear but there's a Japanese attacker on the ground, Osako the striker, and no penalty! Belgium survive. Japan have looked dangerous so far. 
9'   Lukaku drops the ball off to Carrasco and he thinks about shooting. He had a man outside him that he didn't use. Instead he plays it to Mertens, who tries to find Carrasco, who has continued his run. Foul and Japan win the free.
7'   Kagawa again on the ball. Ball out to Nagatomo. 
5'   Sakai in the thick of things again. He wins it off Carrasco with a meaty challenge and then De Bruyne dishes one out to the right-back and gets whistled for a foul. Japan back on the ball. Kagawa popping up in good positions.
4'   Throw for Belgium and they keep the ball. Hazard toppled over by Sakai. Not a dangerous position but with De Bruyne at the wheel, it could be. No, actually, it's not. He works it short.
2'   Belgium on the ball with De Bruyne, who is playing very deep. Belgium try to move forward but no way through for them.
1'   Japan on the ball to start. Shoji launches one to the far corner of the field and it's headed down to Kagawa. He strikes but that's never troubling Courtois. Slams it wide of the post.
1'   We are underway! 
    Teams lining out now after the coin toss and national anthems. 
   Takashi Inui just recently signed for Real Betis too.

    These Japan fans think it's in the bag. 

    Belgium make their way out to warm up. Calm and cool bunch of lads. 
    There was some controversy in how Japan managed to get to the last 16 by beating Senegal with FIFA Fair Play points. Senegal have since complained to FIFA about the way Japan went to try and game the system.

    Japan not far behind with the changes either. Makino is replaces by Shoji at the back. Yamaguchi is switched out for Hasebe. Haraguchi, Kagawa and Inui all come in for Sakai, Okazaki and Usami and Osako leads the line in place of Muto.
    Thomas Meunier, Jan Vertonghen, Kevin De Bruyne, Youri Tielemans and Leander Dendoncker need to be a careful or a yellow will rule them out of a potential quarter-final. Meanwhile, Kawashima, Hasebe, Tomoaki Makino and Takashi Inui find themselves in the same position for Japan.
    Changes ahoy for Belgium. Two changes in the back three. Kompany, Vertonghen and Alderweireld replacing Vermaelen, Dendoncker and Boyata. Meanwhule, Chadli and Thorgan Hazard are replaced by Carrasco and Meunier. Witself and De Bruyne are back in too for Dembele and Tielemans. Up front, Mertens, Lukaku and Eden Hazard replace Januzaj, Batshuayi and Fellaini.
    Japan XI: Kawashima, H Sakai, Yoshida, Shoji, Nagatomo, Shibasaki, Hasebe, Inui, Kagawa, Haraguchi, Osako
    Belgium XI: Courtois; Alderweireld, Kompany, Vertonghen; Meunier, De Bruyne, Witsel, Carrasco; Mertens, Eden Hazard; Romelu Lukaku.
Our full match report from Brazil's 2-0 win over Mexico is now available, should you be after some pre-Belgium vs Japan reading.
If you're looking to accompany our live feed of Belgium vs Japan with sounds and moving pictures, then you may wish to peruse our useful guide on how and where to watch the clash at Rostov Arena.
Good evening! Join us for all the build-up to Belgium and Japan's World Cup last-16 clash, followed by minute-by-minute coverage of all the action in Rostov!
Belgium vs Japan: match preview
The odds on Belgium being one of the two finalists to step out into the Luzhniki Stadium on 15 July have been getting shorter as the tournament progresses. Roberto Martínez's hugely talented Red Devils were one of just three teams to finish the group stage with a flawless record - topping their section with maximum points, an average of three goals per game with only two conceded – both during their second game against Tunisia. That has made them firm favourites to go on and lift the trophy – which is a completely new situation for a country whose best performance at the tournament came 32 years ago when they were denied third place by France.
No other team at the tournament has the punching power and variety in attack which Belgium boast. Much of their play goes through Kevin De Bruyne who pulls the strings in the centre of the park for a team which plays three at the back, with attacking wide players on either flank. It means that Romelu Lukaku and Eden Hazard, who lurks just behind him, receive a steady supply of balls in the box – the Manchester United striker is joint second top scorer at the tournament on four goals, level with Cristiano Ronaldo and just one behind Harry Kane.
Levels of confidence and self-belief have never been higher – Belgium are in an unbeaten streak which has lasted 22 competitive fixtures – their last defeat came almost two years ago, losing 0-2 to Spain in a friendly - curiously, Martínez's first game in charge.
Belgium were already mathematically through to the Last 16 after their first two group games, beating Panama 3-0 then Tunisia 5-2. Adnan Januzaj's sublime winner against England made sure they finished top of the group
Japan's progress to the Round of 16 was unconventional to say the least. Akira Nishino's team made it through by merit of their disciplinary record after finishing level on points with Senegal in Group H. Nevertheless, Japan showed that they are an organized, competitive side who never let their heads drop in the 2-2 draw with Senegal in which they had to come from behind twice. They are also technically sound and once they have the ball at their feet, it is very difficult to prise it away from them.
The Samurai Blues are hoping this will be their moment to make history. They've never made as far as the quarter finals at the World Cup and with Takashi Inui and Shinji Kagawa in such inspired form, they will want to seize this chance.
Neither Martínez nor Nishino will have been too overburdened studying their rivals for this game – Belgium and Japan met a few months ago for a friendly in Brussels which the hosts won by the minimum in a game which Martínez remembers as being "entertaining". So both teams know the other's strengths and weaknesses well enough to make for what will doubtless be an interesting duel – the winners of which will face Brazil in Kazan in the second quarter final match on 6 July.