FOOTBALL
Rubiales and Tebas involved in Twitter spat over fixtures in hot weather
The president of the Spanish football federation got involved in a spat on Twitter as Rubiales called for an end to games putting fans at risk in Spanish heat.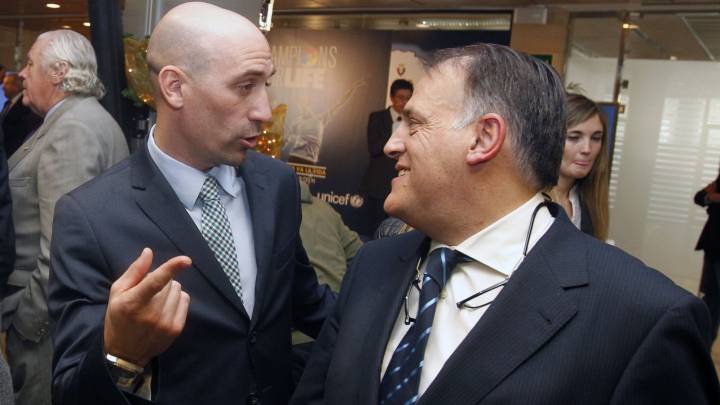 Luis Rubiales has threatened LaLiga that the Spanish football federation wil assume scheduling responsibilities if the welfare of fans is not considered. The excessive heat fans are having to endure in some of Spain's warmest cities is something unsustainable according to Rubiales and Javier Tebas was not slow logging on to Twitter to offer a response.
"If LaLiga keep their ridiculous schedules, we will take over the competition from 2019-20. It's a shame for fans and football people. You can't play football at these times in more than 30 degree. Heat stroke in the tens. Inexusable. We are fed up at the football federation! Respect football," wrote Rubiales on his Twitter account.
Rubiales made the statement after Levante played Sevilla in Valencia and the heat got as high as 28 degrees with 75% humidity. The message was accompanied by a picture of a woman on the ground suffering from heat stroke.
Tebas response was quick: "Rubiales, my friend, a lot of demagoguery. Today in Aragón with 114,000 people enjoying the sun at the races, without complaints. This August, the kids' Evegrande tournament by RFEF in Las Rozas, 36 degrees. You can't take over what is not yours."
This comes at a time when Tebas is at the center of a number of controversies. Real Madrid's president Florentino Perez has criticised the proposed game in Miami and said they would flat out refuse to play if they were asked. To which, Tebas responded that the game was completely voluntary and whoever goes will go of their own free will.