Brahim makes the grade in Real Madrid - Huesca
The midfielder made his first start for Real Madrid having played just 24 minutes since his move from Manchester City.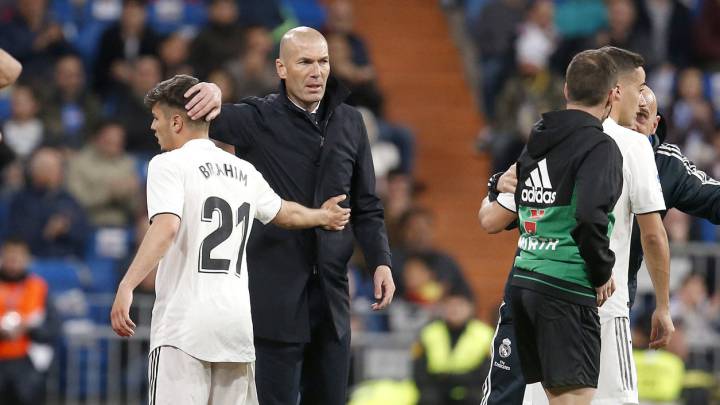 Real Madrid don't play meaningless games and less so when Zidane has come back in for his second spell in charge and is working out who might be in his squad next season. When Zidane took over from Solari there were 11 games left for Madrid to play in LaLiga - making the season run-in an audition for many members of the squad, but in the sluggish 3-2 win over Huesca only one player seemed excited to have a chance to show Zidane what he can do: Brahim.
Brahim raring to play
Brahim was the clearly the keenest member of Real Madrid's starting XI, either due to his youth (19 years old) or his desire to play, having only been on the pitch for 24 minutes since signing for Madrid and not having played since 19 January. In 2012 Brahim was in the youth set up at Málaga and, as a ball-boy, watched Isco's goals in La Rosaleda. Yesterday he set Isco up to make it 1-1 in the Bernabéu as Madrid team-mates.
"I don't know if it was a test, but it's important to show we can play" said Brahim in the flash interview after the match, where he also admitted to an interesting detail on his game: he's right-handed but prefers to move the ball with his left foot. Zidane, for his part, gave him a pass-mark for his performance: "He's not played for a while and I thought he looked good, I took him off because you could see he was feeling the lack of match-time".

Although Zidane mostly avoided the question of whether he really is just auditioning the players, he defended his policy of rotating and said he wasn't just giving the players opportunities to play for the first team: "I don't do this for anyone to like me", said the French coach.
Luca Zidane: no mistakes
Zidane was also asked about his son, Luca Zidane, who started in goal for Madrid and who, despite letting in two goals in his first league match for the first team in the Bernabéu, wasn't at fault for either. "I don't talk as a father, but as a coach - he's got enough personality and character to play here" said Zidane coach.
It remains to be seen how the other candidates are faring in the on-going audition. With Zidane flirting with Pogba, Marcos Llorente was unable against Huesca to show he can link together the side when it's split in two (he did win back the ball seven times though, the second best of the team), and Valverde, even further back in the midfield hierarchy, only got 15 minutes. Up front Madrid will bolster their firepower in the summer (at a very minimum De Tomás, currently on 12 goals at Rayo, will come back in). Mariano, who played 11 minutes yesterday, needs to get on the scoresheet.
Zidane's auditions continue...