Asensio 'on the market' should a decent offer arrive: El Larguero
If an interesting offer arrives for Marco Asensio, Real Madrid could be willing to consider it given their overbooking in attack for next season.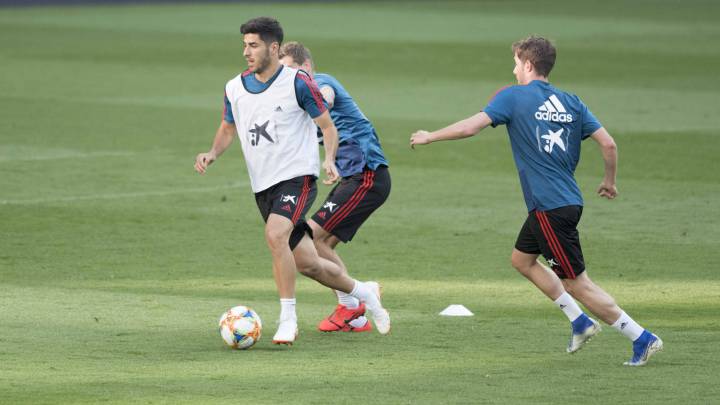 Real Madrid have sealed deals for Eder Militao, Rodrygo, Jovic, Hazard, and Ferland Mendy. They will all join the club this summer with Paul Pogba and Christian Eriksen deals still in limbo. Real Madrid are 'overbooked' with 35 players in the squad, have spent a record fee and need to start selling and loaning players in a hurry to balance the books.
On El Larguero on Cadena SER, Mario Torrejón gave several clues as to who was leaving and where they might go. "What is most striking is there are several footballers at Real Madrid that are on the table to be negotiated for if interesting offers arrive. These players include Marco ASensio, Gareth Bale, Isco and Lucas Vázquez," he said.
Asensio a surprise inclusion of players that could be sold
In the case of Bale and Isco, most people are aware that their places in the squad are in major doubt. Real Madrid don't want Bale and neither does Zidane. Isco, on the other hand, is wanted by Zidane but the club have to sell and the 27-year-old is seen as someone who could be surplus to requirements. They could do with the potential €80 million they could get for him too.
The big surprise amongst that list is Marco Asensio. The 23-year-old is not a priority for Zidane and the club are not completely averse to a sale. It would take between €90 and €100 million but with his age and potential, it is not outside the realm of possibility.
Asensio has a queue ahead of him with Hazard, Brahim, Vinicius and Lucas Vázquez, who has the faith of the coach despite the club being willing to sell. Zidane will meets his players on 8 July at Valdebebas and Asensio will be there after the Euro under-21s. What Zizou plans to do will become apparent then.