Mustafi: "I'm not the second worst defender in the world"
Arsenal's centre-back defended himself in an interview with Der Spiegel: "It reached the point where I was being blamed for defeats when I wasn't t even playing".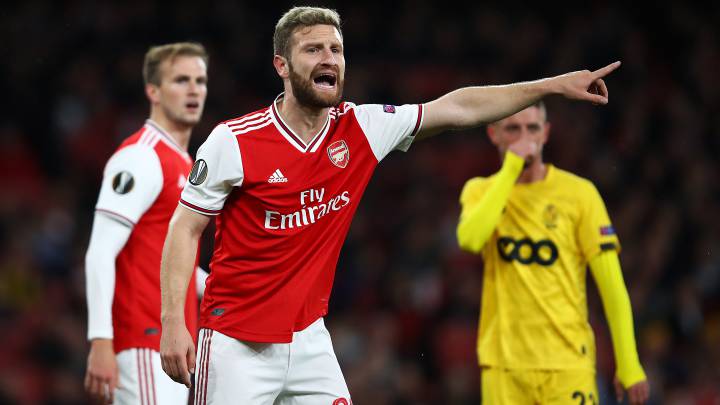 Shkodran Mustafi has been through happier times during his career. The German defender has lost his place at Arsenal under Unai Emery - he hasn't played a single minute of the team's games in the Premier League this season and to make matters worse, he is being targetted by fans as the chief culprit whenever anything goes wrong for the Gunners. "I'm not the second worst defender in the world", Mustafi explained in an interview with Der Spiegel in response to the results of an online poll in which he was voted as one of the worst defenders on the planet. "I'd like to have seen what the results would have been like if the poll was conducted for the best coaches in Europe. Recently, I've made a few mistakes which has generated a problem which I've never experienced before," he added.
Mustafi's Anfield agony
Among the howlers Mustafi has been accused of committing include those in a handful of high-profile matches last season such as the 5-1 tonking by Liverpool at Anfield in December. "I'd been sidelined for three weeks and I had to play without having trained because the coach needed me", the Arsenal player remembered, "By half-time, we were 4-1 down and I had suffered another injury. After the game I came in for a lot of criticism from the fans on social media and in articles in the press". A few months later, he gave away a penalty in the meeting with Crystal Palace - a mistake which contributed in Arsenal missing out ona place in this season's Champions League. "I'm sufficiently critical with myself to admit that I have made mistakes", Mustafi continued, "I can take criticism but some of it has become irrational and has made me a target for whenever anything goes wrong. It got to a point where I was being blamed for games I hadn't even played in".
Rewind back to 2016, Mustafi became the most expensive German central defender in history after Arsenal paid Valencia 40 million euros for the player. Three years on, a video compilation of his gaffes has received almost two million views. "I haven't seen it", he said of the 10-minute video: 'This is why Mustafi MUST LEAVE Arsenal'. "I have to protect myself. There have been days when I've been plagued by self-doubt, but something my wife said to me helped me - 'If you were that bad, you would never have been a world champion - or signed for Arsenal'. Since then, I've handled criticism better".
One thing that did rile Mustafi was comments made by ex-Arsenal player Emmanuel Petit. "That really annoyed me. It's one thing for the fans or the press to have a go at you but it's different coming from a former player who knows how difficult it can be at times", he continued. "Years ago, you'd be mentioned in the papers and the next day it would be forgotten about - but now with the internet those comments will follow me for the rest of my career. I think football has become more inhumane and social media has contributed to that because of its annonimity. People can take out all of their frustrations on us".
The right time to leave Arsenal
Mustafi confirmed that he was close to leaving Arsenal this summer. "Yes I did consider going to another club but none of the options satisfied both parties. And besides, I am aware that the next move I make will be very important for me to have a positive chapter in my career. Nothing will improve if I go somehwere where I don't fit in. Before that happens, I want to return to my best level at Arsenal".