Dembélé could face surgery and three-month lay-off
As Barcelona assess the best way to deal with Dembélé's latest injury, surgery is not being ruled out, with the player himself in favour of a permanent fix to his recurring issue.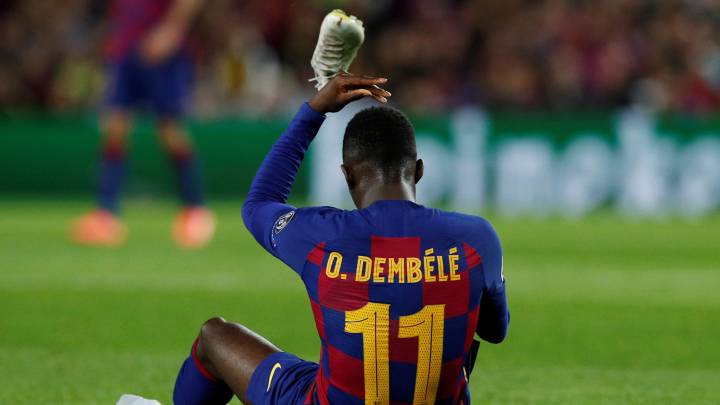 Ousmane Dembélé's latest injury has left him so emotionally shattered that not even the reassurances of his team mates were enough to stop him from breaking down.
The Frenchmen left the field distraught and in a desperate situation that he can neither control nor knows how to stop. Nowadays he says that he controls his diet and trains like the rest. But he still hasn't been able to get out of this dangerous spiral of injuries.
The tests the he underwent on Thursday confirmed the severity of the injury. The 22-year-old forward had a relapse of a thigh muscle injury in his right leg, opening up a scar in the same place where he suffered an injury at the end of last season against Celta Vigo.
Dembélé's prognosis is unpredictable for Barcelona
Under normal circumstances in a player without his injury history, we would be talking a normal recovery process and a downtime of four to five weeks.
But in the case of Dembélé, the diagnosis is more complicated and the prognosis more unpredictable – hence the delay in issuing a medical report statement (it was expected on Thursday) as the club tries to figure out the best way to deal with this latest injury.
Surgery is not being ruled out. Although the club is hesitant to go for this option as this would mean a three-month lay-off, which is a long time for a player who has already spent too long on the side-lines since he joined Barcelona.
Barcelona will be without Dembélé until at least mid-January
The player himself has asked for a permanent fix and is willing to accept any solution no matter how traumatic, which is why his agent met with the club on Thursday afternoon to discuss the best way forward.
It will not be until Friday, after a meeting between all parties, that a final decision will be made. In the case that they choose a regular recovery procees, Dembélé would be out until at least mid-January.
If they finally decide on surgery, he would not return until at least the end of February. In this case, Finnish surgeon Dr. Sakari Orava, who previously operated on him in his first season to fix a thigh muscle tear in his left leg, would be the chosen man for the job.