Andros Townsend opens up about his gambling addiction: "I lost €54,000 in one night"
The Crystal Palace player spoke about his gambling problems to The Players Tribune and how he overcame his addiction: "I hit rock bottom".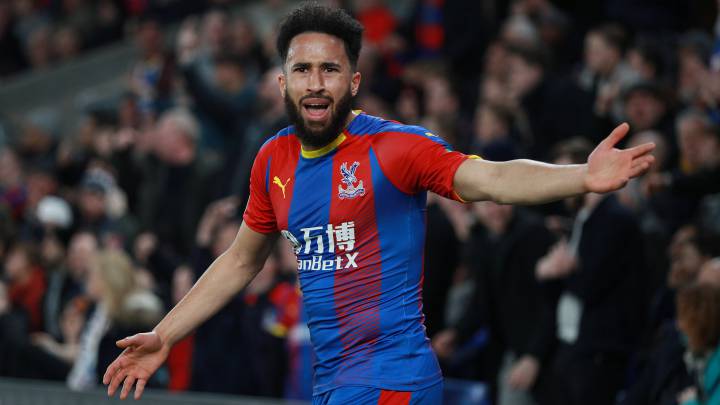 Crystal Palace midfielder Andros Townsend admits that he has few vices - he doesn't drink, he's never done drugs but as he told The Players Tribune, he knows he has an addictive personality and spoke candidly about his problems with gambling. "This is not a Golden Boy story", Townsend began his confession in which he explained how the premature death of his elder half-brother affected him and how he had to overcome problems with gambling: "I lost almost 55,000 euros with just one tap of my phone. (...) I went to get counseling for my gambling addiction. And that not only saved my football career, it also probably saved me as a human being, because it opened me up to the possibility that actually talking to somebody about what I was going through was okay.".
Gambling problems: "I don't drink. I don't do drugs. I don't think I've ever been inside a nightclub in my life. And yet I still managed to lose 46 grand with just one tap on my phone - I didn't even have to leave my room. I'm probably the only lad in history to lose 46,000 pounds lying in bed on a Wednesday night in Blackpool - and I think I was earning about three grand a week.
Why I want to tell this story: You didn't click on a fairytale, I'm sorry to tell you. I don't like talking about myself too much, so I'm not telling this story for the whole world. I'm telling it for the people out there who have had their knocks —for those who have been misunderstood, depressed, lost, and especially the ones who have battled addiction. ".
Townsend's idol - his half-brother: "We have to talk about my half-brother, Kurtis Townsend. He was older than me by eight years, he was my idol. He probably would've been my hero if he was really good at maths or poetry, but he happened to be really good at football, so that settled it for me. All I thought about was football. One of the Arsenal academy pitches was across the street from our house — literally right outside the window. So I was either out there kicking about or inside with my little Corinthian football figures. (...) By the time I was seven, I was already at Tottenham's academy, and Kurtis was on trial at Wimbledon. In my dreams, we were going to be playing in the Premier League together some day. You couldn't tell me any different. He was my hero.. Unfortunately, life doesn't always work out the way it does in your head, when you're dreaming. When Kurtis was 18, he was on his way to a semi-pro match in Luton with some of his teammates. Their car was involved in a bad accident. Everybody survived, except for my brother..."
Cómo gestionó su muerte: "I always hate it when someone is writing a story about an athlete who has lost someone close to them, and they make it seem like the death of that person is what fueled their success. Losing my brother didn't make me work harder. It didn't make me score more goals. It was just pain and misery, period. That's all it was. I missed him every single day, and I still miss him. About a year after his death, I was at school, and it was just a normal day. I wasn't really thinking about him. And then for some reason a bunch of my friends started signing 'I'll Be Missing You'. I started thinking of my brother, and I couldn't stop crying. I couldn't even speak to explain what was going on. I was just crying so hard that the teachers actually sent me home".
Kurtis left a lasting mark: "When you lose your hero, it's not a chapter in a fairytale. It's your real life, and you never really turn the page. That pain has been with me my whole life. I've always been emotional. I've always been a bit of a hothead".
Develping a gambling addiction: "I went on loan to five more clubs before I got back home to Spurs, and I think that's where the trouble really started. It all started with boredom, if I'm being honest. I remember at one of the clubs, there was a lot of banter in the dressing room about gambling. Nothing malicious. Nothing to do with match fixing or anything like that. Just putting a bet on the horses or the rugby or whatever. It was part of the culture. I had never placed a bet on anything before, for the same reason I don't drink. The one thing that I knew about myself was that I had a really addictive personality. So anything that could jeopardize my football, I wouldn't even consider it".
First bet: "Me puedo acordar exactamente dónde estaba cuando tuve mi primera apuesta. Me aburría en una habitación de hotel al azar la noche antes de un partido y vi un anuncio en la televisión de una aplicación con una apuesta gratis. La descargué e hice una apuesta para pasar el rato. En pocos meses, estaba fuera de control. Es solo por mi personalidad. La mayoría de personas pueden apostar 10 libras los fines de semana y no pensar más en ello. Pero yo todo lo que hago me consume por completo. Necesito ser bueno en todo lo que hago".
Siguió apostando para compensar: "I can remember exactly where I was when I had my first bet. I was bored in a random hotel room the night before a match, and I saw an ad on the telly for an app with a free bet. I downloaded the app and had a little bet to pass the time.I remember when I was at Birmingham, it was the night before our playoff semifinal game. I was lying in bed, trying to get my rest. This was the biggest match of our season, and I couldn't fall asleep. I kept checking my phone, placing more bets. That night, I lost £46,000 on a single match - I think I was on about £3,000 a week at the time".
Consequences: "That was rock bottom for me. Because you feel absolutely empty. You're supposed to be focused on football, the thing that you love, and the only thing you can think of is, "How can I get my money back?".
Warning from the FA: "It didn't stop until I got caught. And thank God that I got caught. When I was charged by the FA and facing a ban from football, it snapped me back to reality. I was facing a 12-month ban, and I really feared for my whole career. When the thing that you love in life can be taken away from you, it changes your perspective. I'm so thankful that the FA realized there wasn't anything malicious going on, and that I was just a stupid kid who made a mistake. They suspended most of the sentence, and I went to get counseling for my gambling addiction. And that not only saved my football career, it also probably saved me as a human being, because it opened me up to the possibility that actually talking to somebody about what I was going through was okay".