Reinier tells AS: "I've been a madridista since the Galáctico era"
Real Madrid's latest signing spoke to AS. "My football idols are Zidane and Kaká. The player I can't wait to play with is Benzema," the teenager confessed.
Reinier Jesus has realised one of dream objectives by signing for the club he has followed since he was a boy - Real Madrid. The 18-year-old midfielder granted an interview to AS in Rio de Janeiro in which he enthused about Zidane, Raúl and Benzema and even ended with a message for madridismo: "¡Hala Madrid y nada más!".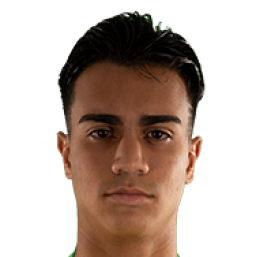 In March 2018 you paid a visit to the Bernabéu. Could you have imagined back then that less than a year later you would sign for Real Madrid?
Every child dreams of playing for a massive club like Madrid. When I visited the Bernabéu I couldn't have imagined all of the things that have happen to me in my life in the following months - or that I would have an opportunity to realise my dream.
How did you find out about Madrid's interest?
I was at the Club World Cup when I started to find out about what was going on. My family and my agent came to visit me at the hotel and they told me all about it. I was very surprised and very happy at the same time.
In Spain, the media reported that you'd started to follow Madrid and several Madrid players on Instagram. What that a subtle message to them implying that you wanted to join?
No, it wasn't anything to do with that. I've always followed players from lots of different clubs. And I have always followed Madrid and the great players who play there.
Real Madrid is the biggest club in the world and they've always had great squads. Ever since I was a boy, my dad always encouraged me to watch Real Madrid's games. I've been a madridista since the days of the Galácticos, when I was very little, and right the way up to the current generation who won four Champions Leagues.
In Spain, they describe you as a player who grew up under difficult conditions in Brazil, with few resources. What was your childhood like?
My parents made sure that me and my sisters never went without anything. My father was a world champion with Brazil's futsal team. I started playing football on a pitch near the road we lived on. I left Brasilia to move to to Rio de Janeiro when I was 11 so that I could make a career in football. My mother and my sisters stayed in Brasilia and only moved to Rio when it became clear that things were working out and we had the conditions to be able to live well.
Who is your football idol?
I've got two - Zidane and Kaká.
How do you think you'll react when you see Raúl, who will be coaching you, and Zidane - who you have been compared to?
Both of them are giants in the world of football with a lot of history on and off the pitch with Real Madrid. When I get to meet them, I'll do all I can to learn as much as possible from everything they teach me.
Who are you looking forward to playing with?
Benzema. He's a player I like a lot - he has a good understanding with the rest of the team.
I'd like to score and set up someone else to score on my debut. That's what has brought me to Madrid. But I know that dream is still a long way off.
Hello madridistas! It's Reinier, from Brazil. I'm 18. I would like to enter into club history with Madrid. I will do everything I can to honour the best club in the world. You can count on me. ¡Hala Madrid y nada más!