Hazard injury update as player set to travel to Dallas for surgery
The Real Madrid forward will undergo surgery in the Carrell Clinic, where the procedure could be overseen by Dallas Cowboys medic, Dr. Eugene Curry.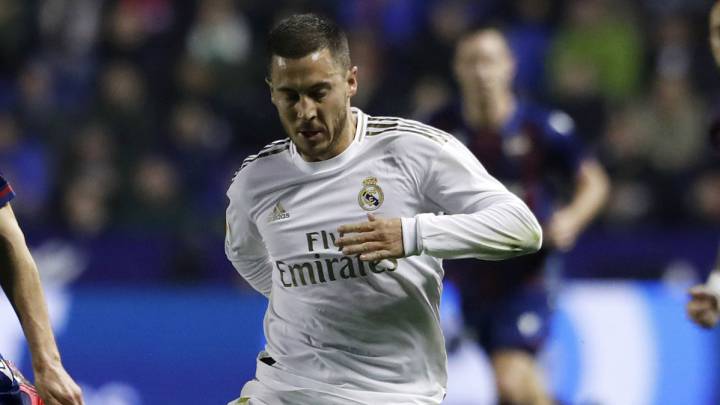 After much deliberation and meetings with various specialists, both Real Madrid and Eden Hazard have decided that the Belgian forward will undergo surgery later this week.
The 29-year-old suffered a fractured fibula bone against Levante on 22 February that had potentially put an end to the rest of the season. And all parties have agreed that surgery will be the best solution in the long term.
As initially reported by journalist Edu Pidal of Spanish radio network Onda Cero, Hazard will travel to the U.S. to undergo the procedure. He is set to travel to Dallas with Real Madrid's chief medical officer, Niko Mihic, where his surgery will be carried out at the Carell Clinic. The player still doesn't know who will oversee the operation, although he is confident in the efforts Madrid have made in dealing with the matter.
The decision to choose the Carrell Clinic has been mainly due to Dr. Daniel Cooper, a Madrid consultant that works at the clinic who is also a medical officer with NFL team, the Dallas Cowboys.
Dr. Cooper's specialisation, however, is shoulder injuries, meaning he will not be the one to lead the procedure. That role could be entrusted to Dr. Eugene Curry, a surgeon who works for the Cowboys and basketball franchise, the Dallas Mavericks. Dr. Curry was the chosen man to operate on the ankle injury of the Mavericks' German player, Dirk Nowitzki, in April 2018.
Madrid estimate two-month lay-off for Hazard
The length of Hazard's lay-off will be completely determined by how the operation goes. Madrid estimate a period of around two months, with the club hoping he could return for the final few games of the season. Meanwhile, the most important thing for the Belgian national team is that their star player is available for the upcoming Euro 2020 tournament. In fact, Belgium coach Roberto Martinez was at the Bernabéu twice last week to watch the games against Man City and Barcelona.
Hazard is not the first Madrid player to travel across the Atlantic for corrective surgery. In 2007, Ruud Van Nistelrooy underwent a knee operation with leading consultant Dr. Steadman in Colorado, while Gonzalo Higuaín travelled to Chicago to have a hernia issue resolved by Dr. Richard G. Fessler.
This will be the second surgery that Hazard will have undergone in the same area. In 2017 he fractured his ankle while training with Belgium and was operated on by national team head medic, Dr. Van Crombrugge, in London.