Real Madrid: Jadon Sancho came very close to joining in 2017
Speaking on the AS football show 'La Futbolería', Sergio Santos tells the story behind Real Madrid's failed 2017 move for the Borussia Dortmund star.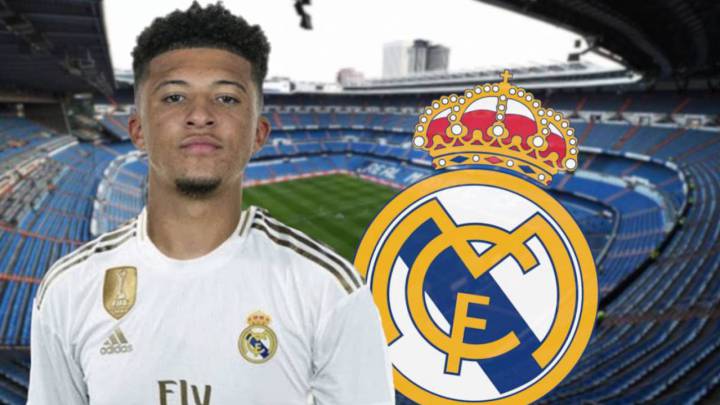 Jadon Sancho came very close to joining Real Madrid from Manchester City as a 17-year-old in 2017, Diario AS' Sergio Santos has revealed in this newspaper's online football chat show 'La Futbolería'.
However, the winger - who is now emerging as a transfer target for Madrid once more - failed to gain assurances from Los Blancos over his first-team role, and instead opted to join Borussia Dortmund, where he has flourished.
"Sancho wanted to be a first-team player from the word go"
"A sign of how much Madrid wanted Sancho was that it was [general manager] José Ángel Sánchez who personally oversaw the bid to sign him," Santos explained.
"It got to the point where Sancho's father was going to come to Madrid to get to know the club's facilities - but the deal hit one particular stumbling block: Sancho wanted to be a first-team player from the word go.
"He wanted to train with the first team and play for the first team, and only drop down to the club's 'B' team, Castilla, to play the odd game here and there. A bit like Rodrygo Goes and Vinicius Junior have since gone on to do.
"Now that we see the player Sancho has become, you can be forgiven for thinking: Madrid should have given him the first-team presence that he was asking for. But Madrid's experience with Martin Odegaard was still fresh in the memory.
"These days, of course, Odegaard is shaping up as a future world star and is in line to go back to Madrid, but at that time the club were getting a lot of stick for having given Odegaard a contract that said he would train with the first team and only drop down to Castilla to play games.
Real Madrid didn't want repeat of Odegaard contract
"Madrid didn't want a repeat of a situation where the player had to be in the first-team fold under the terms of his contract. Clearly, Sancho had the ability to break into the first team very quickly, but the club didn't want it to be part of his contract.
"So Sancho chose Dortmund, because Dortmund gave him the number-seven shirt, made him Ousmane Dembélé's successor, gave him his first-team debut within a month of his arrival, and that season he went on to play 12 games in the Bundesliga. That [first-team football] was Sancho's priority.
"Madrid knew he had the potential to establish himself in the first team, but neither [head coach] Zinedine Zidane nor [club talent scout] Juni Calafat wanted it to be part of his contract. That's what the player demanded, and he was insistent.
"If Madrid had accepted what he was demanding, there's a good chance Sancho would be a Real Madrid player right now."
Real Madrid eyeing Sancho move in 2021
As part of their strategy of buying up-and-coming stars of the world game, Real Madrid are thought to be eyeing a potential summer 2021 swoop for Sancho, who has been in superlative form for Dortmund, scoring 20 goals and supplying 20 assists in all competitions so far this season.
Overall, Sancho has scored 34 goals in 94 appearances for Dortmund, with his performances in Germany leading to international recognition. Handed his England debut in 2018, the 20-year-old has now won 11 caps for the Three Lions.