LALIGA
English translation error confuses Spanish LaLiga referees
Rule 12 in relation to Sergio Ramos' stamp on Raul Garcia's foot on Sunday was not given because of a poor translation from English. It should have been a penalty.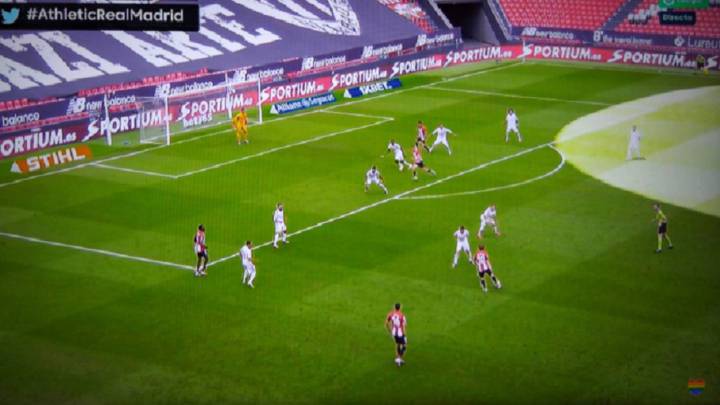 Sergio Ramos tucked away Real Madrid's opener against Athletic Bilbao from the spot on Sunday. Just minutes later, he should have conceded a penalty in his own box when he stood on Raul Garcia. The referee waved the issue away because the ball was out on the left wing when it happened: it should have been a penalty though.
The word 'voluntariedad' or intent was eliminated a long time ago from the rules and now the referees fall back on whether or not the player acted without precaution or not and in the Spanish version, it's whether they acted without precaution AND whether the ball was involved. For the Marcelo penalty, Dani Garcia was said to have been fighting for the ball and for the Ramos incident, the ball was not being disputed for.
In English, acting without precaution is enough to see you punished. In the Spanish version, you need to be acting without precaution while fighting for the ball. The rules state also imply how difficult the idea of translation is and the potential differences that might occur: "The IFAB publishes the Laws of the Game in English, French, German and Spanish. If there is any divergence in the wording, the English text is authoritative."

The problem comes in the translation of the concept, in my humble opinion. The original rules are written in English by the IFAB and then translated to Spanish and I believe that it's impossible to translate faithfully what the original concept actually means and the philosophical thinking behind it.
You can see in the image the original translation. In Spanish, there is a lack of attention to details. In the English version, it says "Careless is when a player shows a lack of attention or consideration when making a challenge or acts without precaution" and they never mention anything about the ball being disputed. But in the Spanish version, they have added: 'disputar al balon' - disputing the ball.
In the English version, they state making a challenge and acting without precaution but in the Spanish version, they introduce the ball explicitly and that makes a massive difference to the overall concept and potential interpretation of the law. It's minor but the margins are fine for these problems and Sergio Ramos might have gotten away with one on Sunday at San Mames because of it.