USA Election 2020: how, where and when to vote in Florida?
Florida will be a key battleground state this 2020 election, make your vote count; where, when and how; get in early, be prepared and stay safe.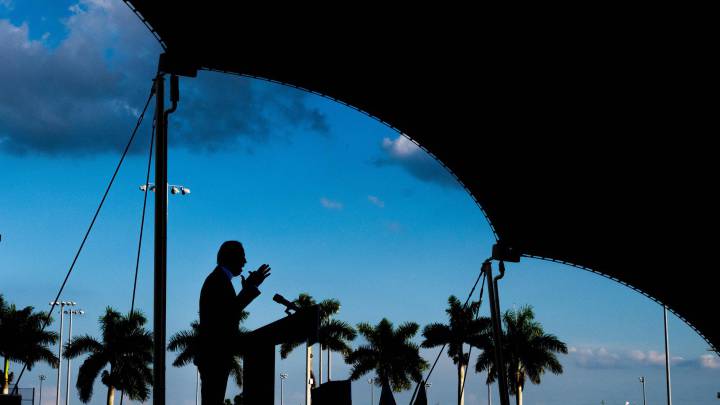 Florida has been at the centre of much controversy this election year. There have been campaigns and counter-campaigns surrounding voter rights of ex-felons. In summary, an appeals court controversially ruled in September that ex-felons need to pay all fines related to their offence before their right to vote is restored. An estimated 1.4 million voters will be disenfranchised by this decision. For context, Donald Trump won in 2016 by fewer than 113,000 votes over Hillary Clinton, or 1.2% of the vote.
And in September, the voter registration site in for Florida crashed after over 1.1million requests were received…per hour. The state subsequently extended the registration deadline.
Registering to vote in Florida
The voter registration deadline in Florida has now passed. If you have already registered, here's all you need to know.
Voting by mail in Florida 2020
Mail-in voting deadline in Florida
If you're voting by mail under the absentee ballot in Florida, the deadline to request the ballot is Saturday, 24 October; that's in 10 days.
Absentee voting return deadline is Election Day, Tuesday 3 November at 7pm EST meaning that the ballot needs to be received by the election office by this date, whether you cast your absentee ballot by mail or in person.
Where do I send my mail in ballot?
The address to return your mail-in ballot will be dependent on exactly where you live. If you want to find out now, contact your supervisor by entering your city in this form.
In-person voting in Florida 2020
Where do I vote? Your nearest polling place
The very helpful Florida State Department voter lookup tells you not only where your polling place is, but also allows you to check your voter registration status, and /or check on the status of your request for a vote-by-mail ballot.
Absentee voting in-person in Florida
If you're absentee voting in-person, the deadline to request your ballot is Saturday, 31 October. The absentee voting return deadline is Election Day, Tuesday 3 November at 7pm EST meaning that the ballot needs to be received by the election office by this date, whether you cast your absentee ballot by mail or in person.
When is best to vote in Florida? Early voting in-person
All early voting locations and specific times by polling place in Florida are listed alphabetically by county in this handy document. Alternatively you can also find out by entering your information into this search engine.
How early is early?
The early voting period runs from Monday, October 19 to Sunday, November 1 but dates and hours may vary based on where you live.
If voting in-person on Election Day, November 3, Polls are open from 7am until 7pm. Any voter who is standing in line at 7pm is still eligible to cast a vote.
What to bring to the polling station on voting day
You will be asked to show a valid photo ID with signature. Acceptable forms include:
Florida driver's license or ID card issued by the Department of Highway Safety and Motor Vehicles;
US passport;
Military ID; student ID; retirement center ID; neighborhood association ID; public assistance ID; veteran health ID issued by the US Department of Veterans Affairs;
An employee ID card issued by the federal government, the state of Florida, or any county or municipality.
If your photo ID does not include your signature, you will be asked to provide another ID that has your signature.
If you are unable to provide ID, you should not be turned away from the poll. You will be able to vote a provisional ballot. Your ballot will count if the signature on your ballot matches the signature on your voter registration record.
You have the right to request a provisional ballot if your voter eligibility is questioned on any other grounds.
What if I requested a mail-in ballot but I want to vote in-person?
You can do that. If you decide to go to the polls to vote but have a mail-in ballot at home, you need to bring the mail ballot (marked or not). The mail ballot will be cancelled and the voter can vote a regular ballot at the polls.
Am I eligible to vote in Florida?
To be eligible to vote in Floriday you must:
Be a citizen of the United States of America (a lawful permanent resident, commonly referred to as a "green card holder," does not have the right to register or vote in Florida);
Be at least 18 years old (you may pre-register to vote if you are 16 years old);
Not be adjudicated mentally incapacitated with respect to voting in Florida or any other state without having the right to vote restored;
Not have been convicted of a felony without your voting rights having been restored.
If you're unsure of your status or have any other questions, contact your county Supervisor of Elections or call the Division of Elections' Voter Assistance Hotline at 1.866.308.6739.
Be safe when voting in-person; follow our covid-19 safety guidance for exercising your democratic right safely.