Lollapalooza 2021: line-up, times and how to watch and stream
The music festival opens on Thursday and the organizers have made sure everyone who wants to watch the perfonaces can, in person or online.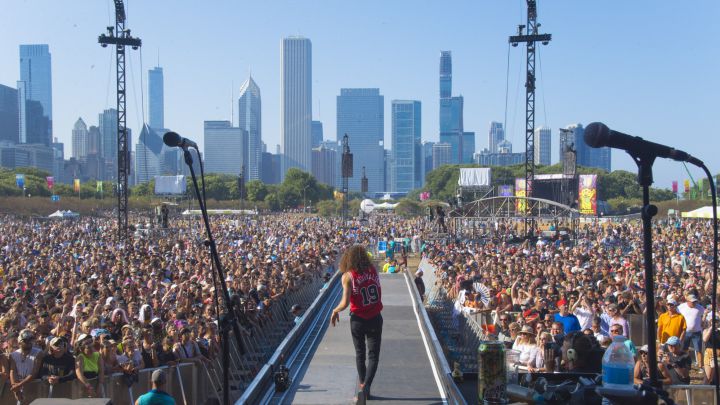 The Chicago-based music festival is being held from July 29 to August 1 and those in attendance must conform the covid-19 restrictions put in place by organizers, including proving they are fully vaccinated or have a negative covid-19 test.
The lineup
The festival is back after a year absence with headliners including Foo Fighters, Tyler, the Creator and Miley Cyrus.
This years' lineup can be read in full here.
Important times
Thursday July 29:
6:45-7:45, Playboi Carti (T-Mobile)
8:30-9:45, Steve Aoki (Solana x Perry's)
8:45, Miley Cyrus (T-Mobile)
Friday July 30:
6:45-7:45, Roddy Rich (T-Mobile)
8:45, Tyler, the Creator (T-Mobile)
8:45-10:00, Marshmello (Bud Light Seltzer)
Saturday July 31:
6:30-7:30, Limp Bizkit (Bud Light Seltzer)
6:45-7:45, Megan Thee Stallion (T-Mobile)
8:45, Post Malone (T-Mobile)
Sunday August 1:
2:50-3:30, Elderbrook (Grubhub)
7:15-8:15, Brockhampton (Bud Light Seltzer)
8:00, Foo Fighters (T-Mobile)
9:00-10:00 DaBaby (Bud Light Seltzer)
How to watch the festival
If you weren't able to get a ticket in time then there are other ways to see the performances. Lollapalooza has partnered with Hulu to bring many of the performances to people unable to watch in person.
"We are thrilled to be partnering for the first time with Hulu for this year's livestream and are excited that the Lollapalooza fans who cannot be with us in Chicago have such a great platform to experience the show," Courtney Trucksess, sponsorship director of Lollapalooza festival promoter C3 Presents, told Billboard.
The livestream, which is also Hulu's first exclusive live event, is available at no additional cost to anybody with a Hulu, Hulu (No Ads) or Hulu + Live TV subscription. New and eligible returning subscribers can sign up for a 30-day free trial to watch the acts.