Jake Paul vs Tyron Woodley fight purse: how much money are they making?
Sunday will be the fourth fight of Jake Paul's professional career. Tyron Woodley will be his toughest test to date, and the pay day will be his richest.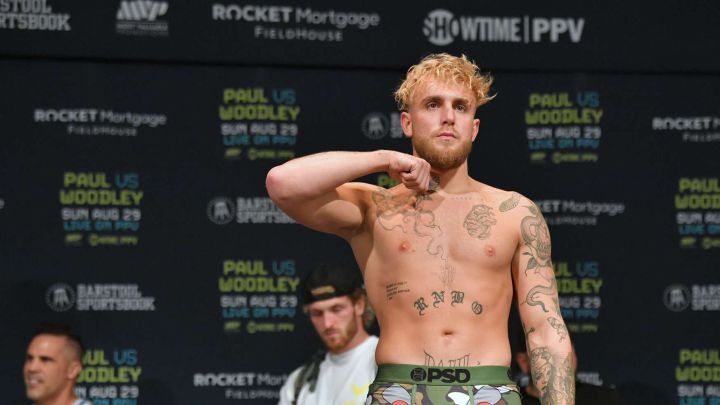 We are just hours away from the bell ringing at the Rocket Mortage Fieldhouse in Cleveland, Ohio. Jake Paul returns to his hometown to fight former UFC champion Tyron Woodley.
Paul brother's first boxing match three years ago to the day

The Paul brothers entered the boxing world almost three years ago to the day. Since then the YouTubers have revolutionized the sport, whether the purists like it or not.
The influencers debut fights happened at the amateur ranks, as both went up against fellow YouTubers. Jake defeated British influencer Deji Olatunji by TKO in the fifth round, and shortly after started preparing for a professional boxing career.
Since their debut night on August 25th, 2018 their quality of opponents, and the interest in fights attract have soared. Jake is coming off of a first round KO of retired Bellator MMA, ONE and UFC fighter Ben Askren. His older brother Logan just fought one of the greatest boxers in the history of the sport, Floyd Mayweather, back in June.
Woodley 15 years older that Paul
Jake is 3-0 in his professional career, but will face his toughest test Sunday night. Tyron Woodley was four time welterweight champion in the UFC and at 39 years old is still in fantastic shape.
Woodley has lost his last four fights, and is 15 years older than Paul. The age differential was not at the top of the MMA fighters mind when he was essential provoked into the fight after Paul KO'ed Askren back in April. Woodley, who was a teammate of Askren for many years, was called out by Paul backstage, and shortly after news surfaced of an impending fight night between the two.
Tyron Woodley on fighting Jake Paul: "Easiest fight and biggest purse of my career. They brought me in to take out the trash. I can't wait to shut this bitch up. This is getting done for the culture, the whole MMA/boxing community, to rid this guy [from] combat sports."

— Michael Benson (@MichaelBensonn) June 1, 2021
Paul brothers know how to attract an audience
The sibling social media stars will always attract a crowd considering between them they have 50 million subscribers on YouTube. Now that they are known in the boxing world, the crossbreed of influencer with sports stars is the perfect combination to draw a big audience.
With a big audience comes a big pay day. Paul reportedly made just under $700,000 for his last fight against Askren. Although the numbers have been disputed, it is suggested that there was a total of 1.45 million viewers who tuned in to watch Paul KO Askren.
The former four time champ is looking at his biggest pay out of his career. At the top of his game Woodley was making a base salary of $500,000. For the fight against Paul, the Missouri native is said to be guaranteed at least that much, while Pay Per View revenues will bring in perhaps as much a a million for Woodley.
Woodley and Paul both set for biggest pay days
Paul has a guarantee that he will make no less than a million dollars for the fight, and with his percentage of Pay Per View sales he could make as much as $2 million on Sunday night.
Paul goes into the fight as a slight favorite over the former UFC welterweight champ. The undercard action will begin at 8 p.m. ET from the Rocket Mortage Fieldhouse, while Woodley and Paul are set to step in the ring around midnight.