MEXICO NATIONAL TEAM
Real Madrid "hope" for Mexico national team striker Santiago Giménez
The Feyenoord striker has enjoyed a superb first season in the Netherlands and Christian Giménez wants to see Madrid move for him.
Mexico national team striker Santiago Giménez's first season in European football has been a huge success. The Feyenoord attacker has felt right at home in Dutch soccer, scoring 15 times in 30 league matches and 23 goals in 43 appearances in all competitions, helping his team to the Eredivise title. As a result, he's now being linked with a big-money move to bigger clubs around Europe.
Ex-Cruz Azul star Christian Giménez: "I hope he ends up at Real Madrid"
Speaking to ESPN, Giménez's father Christián revealed exactly how far his thinks his son can go in the game. "I hope he ends up at Real Madrid, although it's difficult for Real Madrid to sign a 22-year-old youngster and play him ahead of Benzema. If he doesn't play then, well, it's Real Madrid, but with what Santiago has done it's difficult to turn down a team that's willing to pay €30 million ($32.3 million) to sign him. And that's Feyenoord's business model".
"I would love for him to continue at Feyenoord and spend another year or two there, to build on what he's done so far. He's the one who'll make the decision and I understand that he is in the process of adapting to European football, which is very good. But he still needs to improve in some areas, which are clear to us", said former Cruz Azul midfielder Giménez Sr.
Feyenoord could double their money on Giménez
According to Transfermarkt, a website specialising in transfers and market values, the Mexican forward is rated at €9 million ($9.7 million), more than double what the newly-crowned Dutch champions paid to sign him from La Máquina in July last year (€4 million, $4.3 million).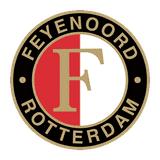 Serie A side Lazio are thought to be interested in taking Giménez to Rome, while a number of Bundesliga clubs have also been keeping tabs on him.