REAL MADRID
Ancelotti reveals that Bale asked to play in a deep, central role
Gareth Bale's agent spoke to Florentino Pérez in March 2015 to request that Ancelotti changed his position in the team.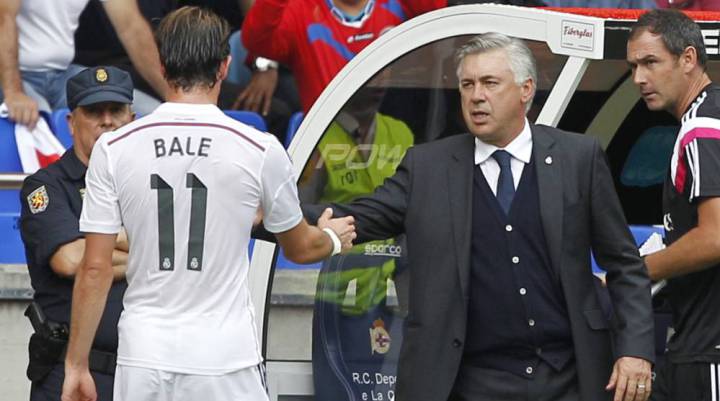 In his new book, Carlo Ancelotti reveals details of the meeting he held with Florentino Pérez just a months before being dismissed from his coaching position at Real Madrid.
The president summoned the Italian to his office following a conversation he had with Gareth Bale's agent, Jonathan Barnett in which the representative expressed his client's unease at being made to play in a position where he felt uncomfortable and would prefer to play a more central role, just behind the striker.
In his book: Quiet Leadership: Winning Hearts, Minds and Matches which is released in the UK on 26th May, Ancelotti discloses what was said in those meetings with the president and Bale, in extracts which have been published by Four Four Two.

"One morning in March I received a phone call from Madrid's General Director saying that the president wanted to speak with me at the end of training that day. This was very unusual. When I visited the president, he told me that Bale's agent had been to his office to speak about Bale's 'situation'.
"In January, Bale's agent had been saying things and perhaps felt his position was strong because he had already spoken with the president. Now he was telling the president that Bale was unhappy in his position. He wanted to play more centrally.
"Bale had fantastic world-class qualities and all that I was trying to do was help him understand his core strengths so he could fulfil his potential and by the way, that I was more qualified than his agent or the president to help him with that.
"I told the president that I would speak with Bale myself the next day, which I did after training. I told him that I knew that his agent had spoken to the president and asked him why he didn't come to speak directly with me about what he wanted. He said 'Yes, OK, no problem.'
"I explained to him what I had said to the president, how it was impossible for me to change the system as it wasn't just one position, it was the whole team. I was clear with him. I told him that we could try some things in the summer, next year's pre-season, to change his position, but not now."
Ancelotti never got the chance to, he was sacked just a couple of months later in May, Florentino explaining the reason for the decision was that Madrid "needed a new impetus"
"Le expliqué que había dicho al presidente lo imposible que era cambiar el sistema porque no afectaba sólo a una posición sino a todo el equipo. Fui claro con él. Le dije que podríamos probar algunas cosas para cambiar su posición en verano, en la siguiente pretemporada, pero no entonces".