Luis Suárez fouled Filipe Luis then said: "You dived, you clown"
Luis Suárez v Filipe Luis controversy continues. The Uruguayan accused the Brazilian of diving in last night's Barça-Atleti match. Sporting vs Barcelona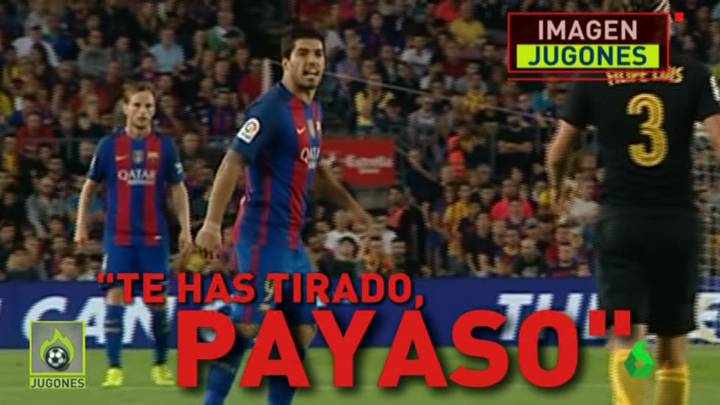 Battle between Suárez and Filipe Luis rages on
The controversy between Luis Suárez y Filipe Luis continues. Images from last night's game between Barcelona and Atlético Madrid at the Camp Nou have shown that the Barcelona striker, after fouling Filipe Luis and being booked for it, insulted the Atlético player. "You dived, you clown" spat Luis Suárez. (Te has tirado, payaso in Spanish)
Filipe Luis posts photo of bleeding foot
Evidence that Filipe Luis hadn't in fact dived came out straight after the game last night when Filipe Luis uploaded a photo of his injured, bleeding foot, caused by Suárez's tackle.

Suárez tells Filipe Luis football is a man's game
Suárez reacted angrily to the photo, saying "football is a man's game" and that if everyone put up photos of their injuries after games the sport would become a "circus."
Suárez also asked Filipe Luis rhetorically: "Did Messi put the photo up last year?" referring to Filipe Luis' tackle on the Argentinean star in the fixture last season that saw Filipe Luis red carded and Messi with a wound on his knee.
Filipe Luis trained normally
Despite the tackle on Filipe Luis he trained normally with Atlético Madrid this morning.