Arsenal vs Manchester United: Xhaka and Welbeck goals, match report, goals, action
A Granit Xhaka strike in the second half was followed by a Danny Welbeck goal, which was enough to give Wenger his first win in the Premier League over Jose Mourinho.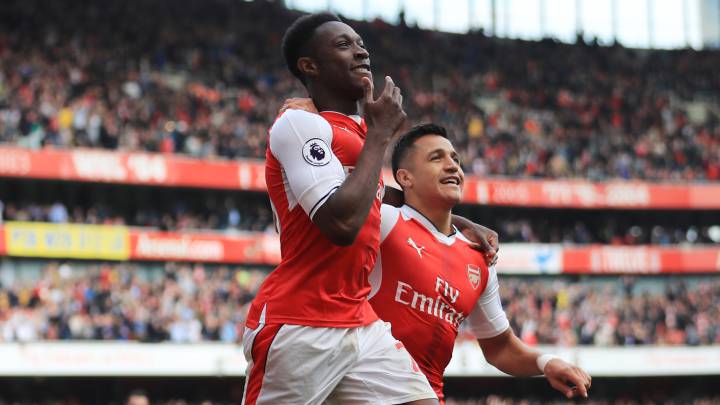 Follow the coverage match of the FA Cup Final: Arsenal vs Chelsea
Arsenal 2-0 Manchester United: match report
It took Arsene Wenger 13 attempts but he finally got his first win over Jose Mourinho on Sunday evening at the Emirates thanks to goal from Granit Xhaka and Danny Welbeck. Jose Mourinho played somewhat of a weakened team with the Europa League semi-final second leg against Celta Vigo on Thursday but they never chased the game like you might have expected even when they went down by two goals.
The first half had plenty of action but no goals. Alexis Sanchez was playing in a more withdrawn role in the middle and his passing, particularly to Aaron Ramsey was causing problems for United. Welbeck had an effort that was blocked out for a corner and Ramsey cut one back to the former United striker but he was not allowed any space on that occasion either.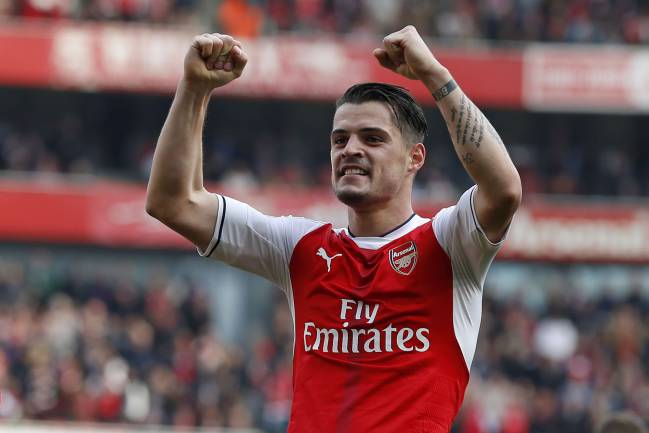 There were no changes for either team at half-time and you got the sense that if it stayed the way it was going in the opening half, Arsenal might cruise home. Rooney had a chance after a poor backpass by Monreal but they were relying on pure hope rather than any continued spell of attacking dominance.
it was Arsenal who scored first when a shot by Xhaka that was going well wide, caught a ducking Ander Herrera on the back and looped over a helpless David de Gea. He celebrated with gusto but there was plenty of luck involved in the striker.
Just three minutes later, Arsenal had two and there was very little luck involved as Chamberlain, who was a constant threat down the right, crossed to Danny Welbeck. He headed home off the crossbar in the only place close to De Gea that he couldn't make the save. Within three minutes, the Emirates could breathe a huge sigh of relief.
The game suffered after that with United showing no sign of figuring out a way into the game. Arsenal won't be too perturbed by that though as they close to within two points of their rivals with a game in hand.
---
Arsenal 2-0 Manchester United: second half
An updated look at the Premier League table:
| | | | |
| --- | --- | --- | --- |
| Team | Games | Points | GD |
| Liverpool | 36 | 70 | 29 |
| Man City | 35 | 69 | 33 |
| Man United | 35 | 65 | 26 |
| Arsenal | 34 | 63 | 24 |
FT: Game over at the Emirates. Arsenal are just two points behind Arsenal now and the London-based club have a game in hand. That is possibly the best result for Liverpool too.
Min 90+2 | McTominay with a strike that takes a deflection off Rooney but Cech had it covered regardless.
Min 90 | Holding leaves Martial in a heap with a late tackle. Arsenal making sure that United don't sneak back into this game. Ref plays advantage but United can't use it. Sanchez up the other end and looks for a through ball but too much mustard on it.
Min 88 | Chance for United as Lingard crosses it low. Koscielny gets to it first and clears. Rooney with another effort in the aftermath but it rolls tamely to Cech.
Min 86 | Ramsey falls in a heap after colliding with McTominay. Ozil is fouled too in the same move as the camera shows some United fans leaving and getting a head start on their journey home.
Manchester United substitution: McTominay replaces Juan Mata.
Arsenal substitution: Giroud replaces Welbeck and Bellerin replaces Chamberlain.
Min 82 | Turning into a frustrating afternoon for United. No ideas up front and little creativity. Rashford has been quiet as Arsenal not allowing him any space to run in behind and closing him down or only letting him get the ball in areas of the field where he can't be a threat.
Min 80 | Holding with a clearance that falls to Rooney but in the same position as his earlier effort, it ends up in the same place behind the goal.
Min 79 | Rooney gets it back to De Gea and his goalkick goes out for a throw. That elicits a cheer from the Emirates crowd.
Min 76 | Mourinho up and assessing his side. He hasn't got too much to say though. He has made two subs and they have made no real difference. He's not even angry though as everything is directed towards the Europa League now. If they don't win that, it's anyone guess as to what happens.
Arsenal substitution: Coquelin replaces Xhaka, who is unable to continue.
Min 74 | Rooney with a shot that goes well wide. Closer than it seemed but still ambitious from where he was and with a few Arsenal players in his path to goal. Xhaka down now and looking for treatment. Unclear as to what's wrong with him.
Min 71 | Ozil skips by a challenge and whips a cross into the box. Nobody on the end of it with Welbeck just a half a yard shy of getting something on it.
Min 70 | Lingaard can't get the ball under control as it rolls over the line. United not at the races at all today. Arsene Wenger has never beaten Jose Mourinho in the Premier League. This could be a historical result for the French manager.
Min 68 | Arsenal counter and Tuanzebe is caught out by Ramsey, who puts him under immense pressure. Phil Jones end sup headering it away but it falls to Xhaka on the volley. Without Herrera there to deflect it towards goal, it goes a country mile wide.
Min 65 | United looking more lively now. Another corner. Arsenal defend well and get it away. Sanchez to Ramsey yet again too. Overhit pass by Chamberlain ends the attack with a goal-kick.
Min 63 | Martial is stood up by Chamberlain and the French attacking midfielder is stopped in his tracks. Where is that rambunctious player that came on against Liverpool in his debut! A shadow of his former self. Meanwhile, Rooney has a shot from a free that forces a save from Cech. Corner to United as Rooney steps up again.
Manchester United substitution: Ander Herrera is replaced by Marcus Rashford.
Manchester United substitution: Mkhitaryan is replaced by Lingard as Mourinho looks to freshen up his attack. Rashford getting instructions before he comes on.
Min 59 | Emirates singing to their hearts' content now. Rashford coming on. Will they be singing for long?
Min 57 | GOAL! GOAL! GOAL! Welbeck with the finish. He headers home as it goes in off the crossbar. Chamberlain with an inch-perfect cross onto his teammates' head.
Min 55 | United need a response here.
Min 54 | GOAL! What a finish?! We think! Xhaka strikes and it loops over De Gea but on second look, it takes a wicked deflection of Herrera's back.
Min 53 | Gibbs with a cross that he overhits.
Min 51 | Oooooh! Tuanzebe and Sanchez come together with Sanchez initiating the shoulder charge. The Chilean ends up on his back as the central defender shows off his strength.
Min 50 | Arsenal could do with a change. They seem to have run out of ideas here early in the second half. Same can be said for United but I'm sure Rashford will be held back until the last second.
Min 48 | Holding fouls Mkhitaryan as United look to take this game back to Arsenal.
Min 46 | We are back underway with no changes for either manager. They were happy enough with how the first half went.
---
Arsenal 0-0 Manchester United: first half talking points
Manchester United have not missed a beat with Tuanzebe at the back along with Phil Jones. If anything, Jones looks like the rookie.
The possession stakes are even with both sides enjoying 50% of the ball. United started better but have slowly faded while it seems Arsenal are the growing force. United have had two shots on target though. Arsenal have had none. They also have the same amount of corners. This one is on a knife edge. A change could swing the balance. The likes of Rashford or maybe theo Walcott for Arsenal might decide this game.
Alexis Sanchez is dropping deep and threading passes through to the likes of Ramsey, who have gotten in behind on a number of occassions.
---
Arsenal 0-0 Manchester United: first half
HT: And that's all the action from the first half. Arsenal probably should have the lead but United have had their chances too.
Min 43 | Chamberlain overruns it and it goes out for a goal-kick. Decent chance in behind but it goes to waste.
Min 41 | No chances in the last few minutes. Arsenal by far more dangerous. They're building again and seem to have a strong hold in the middle. Rooney is dropping deeper and deeper for United with Martial occupying the striker role when he does. Mata and Mkhitaryan out wide.
Min 38 | Two Spaniards, Herrera and Monreal collide in the air and both grab their heads. Play stopped now as they receive attention. Herrera, the former Athletic Bilbao midfield man seems to be worse off but he'll survive.
Min 37 | Sanchez has the ball in the back of the net! But only after Welbeck was flagged for offside. The Chilean taking no chances as he slots home. Play was dead though.
Min 35 | Monreal with a much cleaner backpass. Arsenal trying to build now in search of the opener that has eluded them so far.
Min 32 | Manchester United's turn. Monreal with a dreadful backpass to Cech. Rooney jumps it with Koscielny caught flat-footed. Rooney misses though.
Min 30 | Sanchez chips one to the back post and an utstretched Ramsey can't reach it. Arsenal attack again though. Chamberlain with a shot and De Gea saves. Arsenal have to delighted with this start.
Min 29 | Sanchez puts it through to Ramsey and he muscles Jones out of the way. Ramsey pulls it back to Welbeck but Sanchez wanted it! He wanted it desperately and feels he was free. He lets Ramsey know about it too. Ramsey responds by explaining what he was thinking but he doesn't want to know about it.
Min 26 | Chamberlain breaks free and Rooney has a kick at him but even the failed foul can't slow him down. Corner Arsenal is the result as Chamberlain runs into trouble. The corner lands to Welbeck with his back to goal. He gets turned and gets a shot away but Jones blocks it. Another corner.
Min 24 | Martial give the ball in space to run into but Koscielny gets back and puts it out for a corner. United take it quick and Herrera swings it in. Rooney risest highest but can't get his header on target.
Min 21 | Man United corner. Mata swings it in but Cech gets a hand on it. He seemed to misjudge it and made it far harder than it needed to be. Puts it out for a throw and United build again.
Min 17 | Gibbs tries a corner but Mata blocks it and puts it out for a corner. Emirates in good voice as this is the side they came to see.
Min 15 | Sharp move by Arsenal sees Welbeck beat Phil Jones in a race to it. Jones recovers and gets goalside but Welbeck steps inside him. He has cover in the form of Ander Herrera though and United get is away but Arsenal not to be outdone that easily as they attack again.
Min 13 | Arsenal playing the long game with their passing around the middle. Their patience nearly punished but Koscielny slides in and wins it back from Mata. Ramsey gets a cross in but United clear again and Martial is fouled by Koscielny on the counter.
Min 12 | Mkhitaryan takes down a long ball on his chest but his touch is swiftly followed by a whistle. Offside but the little wag of his finger in the air to the ref shows what he thought of his decision.
Min 9 | Sanchez with a really good through ball to Ramsey and he hits it with his right. De Gea forced into an excellent save. Corner to Arsenal. After the ball bounces around for a couple of seconds, Monreal headers is to De Gea. Decent attack for Arsenal with Sanchez the catalyst.
Min 8 | Martial takes it into the box again but is picked off. Then Herrera picks up where he left off and wins a corner. Rooney hits it too long and Arsenal recover and counter.
Min 7 | Ball in over the top by Sanchez to Ramsey but his header goes to nobody except Phil Jones, who heads it back to David de Gea.
Min 5 | Neat through ball by Rooney to Martial. He takes it on and drives a toe-poked shot towards goal. Cech is forced to save and put it out for a corner. Arsenal opened up there worryingly easy.
Min 4 | Chamberlain slides in on Mkhitaryan and takes the Armenian out of it. Worrying few seconds for United as he lies on the ground but he is up and at them again. Rooney's free-kick floats straight into Cech's chest.
Min 2 | Dangerous ball in by Juan Mata that Rooney meets with his head but he can't keep it down as it flies over Cech's crossbar.
Min 1 | We are underway from the Emirates.
---
Arsenal vs Manchester United live stream online: team news
Arsenal: Cech, Holding, Koscielny, Monreal, Oxlade-Chamberlain, Ramsey, Xhaka, Gibbs, Özil, Sánchez, Welbeck.
Manchester United: De Gea, Tuanzebe, Jones, Smalling, Darmian, Carrick, Herrera, Mata, Mkhitaryan, Martial, Rooney.
---
Arsenal vs Manchester United live stream online: latest news
16:46 | A quick look at the Prmier League table before the game.
| | | | |
| --- | --- | --- | --- |
| Team | Games | Points | GD |
| Liverpool | 36 | 70 | 29 |
| Man City | 35 | 69 | 33 |
| Man United | 34 | 65 | 26 |
| Arsenal | 33 | 60 | 22 |

16:37 | Danny Welbeck gets the start against his former club. He has a good record against United in front of goals. He has scored twice in three games against them. He has also been on the losing side twice with a win coming in the FA Cup.
16:35 | Marcus Rashford made his debut against Arsenal a year ago. He had two goals scored after 32 minutes.
16:30 | Is Jose Mourinho turning a corner? He says he hopes Arsene Wenger keeps his job and is particularly nice about it.
"Football now means if you don't get success then you are gone -- so yes, I feel bad for other managers. When you are at one club for 20 years it is impossible to have success every single year. Even Sir Alex will tell you that.
"The truth is that I hope Wenger keeps his job at Arsenal. I really do. I hope that the club trusts him to make things better. I think that Arsene is probably the last example of a manager who brings stability to a club over such a long time.!
16:24 | Axel Tuanzebe starts today. The 19-year-old defender was born in the Democrativ Republic of Congo but grew up near Rochdale after moving to England as a child. He has come up through United's youth system. Massive chance today. Who says Mourinho doesn't give youth a chance!?
16:19 | Alexis Sanchez' future has been the centre of speculation as Bayern Munich were mentioned as a possible destination for the Chilean. He believed he could win trophies at Arsenal but he has been bitterly disappointed. Sanchez told Sky Sports that he will discuss his future: "We've said that the two of us will sit down together to discuss what will happen and what we're going to do, what's best for the club, what's best for me, what's best for him.
"We'll speak once the season is over because if I speak now, that would take my focus away from what I want, which is qualifying for the Champions League and winning the FA Cup."
16:13 | AS turns 50 this year and we have delved into the vaults to dig out some of the more memorable front covers. Among them, was an interview with Sir Bobby Charlton in April 1968 ahead of Real Madrid's Champions League semi-final against Manchester United. Correspondent Miguel Vidal presented Charlton with the shirt which Ramón Grosso had worn in the quarter final against Sparta Prague. "After Manchester United, my favourite team is Real Madrid", Sir Bobby confessed.

16:07 | And Mourinho's line-up: De Gea, Tuanzebe, Jones, Smalling, Darmian, Carrick, Herrera, Mata, Mkhitaryan, Martial, Rooney.
16:04 | Here's how Wenger's XI will look: Chech, Holding, Koscielny, Monreal, Oxlade-Chamberlain, Ramsey, Xhaka, Gibbs, Özil, Alexis Sánchez, Welbeck.
15:40 | Arsenal's former Manchester United striker Danny Welbeck has talked to the Gunners' official website about playing his former club, saying he sees his old team-mates as "frenemies" when he's face-to-face with them out on the pitch.
15:27 | Any guesses for the player with the best goalscoring record against Arsenal? Yep, that's right, Wayne Rooney with 11.
15:00 | In other, vaguely Arsenal-related news, former Gunner Nelson Vivas has clearly been following a strict diet of Incredible Hulk comics of late...
14:48 | Mourinho's side have currently gone 25 games without tasting defeat in the Premier League, a club record inside the same league campaign. Only seven teams have gone unbeaten for longer in the same season - Nottingham Forest's 26-game unbeaten run in the 1977-78 season is up next for United.
14:25 | If you're in the market for some more stat-tastic facts and figures ahead of Arsenal vs Manchester United, you may well be interested in this little bundle of info put together by the visiting side's social-media dept.
14:15 | Arsenal will be looking to Alexis Sánchez for inspiration this afternoon, and the Chilean striker is currently chasing down his own milestone - his is two goals away from bringing up his half-century for the Gunners in the Premier League.
13:40 | José Mourinho believes the late Sir Bobby Robson paved the way for English managers in European football but none of the current crop of coaches have his special qualities. The United boss also says that he will forever be indebted to Sir Bobby for the knowledge he passed on and support he gave him in his early years in coaching.

13:20 | Arsenal fans may be interested in this news concerning a former Gunner: France cap Lassana Diarra is off to the United Arab Emirates...
12:55 | More bad news for the side from North London: Wenger has never beaten José Mourinho in the Premier League. The Frenchman's only taste of victory against the Portuguese coach came in the 2015 Community Shield.
12:35 | Today's game will be the 58th time Arsene Wenger has come up against United in all competitions. Unfortunately for the Gunners, however, the Frenchman only has a 29% win rate against the Red Devils.
12:10 | Once you're done with our guide on how and where to watch guide, why not get yourself prepped with a read of our match preview below?
11:40 | We have prepared a useful guide with all the info on how and where you can watch Arsenal vs Manchester United - while you follow our live text, obviously.
10:50 | Good morning! Stay with us for the latest ahead of kick-off at the Emirates!
---
Arsenal vs Manchester United: match preview
Tottenham's defeat to West Ham on Friday has left Chelsea with an unobstructed run at the Premier League title but the battle to clinch the last two Champions League berths is pretty much hitting core meltdown. Manchester City moved into third after tonking Crystal Palace 5-0 but manager Pep Guardiola conceded afterwards that qualifying for Europe in the English is tougher than anywhere else in Europe.
Arsenal depend on the two Manchester teams or Liverpool slipping up twice if they are to enter the European positions. Wenger's team sit sixth on 60 points, now nine points behind City and Liverpool but with two games in hand. It would also mean that the Gunners would be obliged to win all of their remaining games – against Southampton, Stoke, Sunderland and Everton.
José Mourinho's Manchester United are only marginally better placed than their hosts. They are fifth with a five-point advantage but having played one game more. Defeat today would all but crush their chances of entering next year's Champions League via the league route, but they could qualify should they win the Europa League. Marcus Rashford´s free-kick gave United a vital away goal in Thursday's first leg at Celta de Vigo. It will be interesting to see how on guard Mourinho's team shape up after that trip as all the teams are now on autopilot and trying to put fatigue out of their minds for the final stretch of the season.
United go into the match on the back of two draws – against Man City and Swansea while consistency has been Arsenal's main bugbear of late – they were beaten 2-0 by Tottenham last week and have only managed to string together two straight wins just twice since the start of the New Year.
Even so, it promises to be a fascinating contest between both managers. Mourinho and Wenger can hardly be described as bossom buddies although the Frenchman did say on the eve of the game that he is always open for reconciliation, for peace…
Arsenal team news
Shkodran Mustafi has returned to training ahead of time after overcoming a thigh injury but isn't match-fit. David Ospina is also back training but is also unlikely to feature. Wenger said there is "only a small" chance that Granit Xhaka will be available – the midfielder took a kick to his calf in last week's defeat to Spurs and could be rested.
Long-term casualties Lucas Pérez and Santi Cazorla remain out and are continuing with their respective rehabilitation programmes.
Man to watch: Mesut Özil. After going through a barren run at the start of 2017 and being hampered by niggling muscular problems, Özil is now right back among the goals, finding the net with strikes against West Ham and Middlesbrough last month. But apart from scoring goals, the German is just as happy setting them up for his team mates. He has seven goals in the league this season and has the same number in assists. Any free-kicks close to the United penalty area will have Özil licking his lips, as Mourinho knows only too well.
Manchester United team news
Mourinho confirmed that he will be fielded a heavily changed side and will hand downtime to those who are in need of a rest. One player who could be benched is Marcus Rashford who was carrying a minor injury in Thursday's game in Vigo and was taken off 10 minutes before the whistle. Marouane Fellaini is serving a one-match suspension and Mou has to rustle up a back four without Ashley Young who limped off with a hamstring injury against Celta
Juan Mata was an unused sub in Vigo and appears to be fully over his recent groin problems but hasn't played competitively since mid-March. David de Gea will be back between the sticks after Sergio Romero took over goalkeeping duties for the Europa League semi-final. Luke Shaw, Zlatan Ibrahimovic and Marcos Rojo are all out for the rest of the season.
Man to watch: Anthony Martial. With the likelihood that Marcus Rashford will be rested, and Wayne Rooney not an option, United could well be relying on the Frenchman to provide the goals on Sunday. Martial hasn't been having a vintage season by his standards but there's no doubting his quality. He last found the target in the 2-0 win away at Burnley on 23 April – the most recent of his eight goals for the club this term.
---
Arsenal vs Manchester United: possible line-ups
Arsenal: Cech; Bellerín, Koscielny, Oxlade-Chamberlain, Monreal; Gabriel, Welbeck, Gibbs, Giroud, Özil, Alexis Sánchez.
Man United: De Gea; Bailly, Jones, Blind, Darmian; Valencia, Carrick, Herrera, Pogba, Lingard, Martial.
---
Arsenal vs Manchester United: live stream betting odds
The home team goes into this one as the bookies' favourite with odds of 2/1 with Alexis Sánchez at 5/1 to open the scoring. A 0-3 United win is at 50/1 and you might fancy doubling up and betting on long shot Juan Mata to hit the winner at 11/1. Correctly wagering a crisp 10 euro note on Paul Pogba to be the first player to score would boost your bank balance by a handy 810 euros…
Bet on Arsenal vs Manchester United in the Premier League now
---
Arsenal vs Manchester United: live stream online build-up