Russia 0-1 Portugal Confederations Cup match report: Ronaldo header settles it
An early Cristiano Ronaldo header settled matters in Moscow as Portugal failed to find their best version but managed to come away with a winPSG - Real Madrid: Champions League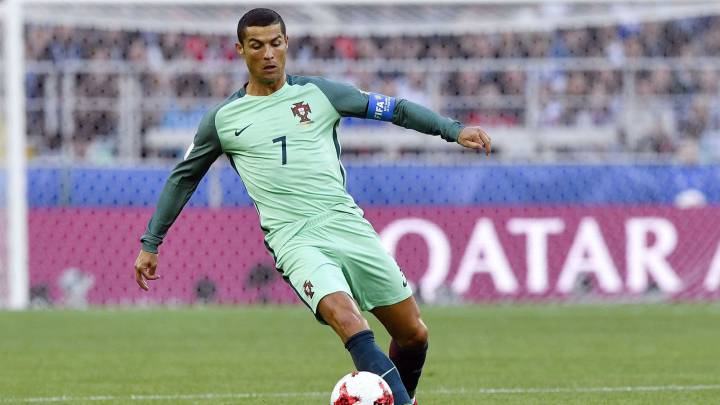 Russia 0-1 Portugal: Match report
Cristiano Ronaldo and Portugal took on Russia in Moscow on Wednesday afternoon in the hope of leapfrogging their Group A opponents and pushing themselves top of the group before Mexico played New Zealand later on Wednesday night in Sochi.
Fernando Santos made four changes to his side with Nani, Quaresma, Moutinho and Fonte dropping to the bench and Bernard Silva, Bruno Alves, Andre Silva and Adrien Silva replacing them in the line-up.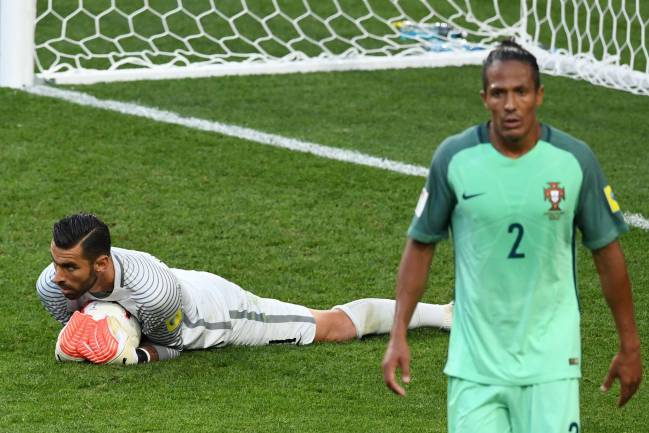 The game started as expected with Portugal pushing forward and bossing the possession stakes. They were failing to really creating anything, however, and luckily for them, Russia were the same. Their attack was disjointed and they had no clear system of how they wanted to attack.
Portugal went ahead after nine minutes when Rapahel Guerreiro landed a ball on Ronaldo's head and all the Real Madrid man had to do was direct it towards goal. Igor Akinfeev waved his hands at it but it had flashed by him before he knew what was happening.
The hosts continued to probe but were never going to score, it seemed, with the version of attack they were implementing.
A change at half-time saw Roman Shishkin replaced by Aleksandr Erokhin and the sub went into midfield to give them superiority there while also leaving them with a back three. It worked as Portugal were left clinging on for most of the second 45.
Russia pummelled their penalty area with crosses but they lacked that little bit of quality that would have asked serious questions of Rui Patricio. As the game ticked on, Russia were dead on their feet and while Portugal had chances, they seemed content with their lead. And that's how it would finish.
The group will come down to whether Mexico can beat New Zealand and Russia, and by how much, but for now, Portugal remain the team to catch.
Russia vs Portugal live stream online: Confederations Cup latest news
90'+4'  And that's it from Otkrytiye in Moscow. Ronaldo's header seals all three points for Portugal.
90'+4'  Smolov with the very last effort surely. Bukharov heads it down and Smolov strikes it wide. Another poor effort. 
90'+3'  Bukharov breaks down the right but doesn't have the support to do anything with it. He wins a throw. Smolov throws a cross in but it bounces just in front of Rui Patricio and it's saved. Tame effort.
90'+2'  Rui Patricio palms a cross back into play as it might have snuck into the top corner if he didn't. It falls to Eliseu and he puts it out for a corner. The resulting corner lands on Dzhikiya's head but he flashes it over. That was the chance!
90'+1'  Four minutes of added time. Can Russia forge one more assault on Portugal's goal.
89'  Bukharov goes down in the penalty area. Referee tells him to get up! Could have been a penalty, maybe, but would have been soft.
87'  Zhirkov with revenge now. He takes down Bernardo Silva on the sideline. 
85'  Russia seem to have run out of options. They have thrown everything they have at Portugal but can't get that goal!
84'  Kudriashov replaced by Bukharov.
83'  Smolov continues to battle but Portugal clear.
82' Adrien Silva is replaced by Danilo.
80'  Russian fans try to urge their side forward.
79'  Portugal have enjoyed 59% possession this afternoon. They've been up against it in the last 15 but they seem to have stemed the tide.
77' Gelson Martins replaces Andre Silva. Not the best day at the office for the attacker. 
77'  Portugal starting to take control back.
76' Yellow for Samedov as he obstructs Eliseu as he tries to race past him. 
73'  Andre Silva gets it on his left and strikes but it's feeble. 
73'  Poloz with a nice run down the line. his cross is cleared yet again.
73'  Pepe not happy s Dzhikiya stands on him, it seems like. Dzhikiya  is booked and Pepe is okay. Things are heating up.
72' Bernardo Silva booked now for a foul on Zhirkov. Portugal might be on the ropes here!
71'  The latest, a tame Smolov effort! 
70'  So many chances! 
69'  Balls raining into Portugal's penalty area. Nothing doing still. Rui Patricio gathers the latest and puts an end to a decent spell for the hosts.
67' Kombarov is replaced by Poloz.
66'  Russia in around the back again. Smolov fouls after Portugal clear.
64'  Ronaldo breaks at speed and plays it to Bernardo Silva. Silva repays the favour but Ronaldo blazes over with his right foot.
63' Guerreiro is forced off now as he tells the trainers there is something wrong with his ankle, or calf. Eliseu takes his place.
62'  Just prior to that Glushakov plays it to Smolov and he plays a perfect through ball to Erokhin but his cross can't find a Russian jersey. Could have been a goal! So close yet again.
61'  Andre Gomes put it on a plate for Ronaldo now after Akinfeev rushes out to try and close him down but Ronaldo can't get it on target.
60'  Glushakov gets it out wide to Samedov. He crosses to Smolov and puts it on a plate for him. But he can't make contact. Best chance of the game for Russia.
59'  Akinfeev with another save. A little more acrobatic than he might have needed but he rejects Silva.
58'  Andre Silva with another header. Doesn't make it to Akinfeev this time as Russia clear. Game has come to life.
57' Pepe booked for a handball that prevented Russia a veyr positive-looking attack. Despite his please, referee shows him the yellow.
55'  Russia on the attack again. Offside this time against Zhirkov. 
53'  Ball in around the back is cleared by Guerreiro but only back in the direction of the goal and over Patricio's crossbar. Corner to Russia.
51'  All Russia so far. Still, and I hate to repeat myself, but still failing to connect in the final third. Their midfield is far more functional now and dangerous. Pinning Portugal back but no options up front.
50'  Akinfeen with a really excellent save from an Andre Silva header. Russians can thank the keeper for keeping them in this one.
49'  Russia build well but Glushakov gets pushed off the ball too easily. Russia have gone to back three with Erokhin goes into midfield in place of the right back he replaced.
47'  Much more lively start by Russia. They are pressing high up on Portugal. Words had after Golovin presses a little too aggressively on Soares. 
46'  Back in action! 
No changes for Portugal. Shishkin off and Erokhin on for the hosts. 
Teams re-emerge from the dressing room. 
45'+1'  That's all for the first half! Portugal comfortable but not out of this world. A lone Ronaldo header does the business for them though, and they'll take it. Russia need some inspiration.
45'  Ronaldo with a tame effort as the ifrst half peters out.
44'  Russia maybe, possibly getting closer but still haven't tested Rui Patricio. 
42'  Russian fans continue to drive their team forward. Nothing doing but it has forced a certain intensity into the game.
39'  Russia urged on by the home crowd. Ball in by Shishkin is a lovely one but Smolov can't direct his stabbed effort towards goal. He needed to turn his body more to get that one on target. He knows himself too!
38'  Corner. Vasin gets a foot to the ball ahead of Silva and Portugal look to double their lead from a set-piece. They've been looking dangerous from them so far. Some rough-housing between Andre Silva and Shishkin halts it for a second but the ball in eventually arrives. Cleared by Russia.
36'  Better from Smolov as he gets it out wide to Zhirkov but the return pass leaves him with too much to do. 
34'  Russia need more from Smolov. He's killing too many plays with his inability to hold onto it and do anything with it when he does manage to get it at his feet.
32'  Ronaldo in behind on th right and drives a shot at Akinfeev that he gets away with his legs. Ball falls back to him and he pokes it to Silva but Russia scramble it away. Portugal aren't at the races but looking dangerous when they do attack.
31'  Andre Silva makes headway as he drives towards goal but takes too much out of it and it gets lost between his legs. Russia get it clear.
30'  Carvalho gets his revenge on Glushakov. No card this time but not for Glushakov's efforts to as he writhes in pain on the ground. Up and at them again after a brief scare.
29'  Russia nearly in behind again through SMolov but Portugal recover.
28'  Portugal build again. Seems like Soares and Silva combo is their trump card. The latter chips one towards the former and Russia are forced to put it out for a corner. Pepe fouls as it arrives in. 
27' After another attack breaks down, GLushakov is booked for stopping Carvalho from starting a counter.
26'  Russia taking the initiative now. Still lacking that final pass. 
25'  Tame effort as it makesit past the wall but bounces up into Akinfeev's chest. 
24'  Ronaldo bundled over as Kudryashov goes to ground and catches his leg. Free out to the right of goal. Hardly worth a try but Ronaldo might be thinking differently.
23'  Much better from Russia. Golovin gets it out wide and sizes up Carvalho. He fails to get a cross or a pass into the box but nice move to get it up that far. 
21'  After hopes of it picking up, some more sloppy play. A succession of throws down Portugal's right-hand side as they seem incapable of getting the ball out of that area. Seems like they don't want to, or haven't been given the chance to cross. 
19'  Gomes looks for a ball in behind for Guerreira but far too much on it.
17'  A lot better from Russia. They are starting to probe a little but more adventurously. Still haven't found what they're in the market for though.
16'  Ball in by Kombarov but it flies over the penalty area and almost clear. Russia have it back and Gllushakov gets it in a central position. Pepe gets a strong challenge in though and recovers it for Portugal. He definitely touched that one!
15'  Corner for Russia. Pepe argues that it didn't hit off him but the referee doesn't particularly care. He believes his own eyes.
13'  Game is really struggling to get going. Russia lacking creativity and Portugal not overly excited on the ball either now that they have the lead.
10'  Russia doing their best now to figure out a way back into this but they give it away and Portugal break again. Ronaldo ends up with it and after a step-over, or two, he crosses but it's off target and behind the goal. Russia restart.
Defenders and goalkeeper need to do better there but the ball in from the Borussia Dortmund left-back was ideal. Russia with a difficult task now.
8' Ronaldo with a "calm down" as he headers the ball beyond Akinfeev. He started the move with a quick break, passes to Bernardo Silva and Raphael Guerreira delivers a perfect cross onto the Real Madrid star's head.
7'  Dangerous ball in behind Portugal's defense by Samedov but Portugal get it away. 
7'  Long ball over the top nearly reaches Ronaldo but he can't make contact with his out-stretched leg. Akinfeev runs out and grabs it.
6'  Golovin fouls Soares. The fractured, disjointed start continues.
6'  Smolov fouls Smolov as the central defender crashes into the Russian's back and falls over in a heap.
5'  Quite a tame start, neither team forcing things so far. Portugal with the better start, but only marginally. They haven't created anything. 
3'  Ronaldo gets an early touch. Some loud boos ring around the stadium. He loses the ball, which is met by cheers!
2'  Smolov gets an early touch and it is a horrendous one as he knocks the ball over the line. 
2'  Looks like Portugal will be enjoying most of the possession in this one based on the start. Two long balls in search of Soares on the right early too though.
1'  We are underway! 
 A rousing rendition of Russia's nathonal anthem.
Ronaldo leads Portugal out of the tunnel. Akinfeev the man to lead out the home nation.
Players in the tunnel, stone faces on and ready for action!
Russia XI: Akinfeev, Shishkin, Vasin, Dzhikya, Glushakov, Smolov, Kudriashov, Golovin, Zhirkov, Samedov, Kombarov.
 Portugal's starting XI: Patricio, Soares, Alves, Pepe, Guerreiro, Andre Gomes, Carvalho, Andre Silva, Bernardo Silva, Ronaldo, Adrien Silva.
  Here's how Portugal started their Confed. Cup campaign on Sunday.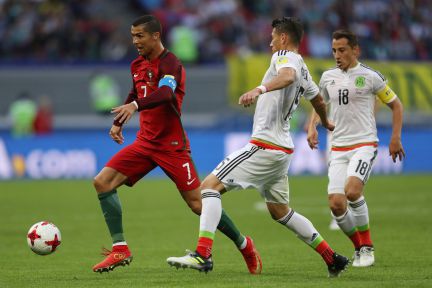 Video: Russian striker Fyodor Smolov claims he won't be queuing for Cristiano's Ronaldo's shirt post-match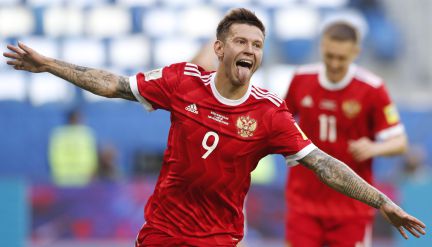 A poor result for Portugal's famciued U-21 side last night as they fell to tournament favourites Spain. Here's the match report: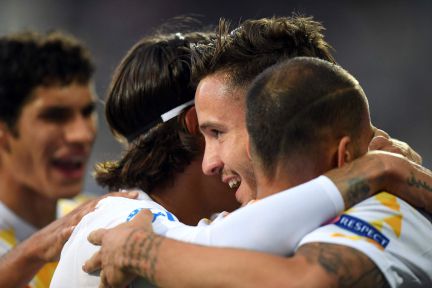 Russia vs Portugal live stream: Group A match preview
The Confederations Cup group stage heads into its second round of matches with an enticing encounter in Moscow between the tournament hosts and the European champions.
Russia come into the clash on a high after beating New Zealand in the competition's opening game, while Portugal had to settle for a point against Mexico in their first group match.
Russia
The clash at the Spartak Stadium is a sell-out, and a home crowd buoyed by Saturday's 2-0 victory in Saint Petersburg will look to roar Stanislas Cherchesov's men on to two wins from two.
And another three points for the Group A leaders, whose line-up is not expected to see many changes, would make them the first team at this year's Confederations Cup to claim a semi-final spot.
Russia will again look to in-form striker Fyodor Smolov, who hit their second goal against the All Whites at the weekend on his way to the 'man of the match' award.
The Krasnodar ace, top scorer in the Russian Premier League in the last two seasons, said pre-match that he is confident his side can use home advantage to good effect.
"Portugal have many great players including Cristiano [Ronaldo]," Smolov said, "but the full stadium will give us strength and I'm sure we can achieve a good result."
Portugal
Fernando Santos' Euro 2016 winners came to Russia among the favourites, but a late Mexico equaliser on Saturday has left their hopes of advancing to the last four in the balance.
An 86th-minute Cedric Soares goal looked to have got Portugal off to a victorious start in Kazan, only for Héctor Moreno's stoppage-time header to ensure the spoils were shared.
And with Mexico fancied to defeat New Zealand later on Wednesday, the Seleçao are likely to need to beat Russia to avoid going into their final match playing catch-up on the top two.
Santos, who on Tuesday declared that his confidence in his players "is unlimited", could well tinker with his starting line-up.
André Silva and Gelson Martins both made an impact as substitutes against Mexico and are pushing for inclusion, while Manchester City new-boy Bernardo Silva is also a candidate to come in.
Russia vs Portugal live stream online: betting
Portugal are the bookies' favourites to claim the points at the Spartak Stadium, with Cristiano Ronaldo and Co. priced at €1.95 per every euro bet, with Russia back at €4.50 for every bob wagered.