Juan Mata visits summer camp at boyhood-club Real Oviedo
Manchester United midfielder Juan Mata stated that "when I see these kids, I see myself when I started", and is optimistic about the club's future.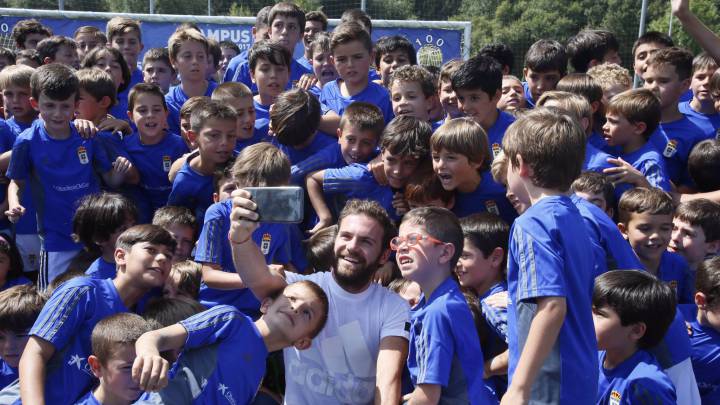 Juan Mata's first impression upon visiting the Campus del Oviedo, a summer camp organised by his boyhood club Real Oviedo, was that it reminded him of his own childhood.
Juan Mata visits Oviedo
"When I see these kids, I see myself when I started," the Manchester United midfielder explained.
As a graduate of the club's El Requexón youth academy, Mata would like to see home-grown players play an increasing role at first team level:
"The ideal situation would be that the first team would feed itself with academy players, the talented youngsters in El Requexón. When I left, the club was in a bad state financially, but now things have changed and I'm sure that a lot of lads will step up to the first team."
The 29-year-old, who left Oviedo for Real Madrid in 2003, is optimistic about the Asturian club's short-term future:
"I hope that the trajectory of the last few seasons continues, because there is the team and the structure for it. All of us fans want it. I'm optimistic: Oviedo will return to the Primera sooner rather than later."
Anquela 'creates solid teams'
Mata has already sought out opinions on Oviedo's new coach, Juan Antonio Anquela, and is happy with the appointment:
"He is very competitive, he knows the division really well, and he has personality. He usually does a good job at the clubs he has been at," Mata analysed, "he creates solid teams that know how to compete, and that is very important in the Segunda. I hope Anquela takes us to the Primera.