Busquets pleased with Paulinho, but wants more Barça signings
Sergio Busquets called out Pep Segura [Barcelona general manager] for his comments about Gerard Piqué, and talked about adjustment to Neymar's departure.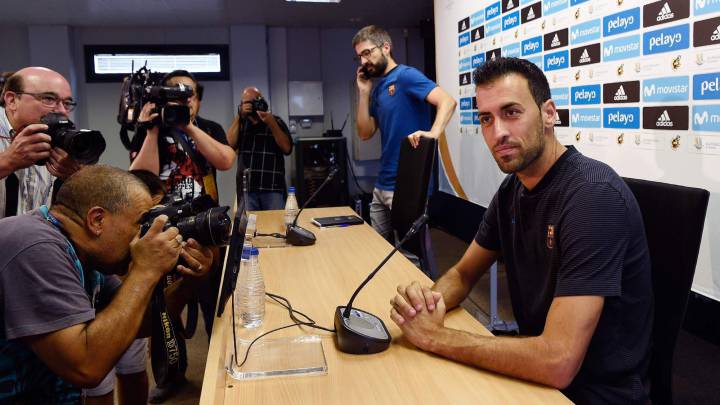 Sergio Busquets spoke in the press conference ahead of the second leg of the Spanish Super Cup, which will take place on Wednesday evening at the Bernabéu. Real Madrid carry a 1-3 advantage from the first leg.
The central midfielder took the opportunity to challenge Pep Segura [FC Barcelona general manager], who called out Gerard Piqué for his own goal at Camp Nou, which opened the scoring for Real Madrid. He also discussed Paulinho, and how the club will adapt to the loss of Neymar to PSG.
Busquets: 'I don't agree that it was Piqué's fault'
What do Barça need to do to improve?
Since the match ended, we have been analysing what happened. We had a good first half, we controlled it and created chances. In the second half, the team opened up, we went for the draw but we couldn't change our approach, and they're an unstoppable team on the counter attack.
Was Piqué to blame, like Pep Segura inferred?
I don't agree that it was his fault. It was bad luck. We didn't lose 1-3 because of that. We made mistakes in the match and they were on the mark with their goals.
Paulinho's arrival from Guangzhou Evergrande:
I think Paulinho's arrival is a good thing, because he's a player with a different profile to what we currently have. He can contribute a lot. He's a starter for Brazil, and we'll welcome him with open arms.
Ronaldo's red card
Do you understand Madrid's indignation [about Cristiano Ronaldo's five-match ban]?
"It's their opinion and I'm not going to get involved. I don't understand it but they are the ones who have to explain if that's how they feel."
Will there be 'Messidependence' after Neymar's exit?
It's clear that with Neymar's departure, the team has lost something. You realise what a player Ney is. Everyone will agree. […] We will have to have more variation. Each match will be different."
Coutinho and Dembélé:
Firstly, I want to explain. I said that we have to refresh, but not because of the defeat, rather because that's how football is at the moment. From now on, those who arrive will be well received. You have to improve with what the market gives you. I hope that the best and highest quality players come."
Are Barcelona behind Real Madrid?
"You can judge yourself on different things. You can judge yourself on the titles you've won in the last year, or on the games played between each other. We're two good teams and over two matches, either team can win because we both have good players."
What are your chances of getting back in to the Super Cup?
We know that it's difficult but we don't see the game as already being lost. It's going to make us grow, but above all, you have to keep a clean sheet. Scoring three goals isn't easy, but we've done it many times there before. We'll try to be compact and take the match where we want.
Barcelona transfers have been short of the mark
Will the team have to re-adjust its style of play after Neymar's departure?
The thing is, Neymar is just one [person]. He's not with us anymore, and what we have to do is try to improve. We have to find someone for his position. But in every position, the more who come, the better.
Should the Neymar matter have been managed better?
It's obvious that the level of transfers is short of the mark. I can't say if the club knew, or if Neymar knew. Players often say they're going to leave a team, but they don't; and the other way around. I don't know what went through Neymar's head.
What would you say to the socios?
That we have a great team, and if we do things well, we'll have a good season. What goes on beyond the pitch doesn't depend on me. I hope that the best, highest quality players come.