Chinese cyclist assaults rival team members after fall
The police were obliged to intervene when Wang Xin attacked staff members of the Swiss Cycling Team during the Tour of Hainan.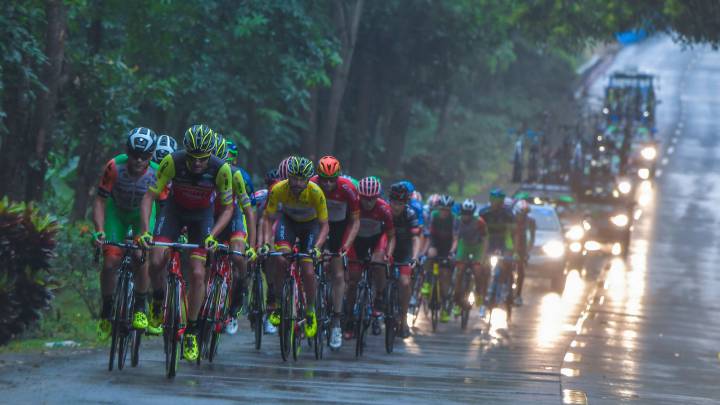 Chinese rider Wang Xin of the Keyi Look team faces severe punishment after attacking members of the Swiss Cycling Team during the Tour of Hainan.
Video footage of the incident shows Wang assaulting two of the Swiss team's staff members before retrieving a foot pump from a support car, apparently intending to use it as a weapon before the police intervened.
Huge misunderstanding
According to reports, the violence was sparked when the Swiss team car clipped Wang's wheel and caused him to fall.
However, the Swiss team manager, Danilo Hondo, denied this version of events.
'We never bumped into him, you can see that from the race video,' he told Eurosport.
'He simply hit the back wheel of another rider and went down. He was obviously embarrassed and took out his frustration on us."
'We tried to approach him after the race, in fact we waited 45 minutes after the finish to apologize for any misunderstandings and to show him and his team that we respect them and meant no harm.
'But both he and his team approached us with anger and everything escalated from there.'
Wang and his team apologized on Weibo, the Chinese equivalent of Twitter. However, the cyclist continued to blame the Swiss team car for knocking him over, AFP news reported.
Wang and team banned from Tour of Hainan
The Chinese Cycling Association (CCA) said that Wang and his team would face a permanent ban from the event.
"The team was instructed to leave the island of Hainan on the spot and will not be welcomed back at the Tour of Hainan. In any race circumstances, every participant must follow the rules of the UCI and the CCA and refrain from any violent or disrespectful behavior that would damage the image of the sport. Wang's behavior is not acceptable and doesn't reflect Chinese cycling. Hainan people are known for being very friendly. The image and the reputation of the Tour of Hainan cannot be tarnished by such improper behavior. Fighting will never be permitted in this event," read an official statement released by the organization.
The CCA is also considering additional punishment against Wang
Mosca seals overall victory
After nine days of racing, this year's edition of the Tour of Hainan was won by Italian rider Jacopo Mosca of the Wilier Triestina cycling team.
The final stage victory went to New Zealander Joseph Cooper of the Isowhey Sports Swisswellness team.