Asier Garitano: "The last time I devised a plan to stop Costa, he scored and I was sacked..."
Leganés' coach declared that his team will be going to the Wanda Metropolitano with the sole intention of winning, like they did at the Bernabéu.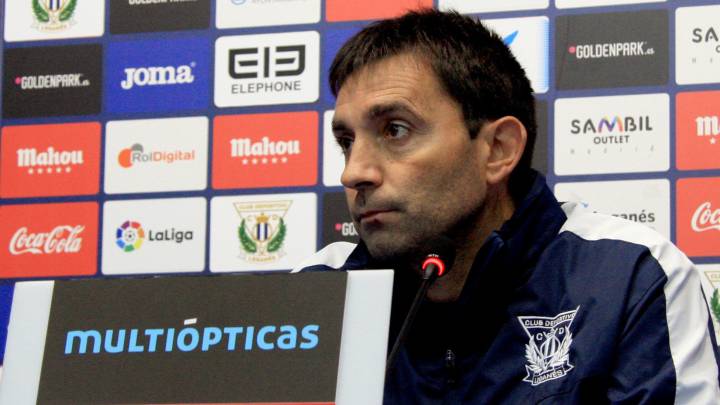 Asier Garitano is a big fan of Diego Pablo Simeone, who he will be up against when his Leganés side are guests of Atlético de Madrid tomorrow night. It transpired that the feeling is mutual as the Atleti coach was full of praise for the man who will be in the visitors' dug-out tomorrow. Garitano has also found it hard to forget about Diego Costa who, back in November 2008, cost him his job as coach at Alicante. "I won't be doing anything special to try and stop him tomorrow", he told reporters in this afternoon's pre-match press conference. "Because the last time I devised a plan to keep him out of the game, when I was at Alicante, he scored and the next day I was sacked... This time I haven't got anything up my sleeve - I'm not going to give him the chance to score again and get given the push on Thursday!"
Leganés travelling to Atlético with hope and without fear
Garitano insists that the Pepineros have acquired a taste for giant-slaying after their memorable Cup win at the Bernabéu and will be going all out to claim another scalp when they cross town to the Wanda Metropolitano on Wednesday. "The mood within the squad is fantastic - and that's how it should be for a game like this. We have to go there filled with expectation and hope - to play against a rival who are going to push us right to the very limit. We know that we have to go up there and put in an incredible game. It's the very least we can do for the situation, the venue, the position we are both in in the table... for everything. Let's hope we see a gigantic Leganés and some improvement on when we played them last season (Lega lost 2-0 at the Calderón in Week 21)".
Simeone's kind words reciprocated
As for the compliments he received from El Cholo Simeone, Garitano is taking it in his stride: "It's very nice of him to say those things. I'll thank him personally tomorrow, I'm not overwhelmed by his words, nor do I feel uncomfortable about it… It's very flattering that someone like him should say that about me. Do I think Atlético can win LaLiga? It's not going to be easy to snatch the trophy off Barcelona. Apart from Atlético de Madrid, everyone else seems to be talking about Sunday's game. No one's talking about Leganés. Hopefully on Thursday, people will be talking about us..."